My first introduction to ski resorts was with my father at a very young age – we would pack into the car and drive several hours to the ski slopes and spend our afternoons combing up and down the slopes for coins and jewelry. Initially it was just walking while carefully studying the ground beneath our feet. You would be surprised what people lost during the ski season – we found beer cans still cold sitting in the snow, capri sun drinks – and other items of value including watches, the occasional ring and plenty of coins.
In later years we had metal detectors which allowed us to dig for the past years losses still covered up in soil or under debris from pine needles – especially on the upper slopes.
But when I grew older I began to see the slopes in a different light – after I was introduced to skiing in my teens. I first learned to ski at Dodge Ridge Ski Resort in California's Sierra Nevada mountains – but I really learned to ski at Mammoth Mountain in eastern California during college when I went with college buddies who had been skiing all their life. I tried to keep up with them on the diamond slopes and the moguls – my introduction to really learning to ski was trial by fire with numerous yard sales and tumbles, especially on the moguls where I was definitely in over my head.
Besides the actual time on the slopes, I also enjoy post ski time – relaxing at a lodge in front of a fire with friends and cold alcoholic drinks in hand.
I remember a tram ride up to what was called Dave's Run at the time, at 11,053 feet, still the highest ski run in the state of California. I confidently slid out of the gondola and expertly skied over to the edge of the run above a cornice. Looking down over the overlook, my heart quickly dropped a few octaves; I then skied a bit further down the slope to begin my run away from the cornice.
I overcame my fear and simply went for it – within a few hundred feet of whizzing down the slopes I took a tumble and simply could not stop. I slid for at least 1,000 feet somersaulting and flailing from side to side to try and stop myself. It is a miracle I hit absolutely no one in my reckless and uncontrollable path down the mountain – nor did I injure myself (other then some soreness the next day).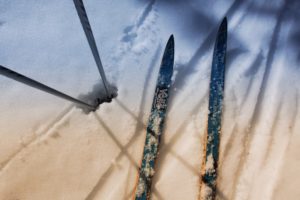 After other trips to Mammoth Mountain and to several resorts near Lake Tahoe, I finally became more more confident in some of the more difficult runs – although now I never try to push myself over my limits and I leave the non groomed, mogul intensive, double black diamond runs for the experts. Rather I enjoy watching videos of skiers attempt these more challenging runs. If you have some downtime google some of these videos.
And later in life I took up cross country skiing – a sport that still offers plenty of exercise but is generally less dangerous of a sport compared to skiing down big moguls or diamond or black diamond downhill runs. My grandfather gave me his old skis before he passed – they date from the 1940s and needed significant repair. I took them into my local ski shop – they were fixed up properly including adding state of the art new bindings.
I love cross country skiing – it gets one into the outdoors without a lot of people around (versus say at a ski resort). I've found a few favorite places to cross country ski over the years including on old logging or mining roads in Sierra and Plumas Counties, California (not far from the tiny town of LaPorte) and have even used them on Mt. Charleston in Nevada. Speaking of Nevada, Mt. Charleston is only a few hour drive from Las Vegas and some of the casinos including MGM Grand. Check out this BetMGM promotional offer.
There is nothing like the sound of slicing through fresh powder among a forest under piercing blue skies. I'll take early Spring cross country skiing following a storm, any day of the week.
And like most other sports I'm interested in – there is another level to skiing. In this case it would be back country heli-skiing which I have yet to try. However, I've got my eyes on some resorts for this up in British Columbia.