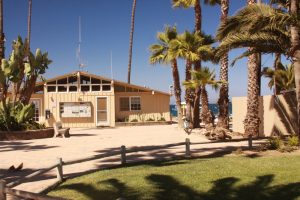 Butlins, a historic camp in Skegness England first opened in 1936. Famous for their red coats and appealing to families they continue to attract people for family vacations. They have grown since that first camp, most recently opening up a ocean hotel and spa which oddly enough features a snow cave! Not long ago they reached out asking for me to come up with some of my favorite family activities.
For short trips including spending weekend holidays relaxing, a family vacation must include some element of water! Water sports can be enjoyed by all ages – whether it is time at the beach, rafting or kayaking or sitting on a pier, relaxing while fishing. I remember some of my best child hood memories were spent at Lake Tahoe in California USA where every summer we spent 2 weeks (around the same time) in the same cabin meeting the same families. We enjoyed fishing, boating, the challenge of ping pong tournaments and time well spent in the evenings around campfires. Long walks to the local market and deli stand out. Bike rides through the refreshing air of the forest up to the snow line are indelibly imprinted on the memory. These are all memories that last a lifetime. Our family has even stayed in contact with some of those families after those treasured summer vacations ended many years ago.
Theme parks are also time well spent enjoying summer holidays with family; with rides for the children, entertainment for all and a host of other activities. Theme parks tend to cater to a variety of ages especially the larger parks. Family restaurants, live shows and theme parks that incorporate some educational aspects into their attractions are where I would put my money.
Camping is an important activity to introduce children to. In today's increasing urban environments kids have less and less opportunities for interaction with the natural world. Introduce them to hiking and exploration beyond that of the actual campground. Some of my best memories were with family on 3-4 day trips not necessarily overseas but rather enjoying quality family time together in the mountains – maybe only a few hours from where we lived. Spend the evenings around the camp fire with traditional activities such as roasting marshmallows and telling stories. Children remember times like these.
Recently I was on Catalina Island in Southern California. They have one of the most fun miniature golf courses I've ever played (and this was not my first time playing this particular course). The reason I mention this here is that miniature golf is a great activity for a family – it is challenging and fun for all ages. During our visit a number of families were lined up to play – kids of all ages.
Things as mundane as enjoying delicious seasonal summer fruits are good bonding times – or even better are visits to u-pick farms. Juicy watermelons, fresh peaches or nectarines dribbling down the shirt, picking fresh cherries straight from the tree and eating as many as possible – while avoiding the fine line between an upset and a satisfied stomach are delicious memories spent with family.
These are just some of the activities I enjoyed as a child. What are some of yours? Post below.