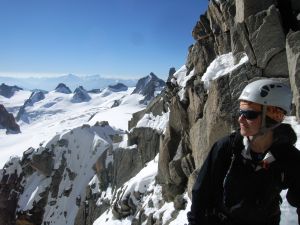 Everyone wants to squeeze the last drop of fun out of their vacation time, but when we go back to work or school too many of us still feel that we could have done more with that short, precious period. That's one reason adventure breaks are becoming so popular- we all want to do something really exciting and interesting on vacation.
Rock climbing is one of the fastest growing adventure sports, and why not? It provides all the adrenaline you could possibly want, and it's safer than most people think, at least at beginner level. There are injuries and even deaths in the climbing world but the same is true of football and even golf, and as in many extreme sports, most of the serious accidents happen to people at the top of the discipline, pushing the limit of what is humanly possible.
You don't even have to go outside to try climbing. There are tens of thousands of indoor climbing centers popping up all over the world and complete beginners are very welcome at most of them. When you start out there will be an instructor by your side at all times and there is no real chance of a taking a big fall. The rope will always be above you, ready to take your weight.
Going outdoors- and beginners can climb on real rock, with a qualified guide- climbing can take you places few people ever get to go, and show you views that most people will simply never see. Some of those views are huge, like the panorama from the top of a craggy mountain, and some are surprisingly small, like the sight of an orchid growing in a crack or a froth of crystals just by your handhold. Each climb is different and you never know quite what you'll find.
Of course, there is also a sense of achievement that comes with a successful climb. It may not even be about getting to the top, just doing that little bit better than you thought you could. Be careful though. Climbing in tremendously addictive, because as soon as you've managed to gain the strength and skill needed to finish one route there is always a harder and even more interesting one just around the corner.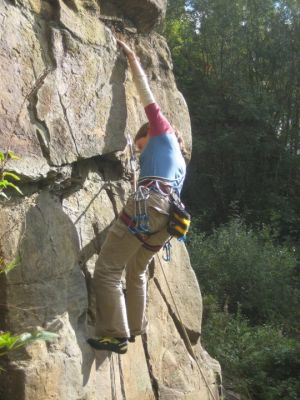 Climbers are continually testing what they can and can't do. The results are often surprising, even for experienced people- I've been at it for more than a decade and still shock myself sometimes. If there is one thing that rock climbing teaches, it's that there is a gap between what the negative, nervous side of your brain tells you is possible and what you can really achieve.
Don't be afraid to show fear, even if your kids are taking a climbing course with you. All climbers know that courage is not about hiding fear or not being afraid in the first place. It's about managing your fear, trusting yourself and those around you, and trying again if you fail the first time. If your son or daughter sees that you're nervous but trying your best anyway, that sends a much more positive message than a parent who claims not to be scared at all.
Climbing with kids or your partner can be a lot of fun, but it's also a little more than that. You'll be experiencing the same fear and the same challenge, and be there to help each other through it. It's a great way to bond, especially with teenagers who are inclined to think that spending time with mom and dad is uncool.
Next time you've got a vacation day to fill, think about rock climbing. At the very least, it'll be a holiday activity with a difference. At best, it could be the experience of a lifetime.
About
Jess Spate is a former climbing instructor – and is usually clinging to a rock face somewhere!