I'd been on the road for a week when I woke up in Itajaí, my last full day in Santa Catarina. The storm clouds had cleared and there were people getting in their morning exercise along the dishwater gray beach. An old couple sat on a park bench holding hands. I was on my way back to Luis Alvez to take a look at the fermentation and distillation processes.
It was rush hour when I left. The city moved languidly around me as I maneuvered over speed bumps and through traffic lights. The highway traffic moved at a slightly higher pace, until I got to the exit that led me to the two-lane roads headed to Luis Alvez. It rained intermittently on the drive.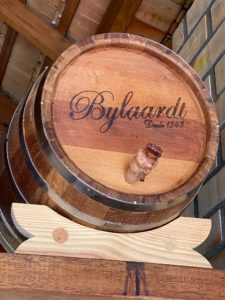 Bylaardt  thumped with activity as I pulled into the parking lot, hoping that Márcio remembered his invitation of the day before. The store was open, a young woman not more than twenty minding the till. There were people working feverishly around the fermentation and distillation buildings.
Márcio entered a few moments later, an expectant look, ready to provide me with an up close tour of the cachaça creation process. We moved from the store to the production building. Machines hummed and whirled. The operations smelled of liquor–sweet, but not over powering.
I took a hop on to a step ladder that overlooked the open vats in which the sugarcane fermented. The sudsy brown liquid looked straight out of a chemical experiment. The juice would spend about twenty hours fermenting before it would be distilled.
We moved from the fermentation area into the distillation area. The stills were hot, almost 90 degrees Celsius, the sweet spot for distilling the already-fermented juice. While the stills were inside, the fire that maintained the temperature was outside, burning beneath what looked like an oversized, upside down dumpster.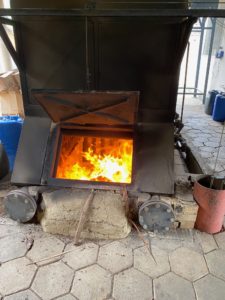 As we toured, Márcio talked more about his operations.
As with other places I'd been in Rio Grande do Sul, Bylaardt sold most of its product out of its own store. They did some shipping to other states, which may have been included in the count, but Márcio was insistent that people go out of their way in to purchase their cachaça. Like many other producers, they don't work with any distributors. I remain unsure if this is because there is not a strong distribution system, or that distilleries would rather not have to be undercut by a middle man. Regardless, considering the amount of cachaça they produce, it's pretty staggering that they sell most of it from Luis Alves, especially given the remoteness of the distillery.
When our tour was over, I hesitated. I hadn't set up appointments and I needed to try to see as much as possible since I would leave the next day. I asked Márcio for guidance on where I should go, which distilleries in the region were important to see. The first word that came out of his mouth was: "Wruck."
That was straightforward enough.
So it was that I left him, thanked him for his time, promised to keep in touch and buy a case of his 18 year old cachaça, which was a surprisingly, no astonishingly, a reasonable price.
Wruck was easy to find. Signs marking its location stood along the side of the road. I made my way up a dirt drive, which widened on to a sprawling landscape between mountains. The clouds were low and wispy, the sky gray.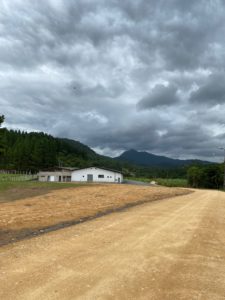 I pulled into an empty parking lot in front of Wruck, a rustic building before me and a series of more modern houses and other assorted facilities peppered around it. I got out of the car and approached the closed door. Within a moment, an older gentleman appeared. He was wiry, with gray hair and a mustache and a bemused look on his face. This was the Wruck namesake, son of the original proprietor, who established the brand in 1942.
Our conversation quickly went deep. Senhor Wruck's father was born in 1902 and had started working as a furniture maker at the age of 16. At the end of World War I, he'd decided to go to Germany. There he spent many years, and when he returned to Brazil, he opened the distillery. Just a few years after it opened, Wruck became certified by the government, meaning he was no longer a clandestine operation.
Senhor Wruck began running the distillery in the 1970s after a decade working as a long-haul trucker. Like Bylaardt, other family members are part of the operation, taking care of everything form the business to the production side.
We walked through the production area to the aging area, past family members who were busy maintaining the facility, including Senhor Wruck's wife.
Like their friends at Bylaardt, Wruck only works with oak.  Their ten-year-old cachaça is excellent and has received a number of national and international awards. It was clear that these two distilleries had found common cause in their products and were happy to maintain the high standards that had been handed down to them.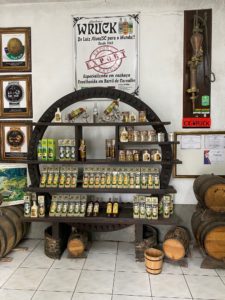 It was a great visit, and I managed to procure for myself a bottle of the ten-year-old product for a quite reasonable price. I thanked Senhor Wruck for his time and headed out, unsure of where I would go next.
All I could do was follow the placards. My next stop was at Flor da Cana, producer of Rein cachaça, which had a prominent, if gaudy sign. The distillery was located right next to a mountain, the sheer edge of it abutting the land on which the facility sat.
The open store area led to the distillation area, which at the time was fully functioning, the heat of the still pushing through the front doors.
The distillery was run by a married couple with a small child. For them, it's a relatively new enterprise, and it wasn't hard to tell from the product that was the case. It wasn't bad, but it also wasn't exceptional. There was no offer of a tour, nor much history given, even when I described why I was there, so I determined it would be better to head out. I didn't leave empty handed, however. I did purchase a bottle of their product.
I'd been to three distilleries that day, and though that doesn't sound like a lot, it was difficult to imagine going to three or four more. I could tell that they would begin to blur together, that the histories would merge, and I wouldn't be able to tell their stories well.
I'd made a mistake making my trip to Santa Catarina so short. But I decided to hit one last distillery, regardless. Like the others, it was off the beaten track. But unlike the others, it was tiny and looked completely closed, its door shut. Construction equipment sat in front. A man came out to meet me. He was shirtless and barefoot. He assured me that they were indeed open.
The inside of the distillery was dark and dirty. Even with a light on, it was like a cave. I asked the man a few questions about his business, but the responses were terse. The distillery had been open since 2004, but I could tell from his stand-offishness that the man didn't really want to talk. I sampled a bit of his product. It was not as high quality as that which I'd tried earlier in the day. But I felt bad. I'd come all this way to support local business, and that's what I would do. I bought a ten-real bottle and left.
I drove back to Itajaí and got there in the late afternoon. There was little activity on the beach. I ate an early dinner at an unremarkable place that overlooked the sand and waves. As the sun began its limp toward the horizon, I went back to the hotel. I had another early flight ahead of me.