I was up before dawn, checked out, and on the road while Itajaí slept. My flight was at 9 am, and I made it to the airport by 7:30. I was going to miss Santa Catarina, knowing that I hadn't gotten to see all that I wanted. But I was on to Parana, flying into Curitiba by way of Congonhas Airport in São Paulo.
All my flights went smoothly, even in the busy domestic airport in Sao Paulo. By the time I landed in Curitiba, amidst the fog and rain, I was ready to get to Morretes.
I'd looked at the distance to Morretes from the airport in Curitiba well before my trip. They were close, just over an hour. The rain wasn't heavy as I caught the shuttle to pick up my rental car. Instead it dripped down from the heavily clouded sky. In less than thirty minutes, I had my chariot and was off.
After missing a few turns, I finally got headed in the right direction. My trip took me along large highways, which at the time, were nearly empty. It wasn't long before I found myself coasting through the mountains.
A few minutes later, the highway began to descend and visibility went steeply down. The fog was so thick that I couldn't see more than fifty feet. All the large trucks, of which there were a fair number, moved slowly. And by slowly, I mean they couldn't have been going more than 10 kmh or 6 mph. Not going more than 40 kmh, I found myself whizzing by them.
Perhaps it was not knowing where I was going, but that descent was interminable. Like parting waters, suddenly, the fog was no more and a valley lay before me. The drive into Morretes from there was smooth. The town was bustling, when I arrived, small business and restaurants along the main road.
My pousada, it turned out, was in the perfect spot. Next to the Nhundiaquara River, as well as the historic downtown, Pousada Morretes was a quirky, small inn, with a penchant for filling every free space with an antique. I checked in quickly and found myself in a small room on the second floor. Once I'd settled in, I went out to get something to eat.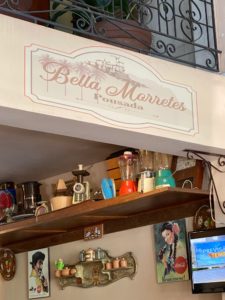 It was Tuesday afternoon, which in Morretes meant that many of the restaurants were closed and wouldn't open until Friday. That was okay, because not more than 100 steps from the front door of the Pousada was the perfect spot. Though the weather wasn't exactly nice, I decided to sit outside. I'd been cooped up in two airplanes and then a rental car for too long. I needed fresh air
To my shock and joy, the menu had local cachaça, produced by distilleries that I would visit. I ordered a Porto Morretes as well as the bolas de bacalhau and spent my time writing up what had happened to me over the past few hours.
For a while, the restaurant was silent. A cold rain began to fall. Still, I sat at the table, sipping my Porto Morretes and nibbling the fried fish balls. But soon, more activity bubbled forth.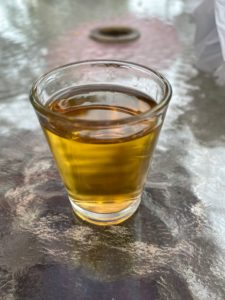 There was an elementary school just around the corner, so when the afternoon session ended, the cobblestone streets filled with children, unleashing their pent up energy. Not long after, the workday came to an end, People walked home from work in groups chatting with one another. Others wove through the growing crowd on bikes. Not far from where I sat, a man stood in front of an easel painting. His other works, displayed around him, were apparently for sale.
I don't want to say here that I didn't like the other parts of my trip. But in Morretes, I found a town in which I felt comfortable. This was the place I'd been waiting to visit.
Darkness came quickly as more rain came. I paid my bill and scuttled to the pousada. It was getting late and I wanted to be up early. There were distilleries to visit, after all.