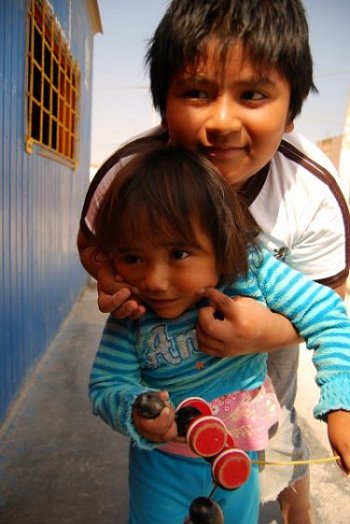 Volun-Tourism is one of the fastest growing sects of international travel. Unfortunately, corporations profiting on this burgeoning market have become common. Those looking for travel volunteer opps should seek out groups that are well organized, accept volunteers of varying time commitments, don't charge high participation costs, and most importantly, are non-profit groups putting the majority of resources back into their assisted communities. This story highlights one such "diamond in the rough."
Pisco is a Peruvian coastal city, four hours south of Lima. In 2007 Pisco was hit by a 7.8 magnitude earthquake, leveling much of the city and leaving many of its inhabitants homeless. Three years later, those same inhabitants are living in homemade tent-like houses of plastic tarp and cardboard, unable to front the costs of material and labor for reconstruction. That's why Pisco Sin Fronteras was formed- to help reconstruct a broken city, to restore hope to those who have none.
PSF is a fully functioning Peruvian NGO. That's the official way of putting it. In reality, it's a group of 80+ volunteers from countries across the globe, coming together to rebuild homes, teach English and create sustainable solutions for a community in need of infrastructure. To those families who have secured materials for a house, either through government funding or personal efforts, but are unable to afford the labor to build their new home, PSF is an opportunity for salvation. The organization provides volunteers, free labor in whatever manor each individual project needs, and a whole lot of heart. In return, the families are only asked to supply lunch to the volunteers and at least one person to assist with the work (to ensure accountability.) Inevitably these grateful Peruvians give back much more than food- they open their hearts, their homes (whatever state they might be in) and provide volunteers the chance to help those in need.
The PSF staff of ten anchors the group as well as a core group of twenty or so long-term volunteers (6-12 month commitment). The other fifty people are an international menagerie of backpackers who put Pisco on their adventure trail in the name of the greater good. (Travelers flying into Lima and heading south to Machu Picchu often follow the coast and pass by Pisco.)
There are no participation costs or admin fees to volunteer with PSF (a rarity in this industry). A contribution of $15 soles (about $5USD) is asked to cover the costs of room and board (accommodation is shared dorm rooms, however there is also an economical hotel next door for about $10USD) Meals include breakfast and dinner, the later of which is always delicious.
The international teamwork, the weekend trips to Huacachina and other local haunts, the Tuesday night soccer matches, foreigners against locals-all of it makes the experience rich. But the heart of anyone's experience at PSF is the down and dirty work building homes for those in need.
I was assigned to work at Edwin's house- home of the Flores family- Edwin, Araceli, and their animated, pigtail-touting daughter Abigail. They had been living in unfit conditions-a cardboard and plastic house- since the earthquake, and because Abigail has a form of chronic bronchitis worsened by the cold, PSF's assistance couldn't have come at a better time.
In the following weeks we finished the framework, put on the roof and completed the house. It was back-breaking work, but done with a smile. During my four months in South America I had seen the falls of Iguazu, danced in the streets of Rio, and eaten Michelin quality steak in Argentina, however moving a struggling family into their new house in Pisco, Peru was something that couldn't be matched.
If Volun-Tourism is on your list of to-do, I'd recommend a stint with Pisco Sin Fronteras. You will certainly change lives, and one of them will be yours.
Pisco, Peru lies four hours south of Lima and can be reached by bus from Soyuz station.
Contact author Andrea at: theforeigncitizen@hotmail.com