Few places around the world evoke as much myth and awe as Chile's Patagonia region. The mere name conjures imagery of pristine wilderness and raw nature, of stunning scenery and awe-inspiring mountains. This is where land meets sea, where ocean currents are funneled through narrow gorges opening to cavernous bays, where innumerable fjords and glaciers carve through rocky massifs.
Surrounded by only water for thousands of kilometers in three directions, Patagonia is where the Andes mountain range stands as the last bulwark separating the eternally competing currents of the Pacific and Atlantic oceans. To the south, the chilled waters of Antarctica. To the east, the African continent. Westward, past the vast stretches of the sprawling southern Pacific Ocean, eventually Australia. Welcome to the edge of the world.
The untouched and windswept landscape of Chile's sparsely inhabited southern region is simply breath-taking. There are only a few ways to get here – and the Navimag ferry service that cruises through the fjords region is the most spectacular way to see it.
The ferry starts in Puerto Montt, where the Pan-American Highway ("Carreterra Austral") is interrupted by the Andes mountains and the Patagonia archipelago. Navimag is the mobile bridge that connects lower Chile to the rest of the country. It takes four days and three nights to navigate the many narrow passages. On the way, it passes through yawning Golfo de Corcovado and briefly cruises out into the open Pacific Ocean before veering back in through the deep, ice-carved channels of the fjords.
It may not be a luxury cruise but it may be better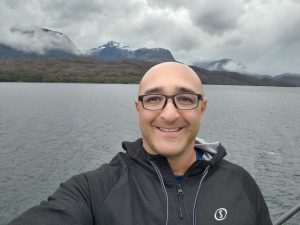 Navimag is not your high-end Royal Caribbean-type cruise. This is a transportation ferry, a vital lifeline linking isolated and sparsely populated southern Chile with the northern two-thirds of the country. Its primary purpose is to move cars and cargo, though it also takes on pedestrian passengers. Facilities are not crude, but not exactly fancy either. Ferries depart twice a week in each direction. I booked my tickets a few months in advance because it was high season (December) for tourists – though I found the boat only about 50% filled.
It's a friendly and open, almost hostel-like, atmosphere where new friendships are kindled as travelers mingle and gawk at the natural beauty that passes by. Though, with an average age in the mid-30s, it's significantly calmer and more relaxed than your typical youth hostel. Passengers originate from all around the world – I met Japanese, Germans, Americans, Dutch, Brazilians, South Africans, and of course, Chileans. By the end of the cruise, we came to call ourselves "the Navimigos" and even enjoyed an extra evening together at a restaurant upon our arrival in Puerto Natales.
An entourage of friendly, bi-lingual (Spanish and English) staff provide entertainment and activity. There's daily instructor-led yoga, board games, evening movies, as well as nature guides to tell you about the spectacular parks, fjords and glaciers you pass.
Three meals a day cater to a variety of dietary needs (gluten-free, nut allergies, vegetarian, etc.). You can also bring your own food, but there are no fridges and cabinet space is limited, so you don't want to overdo it. Note that alcohol is prohibited.
Beds and bunks come in two types – 4-bed cabins with their own window and cheaper, eight-bed communal quarters in the hallways. The irony is that the hallways provide more space and freedom to move. Though they make up for that by providing less privacy and are noisier as other passengers constantly walk on the way to shared baths. Like I said, it's not a luxury cruise, but it's also only one-tenth the cost, so….
Raw nature at its best
The best part of it all – there is no internet, no cell phone, no satellite television. Navimag allows forces travelers to disconnect from the outside world entirely. The scenery along the journey is like gazing upon a never-ending canvass of nature's greatest pride. If you're an artist looking to paint awe-inspiring scenery as it slowly crawls by, or a writer seeking inspiration, this is the perfect opportunity.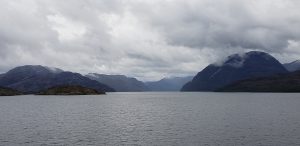 Numerous fjords line the channel – some over 1,000 meters deep – and dozens of rivers feed in. Puerto Montt sits at the end of a large bay, surrounded by peaks 1,500+ meter high. The ship slowly makes its way through the bay, each mountain slowly moving by to reveal yet another set of peaks behind it. It feels almost eternal, like a wall that separates two halves of the earth. I counted no less than 100 peaks clustering around the distant skyline of the Andes mountains around Puerto Montt alone.
The ferry makes its way through densely wooded islands that compose the Chiloe archipelago, plowing at a leisurely 12 knots through the dark grey waters accented by wind-driven white caps. The weather is unpredictable – summer is generally more pleasant, but even so, overcast and rain are just as likely as sunshine. Regardless of when you go, cold wind can sometimes blow furiously through the channels and fjords. So dress appropriately.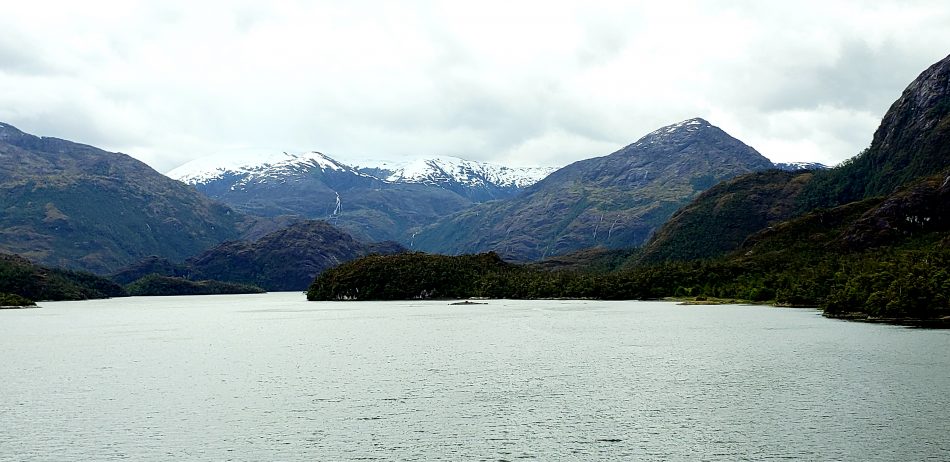 The unceasing cliffs that line the channel on both sides are lush and verdant at first. Many are covered in the perpetual mists that are reminiscent of cloud forests. Waterfalls emanate in droves, some in trickles, others in torrents. As you travel further south and conditions become harsher, the greenery is gradually replaced by snow-covered peaks and glaciers. Archeological evidence indicates that this region has been inhabited by humans for at least 6,000 years. Difficult as it is to believe, many of these islands are still unexplored in modern times.
Along the way, you are likely to see an abundance of wildlife, from a variety of seabirds and raptors to the Andean condor with its great wingspan soaring overhead. Chilean dolphins and sea lions surf the bow wave of the ship. The expansive Golfo de Corcovado, with pyramid-like Volcano Corcovado towering in the horizon, is where you are apt to see blue whales during migration season. And while rare, we actually saw two separate pods of orcas pass the ship also.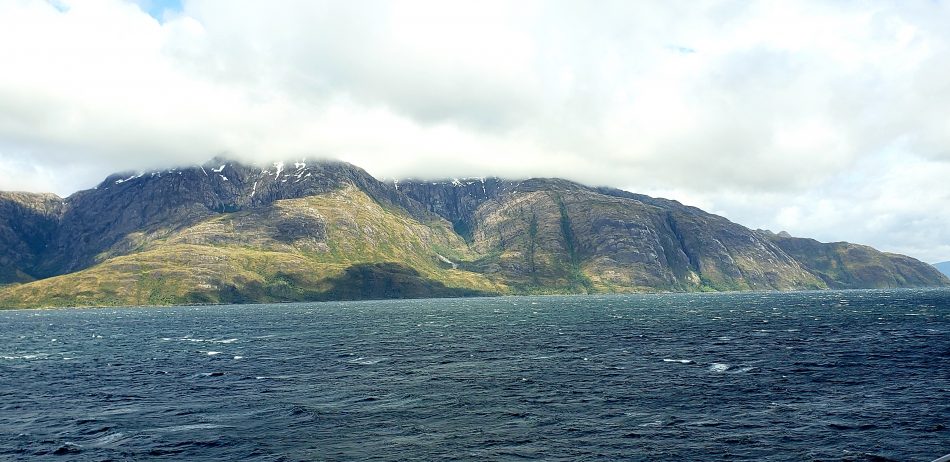 Navimag glides through Bernardo O'Higgins National Park, the largest national park in all of South America – "a place of singular beauty," as local travel brochure states. At the end of the journey, you arrive in Puerto Natales, deep inside the Patagonia region and the gateway to Torre del Paine National Park. Popular activities include hikes within the park, visits to glaciers and a stop by Magdalena Island, home to approximately 150,000 penguins.
Overall, the trip was long but definitely worth the experience. And what better way to see Chile's raw nature at a fraction of the cost of a luxury cruise. See you in Patagonia!