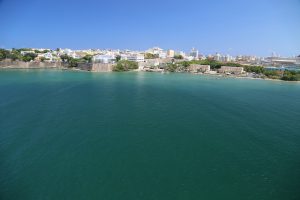 The day dawned clear on the Holland America Line MS Eurodam after the stormy nauseating seas of the past few days. This was a welcome relief visually and for the stomach which has been struggling with all the back and forth rocking. We pulled around the point of the north east part of the island and passed the historical fort. From a distance we could have been pulling into a port in Greece or perhaps the Middle East – the white buildings contrasted significantly with the aquamarine waters.
It had been several years since I was last in old San Juan but it was just as I remembered, colorful buildings, museums, restaurants, squares and plenty of people out sightseeing. Soon I was on my way to El Yunque, the only tropical rain forest in a United States territory. It was strange being on a 3-4 lane freeway (and seeing backed up traffic) after spending much of the earlier part of this month hopping from one small island to the next. This excellent freeway quickly brought us to the turn off to the rain forest.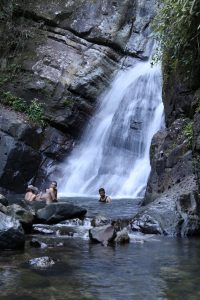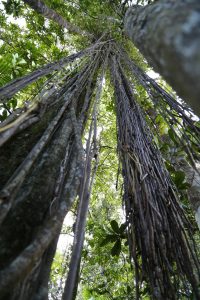 Puerto Rico has been in a severe drought; normally the tops of the jungle covered mountains are covered in clouds – but not so today as we saw them easily. We drove to an elevation of about 2,000 feet where we began our hike on La Mina trail-head. The Coqui frog is small but it makes a loud shrill sound – it was not hard to hear it's distinguished call.
The highlight of this hike was a small but powerful waterfall where plenty of people were enjoying the refreshing cold waters in contrast the humid warm jungle.
Meeting up with some friends in the evening we enjoyed a fine seafood dinner at Cafe Berlin in Old San Juan – washed down quickly with a Capirinha. We made it back on board with only 2 minutes to spare!
Now, onward to St. Martin on the next leg of our journey – we cruise all night and arrive in at 8am.