The morning sun had ascended to its throne in the brilliant sky.  The mist had excused itself for the day.  Before us lay the grandeur of Machu Pichu swathed in golden sunlight.
Everyone whipped out their cameras and started taking photos of the venerable gift that history had unwrapped for us.  One by one, we captured the sight that we'd seen only in books.  Angle by angle, frame by frame, we sought to imprint the majestic vista into the lenses of our cameras.
And that was pretty much how it went for the rest of the morning.
We were constantly hopscotching from one spot to the next, clicking, and oohing and ahhing at the marvelous scenery all around us.  At one point, I couldn't help but compare Machu Pichu to a symbol of royalty.  As everyone knows, a crown is a cylindrical object ringed with bejeweled spires.  Machu Pichu is really no different.  It's essentially a nature-made crown ringed with mountain tops acting as spires glittering like jewels in the morning sunlight.
Shortly after high noon, Stephanie and I began to make our way back to the entrance gate, petting an occasional llama that grazed languidly here and there among the tourists.  Although we hadn't quite sated our thirst for the historical site, we knew we needed to get back to Aguas Caliente in order to begin our long train ride to Cusco.
Our bus coasted down the winding road and deposited us near the town center.  We ate lunch, retrieved our bags from the hotel, and found our way to the train station.
When Stephanie and I took the train the night before from Ollantaytambo to Aguas Caliente, we didn't receive refreshments of any kind.  We assumed we would be getting the same Spartan treatment on the way Cusco.  Unbeknownst to us, the train we were taking back was the Vistadome train which was a step up from the Backpacker Express that got us to Aguas Caliente.  Essentially, we'd upgraded ourselves from Coach to Business Class.  As a result, we were pampered with some fine wining and dining.
The meal was tasty.  Although I can't recall exactly what we ate, I do recall that it was almost on par with the First Class meal we enjoyed on the flight from Houston to Lima.  After that delicious indulgence, we were prepared to sit back and relax when, to our surprise, the evening show began.
Yep.  That's right.  A show!
Out of view, the very same train attendants who served us our dinner got out of their uniforms and hopped into some fancy threads to put on a modeling show for us.
An announcement came over the P.A. to inform us that the attendants had a variety of clothing they'd like to offer us passengers for sale.  He said the clothes couldn't go wrong on us, and to demonstrate, he'd gotten the train attendants to model the attires for us.
The next thing we knew, an upbeat, thrumming music pulsated out of the overhead speakers.  The door at the front of the car flew open, and out came the attendants all dressed up for our viewing.
All of us passengers let out a cheer.  Brandishing a smile that gleamed with self-esteem, one attendant in his early twenties paraded down the aisle as though he was sashaying down the catwalk of a Parisian fashion show.  When he reached the end of the car, he swiveled and strutted back to front where he paused, bowed, and made a festive exit out the door.
No sooner than he'd stepped out of sight, that same door flew open again, and out sauntered a young lady who could have been a come-hither, college coed.  She flashed a smile at us and began to clap her hands together rhythmically to tell us to put our hands together.  We eagerly complied, giving her an acoustic accompaniment as she succinctly sauntered down the aisle wearing a sweater made of fine llama wool that I would never see in one of my shopping sprees at Wal-Mart.
Seconds after that attendant strutted her stuff and ducked through a door, another attendant popped out to take her place, then another after that, and another, and another . . . until we passengers were giddy with glee from the fervor of the fashion show.
Thirty minutes later, as the attendants were taking a final bow and accepting the appreciative applause that all of us passengers were heaping on them, I couldn't help but make a comparison between the duties required of these train attendants and that required of Joanne and me as our time working on cruise ships.  As an attendant on a plane, I couldn't imagine myself having to provide a meal service then putting away my carts so that I could throw on some fancy threads and go parading them down the aisle to the cheers of a hundred clapping passengers.  If that scenario were to ever materialize, I would pity not only myself but also the passengers who would have to witness me strutting my stuff.  I think if I were to ever sashay down the aisle to the beat of pulsating music, I'm fairly certain the passengers would immediately call to mind the advice that we cruise ship employees give to our passengers during our pre-sail safety demonstration: 
Darkness had set in by the time we disembarked at Poroy, the small town that was a short car ride away from Cusco.  Stephanie negotiated a taxi for us.  On the ride there, she and I discussed our strategy in confronting Lucia and getting our money back.  Our flight to Lima was early the next morning which meant we had to resolve the matter tonight.  From what we could gather, the tourist agencies closed around 9 p.m. which meant we had to hurry.  The two of us also decided we had to get the police involved.  That part was certain.  What wasn't so certain was whether we should confront Lucia first, then go get the police if she refused to give us a refund, or if we should go get the police first, then confront Lucia with a show of force to prevent her from even thinking about refusing to give us a refund.
We eventually decided on the latter because if we went with the former and showed up without any law enforcement in tow, Lucia could easily deny any wrongdoing and force us to go get the police.  Of course, as soon as we left her office, she could quickly slip out the door and be long gone by the time we returned with the authorities.  Given that she had committed a crime already, we had no doubt she would engage in further illicit activity, especially in order to avoid being held accountable for the theft she perpetrated.
One factor that helped us cement our plan was the fact that the tourist police was just a few doors down from Lucia's office.  We surmised it would be very convenient for us to stop by the tourist police, tell them what happened, and ask an officer or two to come to Lucia's office with us.
We reached our hotel, tossed our bags into our rooms, and hurried in the direction of Plaza de Armas.  About ten minutes later, we were inside the police station, ready to tell them the wickedness that Lucia had waged.  Unfortunately, no one at the police station spoke English.  Consequently, one of the policemen led us next door to a hotel so that we could convey to the receptionist who spoke English what happened and have him translate for us.
We did that, and to our dismay, the receptionist told us that the policeman said we were at the wrong police station.  "Wrong police station?" I asked the cop with the help of the receptionist.  Yes, the officer relayed to us, then added that the type of police station we wanted was the tourist police, not the regular police.
Stephanie looked at me with puzzlement, and I could see my question reflected in her eyes:  But this is the tourist area.  If there was any place for the tourist police, this would be it!
The policeman read our expressions and shook his head with a smile.  He said something to the receptionist, and the two of them led Stephanie and me outside to one of the always available taxis in the area.  The receptionist spoke to the driver who answered with a nod.  Then the receptionist motioned for us to get in the back seat.
I turned to Stephanie and mumbled, "I guess we're taking a taxi to the tourist police.  Maybe we should go and confront Lucia first."
"No," Stephanie contested.  "We need the police!"
I was ambivalent but decided to go with Stephanie's command, um, uh, I mean . . . suggestion.
I asked the driver how much the cab fare would be, using one of the few Spanish words knocking around in my noggin: "Cuantos?"
He told us the amount.  It wasn't much.  I equated the low fare to a short drive and hypothesized we would be able to get there and back before Lucia closed up for the day.
Stephanie and I got in.  The driver drove us out of the main square into another part of the city, and he kept driving, and driving, and driving.  He kept on driving for a good fifteen minutes.  It was one of the few times in my life where I wished I was getting much less than what I was paying for.  Eventually, we arrived at another police station.
The driver came to a stop and called out to a uniformed cop standing on the front steps.  The policeman walked over to us.  The driver said something to him.  The officer turned to me and said, "Tourist police?"
"Yes," I confirmed.
He pointed down the street and said, "Different building."
I turned to Stephanie, and again I could see my question reflected in her eyes:  There's a third police station for the tourist police?
Before I could verbalize my question to the new policeman, our driver put the car in gear and took off.  I sighed, dejected that our chances of getting a refund was getting smaller and smaller in the rear view mirror.
Lady luck intervened and gave my spirit a lift.  Half a block down the street, our driver abruptly pulled over and pointed us to a two-story building.  "Police," he said.
Finally, we had arrived at the tourist police station.  We paid him, got out, and walked to the small building.  I sized up the place, and if I had to make a guess, I'd say that the police station where we just stopped at outgrew the building it was housed in and that this building in front of us was the overflow building.  At any rate, when Stephanie and I went inside, we were directed upstairs.  When we got up there, we were told to wait outside a small office, so we took a seat and waited.
While we were waiting, we struck up a conversation with a couple who had also come in to report a crime.  She was Peruvian.  He was European.  They'd had their money stolen in a robbery.  Judging by their downcast disposition, it was safe to say they lost more than Stephanie and I did.
The office wasn't exactly a beehive of activity, but since there were only two or three officers on duty to interview all the people coming in to report their crimes, the process was painstakingly slow.  Ten minutes after Stephanie and I had sat down, the couple waiting before us still hadn't been seen yet which meant that it would take us that much longer to be seen.
The minutes sauntered by as though they were comprised of 120 seconds instead of 60.  Eventually, the couple before us was called in.  Stephanie and I waited some more.  The seconds crept by like soldiers cautiously trying to cross a dangerous mine field.
I couldn't take it anymore.  I jumped up and told Stephanie, "This was a mistake.  We shouldn't have come here.  It's taking forever.  If we leave now, maybe we can still catch Lucia at her office!"  I started for the stairs.
"Wait a minute!" Stephanie called out.  She got up too.  Instead of following me to the stairs, however, she marched into the policemen's office and said, "Excuse me.  We really need to see someone – right now!"
To my complete surprise, one of the policemen replied, "Okay.  Come in."
Just like that, Stephanie got us in the door.
We sat down.  The officer, a clean cut guy in his twenties, took down our report.  He asked us how we wanted to resolve the matter.  We told him we needed an officer to come with us to Lucia's office to persuade the licentious crook to give us our money back.  He said he could accommodate us but that we would have to wait downstairs for the next available unit.  So Stephanie and I went downstairs and waited, and waited, and waited.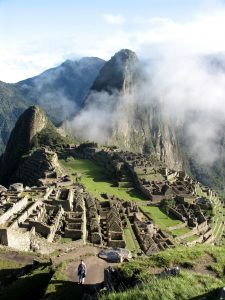 The seconds that crept by earlier like soldiers crossing a mine field must have detonated one of the mines because they seemed to have come to a total stop.  After glancing at my watch countless times and seeing the hour hand progressing farther towards Lucia's closing time, I began to resign myself to the fact that her doors would be closed by the time we got back and that we would have to fly to Lima early the next morning with nothing to show for our efforts.  Oh, well, I comforted myself.  At least we accomplished what we came to Peru for.  If nothing else, we saw the grand vision of Machu Pichu.
I'm not sure how much time had elapsed while we were waiting.  Fifteen minutes?  Half an hour?  All I recall is that when a police car finally pulled up and the two policemen told us to get in, we quickly got in.
The older officer was in his late forties.  For some reason, he struck me as a "Pedro."  The younger officer couldn't have been more than twenty-five.  He struck me as a "Francisco."  Thankfully, Pedro spoke a smattering of English, allowing us to be able to relate to him what had happened.  He nodded in comprehension at the end of our explanation and relayed to his partner in Spanish the gist of our account.
Whether it was because my explanation in the car was too long-winded or because Francisco took a few short cuts, before I realized it, we were pulling up to the front of Lucia's office.  The moment the car came to a stop, Stephanie threw open her door and leaped out of the car, looking like the actress Lucy Liu in the movie "Charlie's Angels."  The officers and I hurried to catch up with crime-fighter Stephanie into the office.  Apparently, our intention of catching Lucia by surprise had most of its desired effect.  The handful of office workers who were present looked at us in near shock.  The one person who we wanted to surprise, unfortunately, was nowhere to be seen.
Lucifer . . . I mean Lucia . . . was absent and unaccounted for.  Stephanie asked the people there where she was.  They said she'd taken the day off.  They asked us what we wanted with her.  Pedro conveyed our account to them.  One young lady in the group said she was a personal friend of Lucia and didn't think Lucia would ever do such a thing.  I pulled out the pertinent paperwork and showed all of it to the friend, a person whom I'll refer to as "Angela" for the angelic act she would do for us.  The first thing I showed Angela was the receipt.  Like the receptionist at the hotel in Aguas Caliente, Angela noted the missing reference numbers for the hotel rooms and the Machu Pichu tour.  Next, I directed Angela's attention to the train tickets we had to buy ourselves to get back to Cusco, tickets that should have been paid for already.
Angela's expression grew from concerned to greatly troubled.  Although she didn't want to believe that Lucia had stolen $260 from Stephanie and me, the evidence of her friend's crime was staring at her in the face.  Angela said she had Lucia's personal number and would try to contact her.  She took out her cell phone and dialed the number.  The phone rang and rang and rang on the receiving end.  After about fifteen rings, Angela got the same result as the hotel receptionist in Aguas Caliente.  She hung up then promptly apologized to Stephanie and me on behalf of Lucia.  She added that she would tell Lucia to give us a refund the first thing in the morning.  Stephanie told her that wouldn't do since we were checking out of our hotel before sunrise to get to the airport.
Angela said she didn't know what more she could do.  I wasn't sure what more she could do either and was at a loss as to our options when the more experienced of the two policemen intervened on our behalf.  Pedro began speaking directly to Angela in fluent, fast Spanish.  The two of them engaged in a short conversation that ended with Angela turning to Stephanie and me and saying, "Okay.  I have two hundred dollars in my desk.  That's all I have.  I give you two hundred.  Lucia pay me back when I see her.  Okay?"
I glanced at Stephanie.  She glanced at me.  The consensus was as clear as it was immediate:  This was as good as it was going to get.  We'd be wise to accept it before something else went wrong.
Stephanie gave Angela a consenting nod. "Yes.  Okay."
As Angela went to her desk to retrieve the cash, the two officers worked with another member of the staff to produce a pen, a sheet of paper – and oddly enough – an ink pad.  I gathered that they wanted the pen and paper to put the agreement in writing.  I didn't know what the ink pad was for though.  As I mused over that oddity, Angela came back to Stephanie and me and said hesitantly, "Sorry, I only have $120.  Can I give you $120, not $200?"
Great, I laughed ruefully in my mind.  As soon as we agreed to $200, she switched it to $120.  "I can't believe this," I said to Stephanie in resigned disbelief.
The supervising officer, unaware of what Angela just told me, came over to us and started to show us the sheet of paper on which he'd written an explanation and a statement.  "This is the agreement.  You sign here," he instructed us.
"I'm not so sure if we can," I told Pedro.
"Why?" he asked me quizzically.
I flicked a thumb over at Angela and said, "She just told me she doesn't have the $200.  She has only $120."
Pedro pivoted towards Angela.  He raised an eyebrow, silently and unmistakably asking her if what I said was true.
Angela answered with a sheepish smile, silently and unmistakably confirming that it was.
In the snap of a finger, Pedro launched into a sharp rebuke, lambasting Angela for Lucia's underhanded deed and for the way Angela was handling the situation herself.  Linguistically, I had no idea what the man was saying.  Realistically, I understood everything he was declaring, which was:
"Are you trying to play games with me, Angela?  First, Lucia cheats these two tourists out of their money.  She leaves them stranded in Aguas Caliente without a hotel, a tour of Machu Pichu, and a train ride back to Cusco.  They come to me asking for help.  You offer them $200 and ask them to settle for that amount instead of the $260 that Lucia stole from them. They agree to it, and as soon as they agree to it, you want to change the amount to $120?  You can't do that!  We already agreed to the $200.  Plus, I just wrote out an agreement saying you're refunding them $200.  If they agree to $120, what are you going to do next?  Change the amount to $80.   I won't let you do that.  You agreed to $200.  You have to stick to that amount!"
The tongue-lashing did its job.  Angela quickly became remorseful.  She mumbled something to Pedro then told Stephanie and me, "Okay.  I only have $120 in U.S. dollars.  I can give you the rest in Peruvian soles.  That's $80 in soles.  Is that okay?"
I didn't need to check with Stephanie to know what the answer should be.  It was plainly clear that the longer we stayed stuck in this quagmire, the worse it would get.  If part of our payment was going to be in soles instead of dollars, we were only too happy to take our money and run.
"That's fine," I told Angela.  "We can accept the money in dollars and soles."
"Thank you," she replied and returned to her desk to get the money.
Looking satisfied that his stern lecture had done its job, Pedro handed Stephanie a clipboard and pen.  He pointed to the piece of paper on the clipboard and said, "Write your name and your nationality, please."
"Sure," Stephanie said and began to write down her name and nationality.  When she was finished, Pedro pointed in the direction of Stephanie's last name, a name that happened to have an "H" in it.
"H," Pedro commented.
Like me, Stephanie thought he was asking if that was an "H" in her last name.  She nodded and confirmed, "Yes, that's an 'H.'"
Pedro shook his head.  "No," he said, pointing towards her name again.  "H."
Stephanie gave me a puzzled look.  She was evidently wondering why Pedro was fixated on the letter "H" in her last name.  Was he having trouble reading her handwriting?  If he was, she just confirmed it was indeed an "H."  Why was he asking again if it was really an "H?"  Not knowing what more she could do, Stephanie did what I would have done.  She repeated to Pedro, "Yes, that's an 'H.'"
Pedro shook his head in slight frustration to tell Stephanie and me we weren't getting the message.  Once more, he pointed towards Stephanie's name and said, "No.  I mean 'H!'"
Both Stephanie and I were mystified.  Why was Pedro continually asking if that was an 'H' in Stephanie's last name?
Suddenly, the comprehension hit both of us at once!
When we checked in at the hotel in Cusco and Aguas Caliente, the receptionists in both places had asked us to write down our name, nationality, and age.  As far as the name and nationality were concerned, we could understand the need for that information, but as far as the age was concerned, we had no clue as to why they wanted that tidbit.  In any case, it finally dawned on us that Pedro was telling Stephanie he wanted her to put down her age.
"Oh," Stephanie exclaimed in a light laughter.  "You want my age!"
"Yes, that's what I said," Pedro declared.  "H!"
And while Stephanie commenced to write down how old she was next to her name, I had to marvel upon the similarity between the letter "H" and the word "age."  I had never realized how much they sounded alike.  In light of that revelation, I could easily see how a non-native English speaker would have trouble distinguishing the hue of difference between the letter "H" and the word "age."
After Stephanie was done, I jotted down my name, nationality, and "H."  Pedro then motioned for me to come over to the desk where he'd laid down the agreement next to an ink pad.  "Your finger, please," he told me.
So that's what the ink pad was for.  Apparently, in Cusco, they didn't go by your John Hancock.  They went by your fingerprints instead.  In a way, I could understand that rationale since signatures could be forged but fingerprints couldn't.
"You want me to put down my fingerprint?" I asked Pedro.
"Yes," he replied succinctly.
I took a look at the document.  It was all in Spanish.  For all I knew, it could have been saying that I agreed to give up my first-born child.  "Uh, ah, um," I stammered to Pedro, "I don't mind my giving you my fingerprint, but this is all in Spanish.  I don't know what it's saying."
The veteran police officer took a deep breath.  It wasn't hard to discern that he was trying to calm himself.  He pointed to the document and said, "It say what we talk about."
"But," I stammered, "I don't know Spanish.  I don't know what it says."
He took a deeper breath.  I could see him wanting to unleash the same kind of lecture on me that he unleashed on Angela.  If he had, I'm quite certain his soliloquy would have said:
"Look here, you nitwit.  If you think about it, you can see that there's no way around this.  It's unfortunate that Lucia took a good chunk of your money and ran away with it.  It is fortunate, however, that her friend, Angela, was kind enough to step up to the plate and give you back most of your money.  Like she told you, she will bring this matter to Lucia's attention the next time she sees her.  When she does, two things can happen.  Lucia can 'fess up and admit everything she did and reimburse Angela the $200 she's paying you.  Or, she can continue with the con job and profess she knows nothing of this incident.  If she goes with the con job, Angela has to have a way to document that she gave you $200.  She has to have something in writing to show to the authorities.  So if you cooperate with me, you will get your $200 refund.  If you don't, you're walking out of here empty-handed!"
Since I didn't want to be lashed with such a lecture and since I agreed with what he would have slung out in that lecture, I said, "Okay, I'll give you my fingerprints," and promptly placed my thumb in the ink pad.  Pedro commenced to take my fingerprints and did the same with Stephanie.  Once we were done, Angela brought out the money and counted out what she promised:  $120 in dollars and $80 in soles.
We had sealed the deal.  There was nothing more for us to accomplish.  Stephanie and I thanked Angela for her help.  Pedro and Francisco offered us a ride back to our hotel.  We accepted, and they chauffeured us up the road to where we would be staying for the night.
The next morning, Stephanie and I greeted the morning sun as we arrived at the airport.  We checked in, boarded the plane, and took off for Cusco – this time without any airline staff telling me I had to get off the plane because they couldn't find my ticket.
We met Rogelia, our friend who lives in Lima, at the airport.  She took us to her home where we stayed for the weekend.  For the next couple of days, she showed us the highlights of Lima and feted us with her mom's fine cooking.
Sunday night arrived too soon. Stephanie and I didn't want to wear out our welcome, so we bid Rogelia and her parents a muchos gracias for their hospitality before taking a taxi to the airport.  Sated with the adventures of our trip, Stephanie and I flew home, pleased that we had overcome the obstacles that are bound to come with travel, and gladdened that we had gone Onward And Upward To Machu Pichu!