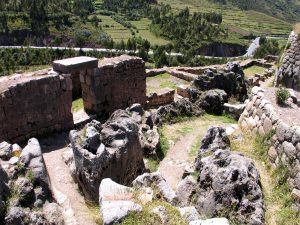 Ruins – You can buy a tourism ticket (Boleto Turistico) for a one time price of $10. This will give you admission one time only to any of 16 different tourist attractions including Incan ruins and historical buildings and museums in Cuzco. One of the most popular ruins outside of Machu Picchu is called Sacsayhuaman and is located just above Cuzco. A huge battle was fought here between the Spanish and the Incas. It is amazing the size of the huge stone walls that surround these ruins. Sacsayhuaman is within walking distance of Cuzco.
River Rafting is very popular and you can take a day trip for about $20-$20, lunch, guides, raft & gear all included. The Urubamba river is a very popular outing with rafting for all levels. Most of the main river rafting areas are several hours from Cuzco. The waters can be quite cold so you will be given a wet suit. There's nothing quite like an adrenaline rush produced from rafting for several hours down Class III and IV rapids, especially when the part of the raft you are in is lifted several feet above the rest of the raft and water is pouring in and you are watching huge rocks fly by the sides of your raft! If you have never rafted rapids such as these before pay close attention to your guides and the signals they give. Certain signals will need to be executed extremely quickly such as when the raft is about to hit a rock – and you must jump up and lean to one side of the boat.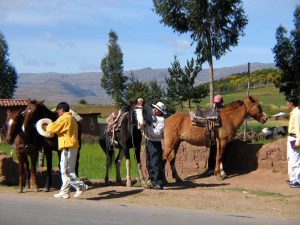 Horseback Riding . One such ride starts above Cuzco and can be secured for $10 if you do a little bargaining at one of the agencies. This ride is a great 4-5 hour excursion – no prior experience with horse back riding is necessary. A guide will walk or ride with you, and you will visit several Incan ruins including the famous Sacsayhuaman located just above Cuzco in the hills. This ride above Cuzco is through some very pretty terrain – and even though you are so close to Cuzco you will probably not see that many tourists.
Gambling – Babilonia is located on Avenue Sol (one of the main streets), several blocks down from the main Plaza de Armas. I am partial to this casino as I know one of the owners. This is the largest casino in Cuzco; there are also other casinos scattered around town. NOTE: a percentage of Peruvian coins and some bills are FAKE. It is very hard to notice the difference between the real coins and the fake coins unless you know what you are looking for. Sometimes the letters on the fake coins are blurry or off center. Have a person who lives in Peru show you the difference. In addition if you receive a bill that has even the smallest of rips/tears in it – good luck in trying to spend that particular bill. A bill like this is a curse and most people will not take it. Bills that are very worn or old looking are also difficult to spend. You might be able to spend these bills at the airport if lucky. Keep a very close eye on the bills and the coins that you receive as change.
Museo Inka is worth taking 30-40 minutes of time to visit. It is located almost behind the main cathedral off of the main Plaza del Armas square in Cuzco. The Incan collection of artifacts are contained within this square building in various rooms. There is not much gold or silver here – rather mostly ceramics, wood and stone work from the Incans. One of the more interesting displays is the collection of real human skulls that were shaped in weird shapes during a child's formative years. Some are very long and some are curved in – in the back of the skull. They are open Monday through Friday from 9-5 and also Saturday from 9-5. They are located at Av. Huayruropata 123. PHONE: 221956 – some of the descriptions in the displays are in English, but most are in Spanish.
The main covered market (Mercado San Pedro ) is located not too far from the train station and is about a 10-15 minute walk from Plaza de Armas. It is closed on Thursdays. If you have time this market is worth a visit. Two long rows of fruit dominate the center of this market surrounded by additional aisles of fresh meat. As you will see if you visit the meat stalls, no part of the animal is wasted. Everything from the brains, to the eyes, to the hooves to the animal's head is for sale. Several vendors were even selling live fuzzy caterpillars for consumption. The food section of this market overwhelms ones senses with an eclectic mix of smells & sights. Be sure to try one of the freshly squeezed fruit juices.
Shopping – Cuzco tends to be a bit more pricey than some of the other tourist destinations in Peru. The reason for this is the concentration of tourists here from around the world. The quality of shops however, tend to be a step up from some of the other tourists destinations. Some of the Peruvian crafts you will find are paintings, silver and gold work, jewelry stores, pottery and woodwork.
A nice shopping complex is the Artesanias Merida located just off the Plaza de Armas. They sell a variety of Peruvian handicrafts and are open from Mon-Sat (8am-8pm) and on Sunday from 4pm-8pm. The stores in this Artesanias accept all major credit cards. This complex is located at Triunfo 366 and their PHONE number is: 236386
A nice outdoor and travel equipment store (Cia. De Aventura) is located at Plazolet Las Nazarenas 211 near the fancy Hotel Monasterio del Cuzco. They have a great selection of outdoor clothing, very nicely laid out. PHONE: 51 84 24 5314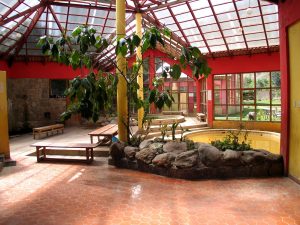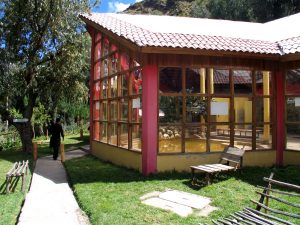 Hot Springs near Calca are a bit out of the way – it takes about 90 minutes from Cuzco by taxi and you drive through the incredibly pretty Sacred Valley. This valley is deep in the Andes surrounded by very tall impressive terraced mountains. You drive through the sleepy town of Calca with its main plaza a very quiet contrast to the bustling Plaza in Cuzco.
The actual hot springs are about 15 minutes from Calca on a dirt road. They are a series of iron colored water contained within small pools in a glass windowed room. The actual water is not extremely hot, maybe in the low 90's.