THE EVENT
The Park Hyatt Masters of Food & Wine are events held at all Park Hyatt locations; these bring guests and visitors together to connect with their award-winning chefs, sommeliers and other artisan food and beverage purveyors. I recently attended a Master's Food and Wine event celebrating the 10-year anniversary of Palacio Duhau joining the Park Hyatt family. This was held at the Palacio Duhau – Park Hyatt in Buenos Aires, Argentina. This culinary gathering showcased some of Argentina's finest wine and foods. Former chefs who used to work at the property were brought here for this gastronomic festival; it was a rare opportunity to taste some of the finest dishes prepared by this creative group.
And the setting was ideal, a warm spring evening in the courtyard to mingle and meet with a number of interesting guests as well as accomplished locals.
THE PROPERTY
Palacio Duhau – Park Hyatt is located in a residential neighborhood in the beautiful Recoleta neighborhood. The location is central – within a short distance of a number of well-known attractions including Recoleta Cemetery, the grand opera house Teatro Colón and Puerto Madero (the scenic port where every street is named after women).
This luxurious 5-star property was built in 1934 for the Duhau Family (Luis Duhau was Minister of Agriculture for Argentina). After sitting empty for a number of years, the palace opened as the Park Hyatt in 2006. The property features two distinctive buildings, the original and well-restored palace and a newer wing (where most of the rooms are located). A walkway connects both buildings and features works of art by both local and international artists.
Culinary pleasures are a big part of a stay here. Enjoy afternoon tea seated on an outdoor terrace overlooking the beautiful gardens. A rich and extensive wine list featuring some of Argentina's most acclaimed wineries is offered through the Duhau Restaurante & Vinoteca. A special cheese aging room is on site along with Duhau Pâtisserie, serving up a variety of desserts created from the in-house pastry team including a colorful line-up of macaroons.
#LuxuryIsPersonal and a stay here is about the great service, food, wine, relaxation and going at your own pace. Two spaces beg guests to relax; La Biblioteca and the Oak Bar (ideal for enjoying a late afternoon drink or cigar).
This property is about refined elegance, balancing an old world European feel with the contemporary conveniences and surroundings of a modern hotel.
THE SPA

Head straightaway to Ahín Spa after your arrival – especially if some jet lag is in tow. The perfect antidote to your sleepiness is a gentle Swedish massage held in one of their five private spa suites. Don't try to stay awake, but succumb to the masseuse's tender touch.
Follow this up by a stop in their men or women's only sauna and hot tub. Not all spa's have this but an extra touch is their circular swim suit drying machine – in seconds due to the centrifugal force of this machine, your swimsuit will be dry.
And enjoy the 82-foot indoor heated pool; refreshingly there is no chlorine smell here because this freshwater is cleaned daily with ozone.

SIGHTSEEING
One could visit and explore Buenos Aires for several weeks and only begin to understand this multi faceted city and it's accompanying stories. The city is known for it's old world architecture, European heritage, cafes, size and unique neighborhoods, a lively culinary and wine scene, and of course, tango. We only had a few days to spend exploring during our latest visit; the following are some highlights of our stay:
Isla el Descanso
If we could chase Spring around the world we would do so; November at Isla el Descanso in Tigre (one of the world's largest deltas, the Parana, located north of Buenos Aires) is a perfect example of this. During a recent visit the skies showed shades of blue that one cannot often find in one's travels.
With extensive gardens, flowers, ponds and quiet walkways, one can wander and lose themselves in the calming feel of this property. Private tours of the garden can be arrange including a delicious asado (lunch). Despite being so close to Buenos Aires, one feels worlds away. The name appropriately translates to 'Island of Rest or Break'. For more information visit: www.islaeldescanso.com
Recoleta Cemetery
If cemeteries could talk, this one would speak for centuries with stories from prominent individuals such as Eva Perón, various Argentinean presidents and Nobel Prize winners. Not only is this cemetery beautiful but it is large – with 14 acres one can wander among the ornate mausoleums for hours. And a visit here is well within walking distance of the The Palacio Duhau – Park Hyatt. With many walkways leading to hundreds of graves it is wise to pick up cemetery map at the entrance before you start exploring.
Floralis Genérica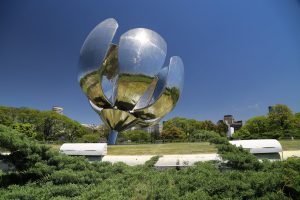 A fun surprise is to stumble across a gleaming metallic flower, built of steel and aluminum that opens and closes its petals with the movement of the sun. This now iconic sculpture is centrally located in the Recoleta neighborhood. The petals open in the morning and then close in the evening.
Appropriately named, Floralis for flora (flowers) and Genérica, representing all flowers. It was designed by Argentine architect Eduardo Catalano and built by the American engineering firm, Lockheed Martin.
Tango Show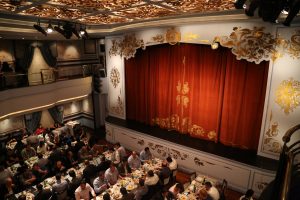 You are in Buenos Aires, the city of the tango – and one should celebrate this sensual dance by taking in a dinner and a tango show. You don't necessarily come to Cafe de los Angelitos for the food, but tickets include both a dinner and the show. However you do come here for a world-class tango show.
Features a small stage and dancers quickly rotating in and out to perform their sets in front of an enthralled audience. Very intimate venue with an excellent and memorable performance. For more information visit: www.cafedelosangelitos.com
Casa Cavia
Highly recommended for culinary enthusiasts is Casa Cavia. Not only an exceptional eatery, but this restored 1920's home also houses a parfumerie, florist and a fine array of books. Named for the street it is located on, Cavia, this collection is curated by their talented Creative Director Lupe Garcia. Chef Pablo Massey has trained internationally but returned to his home neighborhood to oversee Casa Cavia's culinary program.
Outdoor seating in their garden is a relaxing treat on a warm day. Savor your meal slowly along with bits of sunshine and then wander over to the parfumerie or browse through their collection of books inside the home. Visit: www.casacavia.com
Aire del Sur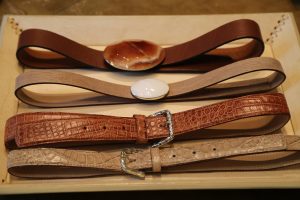 Tiny boutique featuring a wonderful collection of artisan home decor, table ware and fashion accessories (leather, wood, metal items). Their products are found in select luxury hotels and boutiques around the world.
Hidden away on the second floor at Vicente Lopez 1695 in the Recoleta neighborhood. Ring the buzzer on the first floor for entry. Open weekdays (Saturdays require an appointment). Visit: www.airedelsurboutique.com
Disclosure, #sponsored: My trip to Buenos Aires was made possible by Palacio Duhau – Park Hyatt