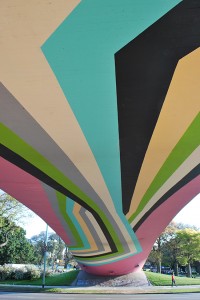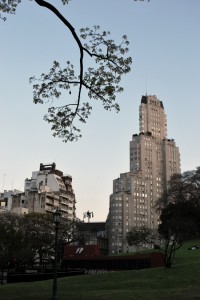 I could see myself, watching myself. An "out of body experience," they call it. I was naked, wallowing hysterically in the crisp, clean, white sheets of the king-sized bed in my Marriott hotel room. I hadn't eaten for many hours, too tired, emotional, and downright fearful to leave the room to forage for even a candy bar, of which there were plenty. Abundant bodegas were filled to the brim with candy brands foreign and domestic; chocolate covered, dolce de leché filled, sweet biscuits were a local favorite. In fact anything drizzled, dunked or dripping with dolce de leché might as well been considered the national dish. Porteños love their sweets. I saw more sweets pouring off shelves in quick marts than cigarettes, booze and porn combined. It was like the entire city was a candy shop for the proverbial kid.
I did have two beers though, left over from yesterday's haul. But no opener. So they sat room temperature on the desk next to the landline phone that rang from time to time with no one on the other end.
The room came with the standard coffee maker and bag of grounds, complete with powdered milk and refined sugar to make it somewhat drinkable. I cleaned out the stock within the early morning hours each day.
In between sobs of self-pity, I watched Argentine soap operas on TV. My Spanish was rusty, which was part of my problem. I've been to places where I cannot speak the language before, but I know Spanish (somewhat). For some reason I was intimidated. How did I get to the point that my lack of fluency became my undoing? Since when did an unknown place make me fearful? It was my first trip to South America, Argentina, and Buenos Aires and instead of exploring the cities vast offerings of art, cinema, music, shopping, steak and Malbec, I was curled up in the fetal position in a hotel room.
Buenos Aires is often described as the Paris of South America. It has a heavy European, with a lot of Italian, influence in the architecture, gastronomy, and hand gestures. It is also a Latin American city with indigenous traditions, mate tea, and driving methods. The buildings and sidewalks of Buenos Aires are soaked with its loaded history. Graffiti stains cement walls with artistic rebellion against poverty, unemployment, the "Dirty War", and current support for or unrest against President Cristina Fernandez de Kirchner.
The San Telmo Market, a long-standing traditional weekend market, tells the tales of Argentines from the past century. Antiques from glory years are crammed in overflowing dusty buildings, which crumble from the weight of time and neglect. I walked through the stalls, which go on for what seemed like nearly a mile, some vendors simply lay a blanket on the brick paved ground to show off their handmade wares, others have permanent locations. Hundreds of vintage posters, maps, trinkets, ceramics, dishes, silverware, and gleaming chandeliers reminded me of similar shops in Leesburg, Virginia and Dunedin, Florida. There was a romantic nostalgia for times past, yet an understanding that now is the time to move forward. Argentine merchants were friendly, mindful, and generally glad to be doing business. Pickpockets lurked, tourists took pictures and selected souvenirs, Porteños just enjoyed being out in the perfect spring weather in their fine city.
I was with Gman when one of the artists caught our eye. He painted watercolors of the city. His hands were rough from many, many decades of use and his demeanor gentle. These paintings, he said (all in Spanish), are of an idealized Buenos Aires. They represent places he's passed by a million times and each painting depicts his collective memory of his life in his beloved city. Maybe there wasn't ever a car parked just like that, he suggested, but since cars were introduced here, they have driven past that spot. The car in this painting is from the late 1940s, the glory years when Evita Peron presided over the country at her husband's side. There is a poetic sadness to the memories, to the painting, to the streets, to the daily life. It's not tragic or a feeling-sorry-for-one's-self sadness, just honest.
Tango is also like this. It was a tango show that jerked me out of my tear soaked sheets and brought me into the night air.
The venue was slightly hokey, for tourists, a two-show-a-night place with steak and Malbec for dinner. The meat was rough and wine average. Although it was a dinner show, we really weren't here for the food. We were here to see live Argentine Tango. I'd only ever had a Looney Tunes understanding of it and wanted to see firsthand just what all the fuss was about. Plus, it's like the #1 tourist must do. Besides eating gobs of dolce de leché. The dancers arms, hands, fingers stayed perfectly placed. Their neck muscles taunt. The intimacy is melodic as they began to feel the music and move their feet. They were not necessarily passionate for each other, but passionate about the music, their moves, this moment and the past.
Once out, I rather liked Buenos Aires. Gman and I visited the art galleries of the MALBA (excellently curated), browsed the shops in Palermo, had a private tour of the United States Ambassador's residence, and even met up with new friends for dinners and parties. Within one week, my Spanish was at an elementary conversational level. I had walked or driven through almost every neighborhood. We fell in love with the charming and delicious DADA Bistro and became regulars. We made lists of places we'd visit if we too were Porteños.
Through Buenos Aires I was awakened from my misery. One might travel to get away from daily life, struggles, and even other people, but as the old saying goes, "wherever you go, there you are." Sooner or later you catch up with your strife and have to learn to move past it. You cannot escape yourself by traveling. You can, however, expedite the healing process sometimes. I think of one of the most famous and influential Tango singers, Carlos Gardel, put it best. This is an expert from the song Volver, translated into English.
But the traveler that flees
sooner or later stops his walking
And although forgetfulness, which destroys all,
has killed my old dream,
I keep concealed a humble hope
that is my heart's whole fortune.
On the plane ride back to Washington, D.C. I thumbed through a shiny new copy of the September issue of Vogue Latino America. It was their springtime, a time for renewal and every article gleamed with hope (and floral pumps).
See the original article with additional images at High Heeled Traveler here: http://highheeledtraveler.blogspot.com/2013/01/destination-buenos-aires-argentina.html