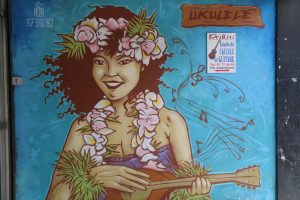 Since the age of explorers Wallis, Bougainville, and Cook, legendary Tahiti has tickled imaginations worldwide. More recently, Tahiti became the most famous Polynesian island of all when Clark Gable (1935), Marlon Brando (1962), and Mel Gibson (1984) played the role of Fletcher Christian in three blockbuster Mutiny on the Bounty films. Even the horrendous French nuclear testing program from 1966-1996 did little to dampen this image.
For the modern traveler, there's no getting around the fact that French Polynesia is expensive. Bora Bora is easily the most upscale tourist destination in the South Pacific with 17 resorts charging over US$500 double a night without meals. Yet it's also true that you can greatly reduce your costs if you book your top end hotel rooms as part of a package tour. Another option is to stay in small locally-operated pensions. Bora Bora has seven hostels and pensions in the US$75-150 range and Moorea has 11. On Moorea you can also camp.
Most visitors get around the islands by air, and Air Tahiti operates efficient services to 46 islands and atolls in French Polynesia. Here again, you can save money by purchasing one of Air Tahiti's 28-day air passes. A Society Islands air pass will cost around US$700, or US$850 if you add on the Tuamotu Islands. The only interisland boat trip which is easy to do is Tahiti to Moorea which operates every two hours and costs US$15. Passenger-carrying cargo boats do ply from Tahiti to Bora Bora several times a week, but they're basic and the overnight trip can be rough. If you want to experience the boat trip one way, you're better off flying from Tahiti to Bora Bora and then returning to Tahiti by boat. I explain why in my guidebook, Moon Tahiti.
Car rentals in French Polynesia average US$100+ a day expensive! Options include renting a bicycle instead of a car (on Moorea and Bora Bora) or traveling by le truck or public bus (on Tahiti). Four-wheel-drive safari tours are offered on all the main islands and these are also cheaper than renting a car. On Moorea, Huahine, Raiatea, and Bora Bora, there are sightseeing tours by outrigger canoe.
When to go? May to October is the cooler, less humid time, although prolonged rainfall is possible yearround. An optimum time to be there is for the Heiva festival on Tahiti, Huahine, and Bora Bora in early July. Whatever, don't miss attending at least one Island Night at a fancy resort for the wild tamure dancing and drumming. These happen several times a week. You can often avoid the high cost of the buffet by settling for a drink at the bar.
One thing you won't encounter in French Polynesia unless you spend most of your time at a large resort is a tourist glut. French Polynesia gets only 250,000 tourists a year compared to the six million who visit Hawaii. Geographically, Tahiti is actually east of Hawaii, and the flight from Los Angeles to Tahiti takes only 7.5 hours, just 2.5 hours more than it takes to fly to Hawaii. My most memorable experience in French Polynesia? The cruise to the Marquesas Islands on the Aranui, something I hope to do again very soon.
###
David Stanley is the author of Moon Tahiti published by Avalon Travel Publishing of Berkeley, California.