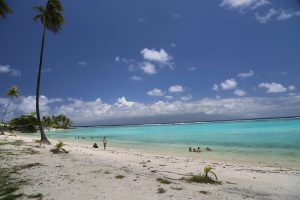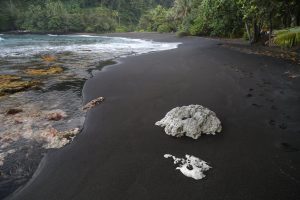 Over the years, Tahiti and Polynesia have provided novelists and moviemakers with colorful subject matter. Early travelers told of wanton women on tropical shores, and Fletcher Christian added drama to the plot by leading a mutiny against the tyrannical Captain Bligh.
In 1934 American writers Charles Nordhoff and James Norman Hall brought out the Bounty Trilogy. This three-part novel deals with Christian's mutiny on the Bounty, the escape of Bligh and his loyal crew members to Dutch Timor, and the colonization of Pitcairn Island by Christian and his fellow mutineers.
The novel was an instant bestseller, and director Frank Lloyd soon made it into a movie, Mutiny on the Bounty, starring Charles Laughton and Clark Gable. In keeping with the mood of his time, the mutiny was presented as a simplistic struggle between good and evil, and the film won an Oscar for Best Picture in 1935.
A generation later Marlon Brando flew down to Tahiti to star in a blockbuster remake of Mutiny on the Bounty. MGM's 1962 production is still considered the most spectacular film ever made in the South Pacific, in part due to the glorious scenery of Tahiti and Bora Bora. Thousands of Tahitian extras appeared in the film, and Brando married his first lady, Tarita Teriipaia.
In 1984, yet another version of The Bounty was released, with Sir Anthony Hopkins as a resolute Bligh and Mel Gibson as an ambiguous Christian. Of the three Bounty films, this is probably the most historically accurate, and it's certainly the one with the greatest psychological depth. It was largely filmed in Moorea's Opunohu Bay.
Another Nordhoff and Hall novel, The Hurricane, has been brought to the silver screen twice. John Hall's 1937 film portrays a young couple fleeing a despotic governor. In 1978 Dino de Laurentiis reshot The Hurricane on Bora Bora, with Mia Farrow and Trevor Howard. The resort built to house de Laurentiis' crew still exists as the Sofitel Marara.
British novelist W. Somerset Maugham also had close ties to the South Pacific. In 1943 Albert Lewin filmed The Moon and Sixpence, Maugham's fictionalized account of Paul Gauguin's life in Polynesia. The nonconformist painter's incompatibility with French colonial life provided Maugham with a pretext to explore the role of the artist in society. Another famous Maugham story, Rain, set in Samoa, has been made into a movie several times.
Other well-known authors who have popularized the legend of Tahiti include Herman Melville, Pierre Loti, Robert Louis Stevenson, Jack London, Rupert Brooke, and James A. Michener. Their stories, plays, and films have helped create the myth of a South Seas paradise. And even today, Tahiti and Polynesia beckon to romantics wishing to live their share of the dream.
###
David Stanley is the author of Moon Handbooks Tahiti.