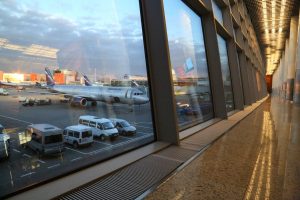 We all know that getting to the airport on time can be a hectic experience.
When you're not frantically turning the house upside down looking for your passport or trying to find your wallet, your loved ones are doing their best to make sure you have an aneurysm before you've even set foot outside the front door.
In between shouting from the bottom of the stairs to the top, your youngest child has gone missing in a heap of laundry and the dog seems hell-bent on avoiding a stay in the kennels for the duration of your trip.
To top it all off, you're running late for your flight.
In a desperate bid to reach the terminal before that big vein in your head inevitably pops, you cram your luggage into the taxi and grab your family by the scruffs of their necks – you WILL make this flight on time …
… but it's too late.
Despite your best efforts, your flight has taken off without you. Glaring at your family, you drag your luggage into the departure area and glumly assess your options. Above all else, however, you vow never to let the same thing happen again.
Here's how …
1. Dig out Your Passport
It sounds obvious, but you'd be amazed at how many travellers excitedly head to the airport, go to board their flight then realise they've left their passport on the kitchen worktop. The result? They miss their flight and waste time and money heading back home.
So, make sure you have all your important documents in one place (for you and the family), also checking that the passports are in date, with some countries requiring six months to be left on your passport from date of entry. Check out the Foreign and Commonwealth Office site for more info.
2. Take Your Own Car to the Airport
When you're keen to relax when you jet off on holiday, the thought of taking your own car to the airport seems incongruous, as these gargantuan structures can be enough to make even the most confident driver tear his or her hair out when trying to find a suitable parking space.
However, by booking an airport meet and greet service, you can avoid being held up by public transport as you glide to the terminal in your own motor, leave it with a car parking professional, and pick it up at the same spot upon your return. Simple!
3. Sort out Your Travel Cash
If you're the kind of cat who likes to leave things to chance, it's probable that you've not even given a second thought to your travel money – but by failing to organise your moolah before you go, you're wasting both time and money.
Indeed, whilst there's a currency exchange at the airport, they may as well be wearing a mask given the poor rates they offer. Therefore, try shopping around online before you go, and avoid waiting in the queues at the airport before you take off.
What do you think?
Are there any other ways our readers can save time before they jet off on their travels? Hook up with us in the comments section below – we'd love to hear from you.