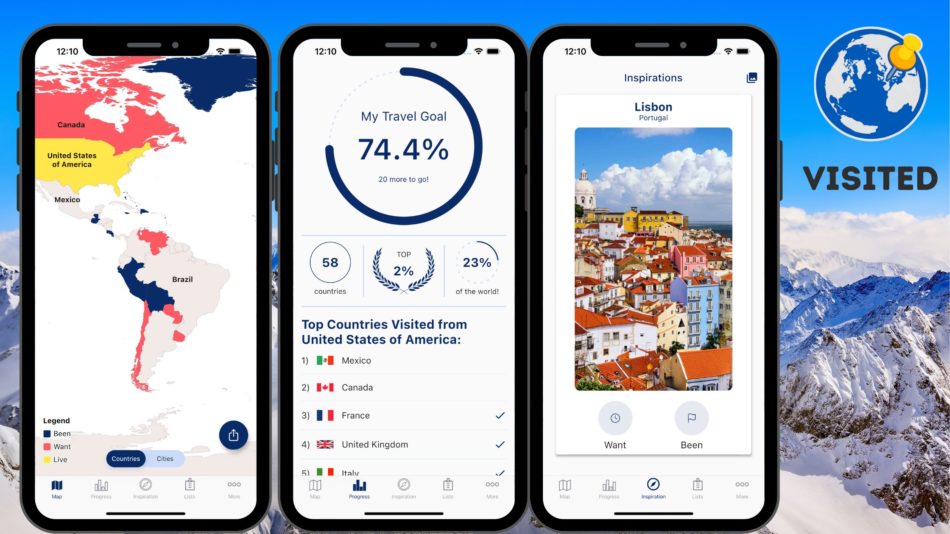 Calling all tourists, nomads, explorers, you name it! This travel app was created by a fellow traveler with the travel bug that was busy exploring the world's places and all of it's sights, and simultaneously trying to plan the next adventure. Keeping track of her travel bucket list in a journal, she decided there has to be a faster and lighter way (for carry-on purposes) to manage her travel plans, memories, and inspirations. So, she made one. Visited is THE app for any travel lover! A must-have travel app on your phone, it's a free and digital way to keep track of all your experiences and desires around the world – a virtual scratch map, bucket list, journal, inspiration generator, and not to mention your very own travel calculator that tells you what % of the world you've seen by continent and compared to others.
What can you do with the app? Here are some of our favorite features:
• You can create your very own personal travel "scratch" map by displaying countries, states / provinces / regions, and cities of where you have been or want to visit.
• You can keep track of your adventures by adding travel journal notes by country on your travel dates, points of interest, or personal memories.
• You can visualize where you've been on a local level with regional maps for over twenty countries, including the United States of America, Canada, Australia, Germany, United Kingdom, Russia, France and others.
• You can get inspired for future travels and desired destinations by swiping through beautiful photos and adding them to your wish list.
• You can specifically keep track of your experiences by activity on a country-level such as where you've gone golfing, scuba diving, skiing, wine country tours, museums and others.
Oh, and did we mention it's fully customizable and shareable? Select different designs to match your travel interests to really capture your spirit and share it with your friends and family with just a click. And if you're feeling a bit competitive, you can find out how you rank amongst world travelers by the number of countries you've traveled to!
While we all have the travel blues these days with dormant travel bugs, why not reminisce nostalgically about past adventures and get inspired about future trips to new destinations post-pandemic? Download Visited in the App Store or Google Play store today to get started!