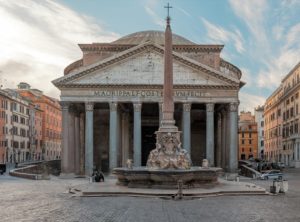 The city of Rome, the eternal city, is a treasure trove of ancient monuments, and one of its crown jewels is the Pantheon. This architectural masterpiece, known for its beauty and ingenuity, has stood the test of time and remains one of the best-preserved structures of the Roman Empire. This article aims to explore the fascinating history, architecture, significance, and present-day relevance of the Pantheon.
A Stroll Down History Lane: The Birth of the Pantheon
The Pantheon, originally built between 27 B.C. and 14 A.D. by Marcus Agrippa, was not as we know it today. Agrippa's Pantheon, honoring the Roman gods, was destroyed in a fire in 80 A.D. It was Emperor Hadrian who reconstructed the building between 118 and 125 A.D., transforming it into the marvel we see now. Over the centuries, the Pantheon served different purposes – as a temple, a church, and even a tomb for notable figures, including the Renaissance artist Raphael.
Cultural and Spiritual Epicenter: The Pantheon's Significance
The Pantheon, in its early days, was a place of worship for the many gods of Rome. Its very name, derived from Greek, means "of all the gods." However, its spiritual significance took a turn in 609 A.D., when it was consecrated as a Christian church, a status it holds to this day.
Besides its religious connotations, the Pantheon is culturally significant. It is a burial place for several renowned figures from Italy's past, including kings and artists. It also inspired architects worldwide, who incorporated elements of its design into notable structures like the U.S Capitol and the Jefferson Memorial.
The Pantheon Today: Preserving an Ancient Legacy
Despite the passing of almost 2,000 years, the Pantheon stands tall and mighty. As a well-preserved relic of Roman architecture, it continues to draw millions of visitors each year, who marvel at its ancient grandeur and the engineering prowess of the Romans.
The building still serves religious functions and hosts masses on special occasions. Furthermore, its status as an Italian national monument underscores its continuing importance in Italy's cultural and historical landscape.
Obtaining Tickets and Arranging Tours Online
A multitude of online services, including platforms like Pantheon Tickets, offer a wide range of ticket options and guided tour possibilities for the Pantheon. Using a reputable website ensures a hassle-free process, providing up-to-date details on ticket availability, pricing, and tour particulars. Furthermore, making your reservations online allows you to plan your visit in advance and avoid potential disappointments.