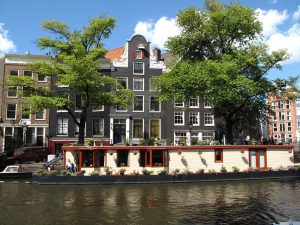 Capital of the Netherlands, Amsterdam is an incredible city to visit filled with an incredible history and excitement.
One of the cultural must-sees when getting to the city is the Begijnhof. Dated back to 1307, it is one of the oldest inner courts in the Netherlands. The court was originally a secluded area where only women lived promising obedience to the parish priest. A soothing sight with beautiful architecture and a perfect little garden.
Another cultural must is the Rijksmuseum, especially if you are an art connoisseur! The museum in itself is a masterpiece on the outside and the inside. Even more so as it withholds more than 1 million objects, dedicated to arts, crafts, and history from the years 1200 to 2000. You will there find some of the incredible paintings of Rembrandt, Johannes Vermeer and many more.
After a culture filled morning, why not go buy some fresh fruit and veg' at the Ten Katemarkt for a picnic in one of Amsterdam's many parks. Other than food you can also find fabrics and clothing within the 130 stalls of the market. Ten Katemarkt is hidden in a shopping street it is nevertheless easily accessible as right next to the tram and train station Ten Katestraat. Be warned now, when you are by foot in the capital stay well aware that you may get squished by bikes, trams, train or cars. So keep a look out.
If you want to carry on shopping the "9 Straatjes" is the way to go. Away from big shopping malls, the route is filled with exclusive and original shops. The 9 streets are all in between Rozengracht, Leidsestraat, Prinsengracht and Singel, a cozy little neighborghood with loads to see!
If you are in Amsterdam in party mode you need to try out Floor 17, a hotspot especially for the summer season. Floor 17 has a beautiful rooftop where you can have some food or just appreciate a margarita 85 meters high. If you feel like dancing after that, the Club Air is one of the most pumping clubs in the centre as many renowned DJs perform there. An incredible night guaranteed.
As you will probably be feeling lazy the next day head to De Biertuin a bar/restaurant in the east of Amsterdam next to the Oosterpark. After a refreshing walk, enjoy Die Biertuin's amazing food whilst bathing in the sun.
If you have come with your family, the zoo and the NEMO will have yourself and your kids amazed. The zoo is actually the second most visited site in Amsterdam and one of the biggest in Europe. 34 acres of roaring and crawling fun.
The NEMO science centre is also a great activity to do with your children. A fun and educational museum it teaches all about different technological revolutions and where we all come from…
Amsterdam is without a doubt a great city to visit, may you be with friends, family or just travelling alone. If you want to have a minimum of sleep and privacy essential tip: forget about hostels.