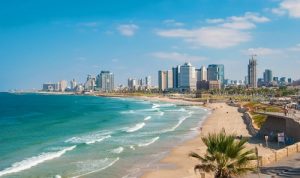 While there are many things Israel is known for, its beaches are one of the country's main treasures. The rocky and sandy beaches which adorn this ancient country are a tourist hotspot visited by millions every year.
To a passing tourist, they might all appear to be similar, but all these beaches have their own characteristics. If you've been wondering about where to spend your next summer, look no further than the beaches of Israel!
Caesarea
While this beach is a bit far away, sitting at 50 km away from Tel Aviv, it's worth every meter. An ancient Roman aqueduct adorns the clean sands of Caesarea. Due to how remote the beach is, with no restaurants or promenades nearby, it gives off a tranquil feel.
If you've been looking for a beach that will let you get a break from society, then Caesarea might just be the beach for you.
Hotels in Israel can be quite tough to book with, luckily, the Dan Caesarea hotel near this beach has recently finished renovation. If you decide to stay there, you can expect a stay of unparalleled quality.
Tel Aviv Beach
The Tel Aviv beach is a bit less remote than Caesarea and, therefore, quite popular. Stretching over 10 kilometers, this beach is divided into 10 separate sections, each of which would deserve a spot on this list. The central sections are always busy and brimming with life, while the ends tend to be less populated.
It's worth noting that the Hilton beach is a known LGBTQ+ hotspot. Every section of the beach has its own thing going on, so you're bound to find a crowd you fit into.
Herzliya Beach
The Herzliya beach is just north of Tel Aviv and is widely considered to be among the top of all the beaches in Israel. This is an extremely popular beach among surfers due to its exciting waves.
If you're tired of overly busy, loud beaches but still want to enjoy an excellent one, then give the Herzliya beach a shot. It's known for being a bit quieter than Tel Aviv's more popular locations, while still delivering an excellent experience.
Coral Reef Beach
The Coral Reef Beach is situated in Eilat, one of Israel's more popular tourist cities.
As the name implies, it's famous for its gorgeous coral reefs, as well as its snorkeling appeal. You'll find many scuba diving and snorkeling instructors waiting here to find the next person willing to explore the beautiful corals.
This beach is also close to the Dolphin Reef, which is often visited by friendly dolphins that love playing with the tourists that come by.