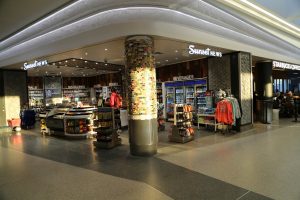 I am on the road usually 5-6 months a year; my travel schedule has been this way for a number of years. As a result I meet people from around the world – some of which are interested in visiting or moving to the United States. I've had friends apply for traditional visas in the past – it can be a stressful process. One of my friends had to apply several times before he acquired the coveted tourist visa. We had been planning a climbing trip in California and each year he was denied it was another year our plans went on hold.
But the good news is once he was approved – he was issued a 10-year multiple entry visa.
As a result he was able to fly to California and we enjoyed exploring the state for 10 days. I have lived here all my life and was able to take him to some of the out of the way places that most tourists never see. We also climbed Mt. Shasta – one of the tallest mountains in the state – surviving a windstorm in the process. But we reached the summit. Death Valley was on our agenda – this is one of the hottest places on the planet with daytime temperatures in the summer regularly hovering in the high 40 range and often higher. Fortunately we visited in mid May – just before the onslaught of the furnace like temperatures.
However if my friend had known about applying online, there is an easier way for applying for a visa to visit the United States. The ESTA or Electronic System for Travel Authorization allows potential visitors from participating countries (many European countries) securely and electronically apply for a visa to visit the United States for business or vacation. ESTA gives visitors up to 90 days in the country through the Visa Waiver Program.
Estas.net is a company that has processed thousands of these applications and are experts on how the ESTA Visa Application system works. They have experienced representatives that communicate in a number of languages for one-on-one assistance; you can even chat with questions via their website. With their know how, ease of website use – they make the entire process easy and certainly saves the applicant time and hassle.
The Visa Waiver program was established by the United States in 1986 to help promote International tourism and short business visits. Once this went into effect it simplified and sped up the process for passport requirements for visitors on their travel application.
The first country that was accepted into this program was the United Kingdom. Today there are 38 participating countries (several more are waiting membership) and over 19 million visitors have used the Visa Waiver Program.
ESTA has an approval rating of over 95% – and for some reason if your application is denied they refund your application fee 100%. What is not like about that!
Because the ESTA agents have process so many applications they know what to look for – they can easily spot errors and will let you know if they find something that needs addressing. Privacy is of acute concern to ESTA and their website maintains an extremely high level of security – personal information is never shared and only used for the USA ESTA application.
Once you have started your ESTA process you will be provided assistance until your ESTA permit expires, they can provide help on updating information and answering any related travel questions you may have.
Once you are approved for your ESTA application your travels to the United States must take place within two years
Once you are approved ESTAS.net will email you the permit so that you can easily print it.