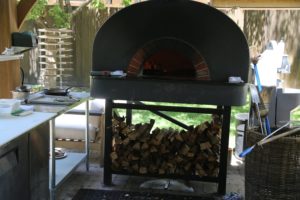 Did you know that the number one comfort food for Americans is pizza? Yep. According to a Harris Poll, 67% of Americans claim pizza is their go-to, yummy indulgence. While that's all well and good, our passion for pizza doesn't always speak to the quality of our favorite nosh.
To explain, many pizza joints are simply about slapping out pies in a soulless, conveyor-like process. That simply won't do for hungry citizens of the pizza nation. That's why American restaurants are getting inspired from their travels, and bringing their pizza-making discoveries from abroad right back home to the US.
Traveling Back to Where it All Started (Not Where You Might Think)
You might think American chefs are most inspired by their travels to Italy when it comes to perfecting the art of pizza making. That's a logical assumption. In fact, many American chefs and restaurateurs such as Alex Guarnaschelli and Mario Batali hearken to their heritage and travels to Italy in order to refine their pizza making skills.
However, food historians have traced yeast-based flatbreads baked as far back as 5,000 years ago, in Turkey, Egypt and India. These flatbreads were topped with various ingredients and baked in a clay oven. Sound familiar? If you want to get to brass tacks, these centuries-old flatbread concoctions were the predecessors to pizza.
Consequently, famous chefs such as Yotam Ottolenghi look to his heritage and his travels to the Middle East to craft drool-worthy cuisine in his 6+ restaurants. Similarly, Chef Samir Shaltout calls upon his memories and travels to Egypt when he serves his flatbread beauties at his Egyptian-centric restaurant in New Jersey. Then there's Indian-born chef, restaurateur and food celebrity Maneet Chauhan who draws upon her early childhood and her frequent travels back to India to inspire her 5-star cuisine and naan flatbreads at her famous restaurants in Nashville, Tennessee.
What About Italy?
While flatbread was the ancient precursor to the pizza – it's Italy that truly sets the soul of an American chef free when it comes to the art of superior pizza making. Food historians cite Naples, Italy as the home of the first pizza back in the 1700s. Therefore, more chefs are getting back to basics and traveling to Italy in order to unravel the ancient mysteries of making pizza.
What did they find? American chefs such as Michael Ferraro and Bobby Flay are talking about wood-fired ovens fueling the bonafide flavor behind finely-crafted, authentic pizza. In fact, American restaurateurs who have traveled to Italy and discovered the roots of wood-fired pizza are setting a new trend in American pizzerias.
How Restaurants Are Restoring the Art of Pizza Making
The days of greasy slices and rubbery cheese are done. Increasingly, chefs are getting serious about making pizza in a grassroots effort to restore the culture of pizza and provide customers a truly authentic bite. In fact, chefs are flocking to Italy to learn from the master in order to resurrect the taste, flavor and essence of true pizza.
As mentioned, most of these chefs traveling to Italy are learning that wood-fire ovens are the essential key to a traditional pizza. Armed with this illuminating epiphany, American chefs and restaurant owners are returning to the US with a renewed vigor to replicate Italian pizzas for their own customers back home by installing wood-burning pizza ovens in their pizzerias.
How Are American Restaurants Replicating Old World Pizza?
Increasingly, American restaurateurs are seeking out the perfect, wood-burning pizza oven in order to capture the essence, history and superior taste of truly authentic pizza. These aspiring restaurateurs have learned in their travels to Italy that conventional electric, conveyor ovens simply cannot duplicate that Old World flavor, crunch or aroma their customers crave in a pizza.
With the increasing interest American pizza makers are showing in wood-fired pizzas and wood-burning ovens, we are seeing sensational new pizzas that are blowing foodies away in the US.
Furthermore, thanks to the benefits of international travel, chefs now have a new advantage over their competition. It is the devotion, and commitment to understand geography, culture and cuisine through the process of travel that is single-handedly resurrecting what might have been the potentially fading art of pizza making in America. Who knew a trip to Egypt or Italy could be so revolutionary for America's favorite comfort food!?