There are many sites to see in and around Naples, Italy. For travelers who live to eat, it's the vibrant cuisine that acts like a magnet, drawing us to this southern Italian city like bees to honey. Situated in the shadow of Mount Vesuvius, residents live with the constant threat of eruption. Rather than living in fear, they throw caution to the wind, embracing each moment with a carefree attitude and plenty of gusto. Each meal might be your last, so every bite is a celebration.
Like many things in Naples, Mount Vesuvius is a double-edged sword; the volcanic soil is a hotbed for growing exceptionally delicious produce. Expect the local markets to be bursting with thorny artichokes in spring, rosy San Marzano tomatoes in summer and luscious ripe figs in fall.
Naples is much more than excellent produce. Mozzarella di Bufala is a specialty throughout the region. It has little in common with the sort of mozzarella cheese sold in the rest of the world. Made from the delicate milk of the water buffalo, it's creamy, light, delicate and highly perishable, so it doesn't travel well. One taste and you're chasing the dragon.
Mozzarella cheese brings me straight to the heart of Neapolitan cuisine, pizza. While the ancient origins of pizza are unclear, Naples is the modern day epicenter. As a native New Yorker, my connection to pizza runs deep. A slice of pizza was my afterschool snack, birthday celebration dinner and everything in between. Proust had his Madeleine cookie and I have my cheesy slice. A shared love and respect for pizza binds New York to Naples. It's not a competition, as a New York slice has little in common with traditional Neapolitan pizza.
United's New Nonstop Flight Connects These Two Pizza-Crazed Cities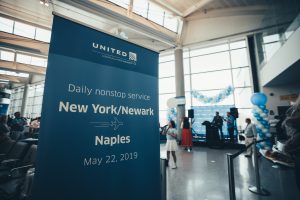 It's entirely fitting that United Airlines started daily seasonal nonstop service from Newark to Naples on May 22, 2019. It's United's sixth nonstop service to Italy and the first nonstop flight connecting these two pizza-loving cities.
As a New Yorker who has lived in Italy for years, there's a strange symmetry between the two cities that goes way beyond the crispy crust. Many New Yorkers of Italian origin have Neapolitan roots, so many of New York City's Italian traditions are actually Neapolitan.
Depart Newark in the late afternoon and the next morning you'll be sipping a strong espresso in Naples. You'll need a caffeine boost to lift your energy for all the eating that lays ahead.
If you can splurge or if you've got some United Mileage Plus miles to spare, book a seat on United Polaris, the premium class of service. Its goal is to provide passengers with a good night's rest in the sky, with sleep-focused amenities like Saks Fifth Avenue luxury bedding to snooze in comfort and style. You'll arrive in Naples raring to go.
The Traditional Margherita Pizza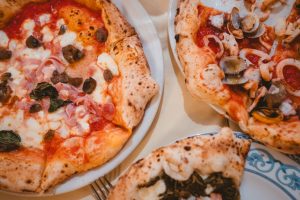 Now that you've arrived in Naples, it's time to take a gastronomic plunge into the origins of pizza. The local classic pizza is the Margherita, created for Queen Margherita in 1889 at Pizzeria Brandi.  Today, the original recipe remains intact at Brandi, so it should be the first stop on your pizza crawl. This tricolor treat (red, white and green) has a color palette to match the Italian flag so there's a touch of national pride in every bite. A pizza pie in Naples is small, around 10-12 inches in diameter so each diner orders his or her own. The beauty lies in its simplicity. The dough made with 00 wheat flour, fresh yeast, water and a touch of salt for extra flavor and rise. Mozzarella cheese, San Marzano tomatoes, extra-virgin olive oil and few basil leaves top it off. Prices are low and quality is high at Brandi, plus it has the historical edge.
Save Room for Sweet Treats
Even in Naples, man does not live by pizza alone. Neapolitan pastries are revered throughout Italy. The most delectable local sweet is la sfogliatella, a flaky shell-shaped pastry filled with ricotta.
Dozens of pastry shops are clustered in the historic city center but Scaturchio is my personal favorite. Everything is made using top quality ingredients according to traditional recipes.
When You Can't Eat Another Bite
Naples' Archaeological Museum is housed in a 500-year-old building. The vast collection of mosaics and ancient art excavated from Pompeii and Herculaneum make it a must-see.
Naples is a short distance from both Pompeii and Herculaneum, making it an excellent base for exploring the ruins of these two ancient cities.
It's easy to enjoy a seaside day trip from Naples. Head to the port and catch a hydrofoil to Ischia, a volcanic island approximately 45 minutes away. Spend the day at one of the many beach clubs where you can rent umbrellas and comfy beach chairs.
The island of Capri is another day trip option. The ferry ride takes about an hour. Visit Anacapri, situated high on the hillside, and ride the chairlift to Monte Solaro.  Of course, a boat ride to the famous Blue Grotto is a must.
Catch the ferry to Naples after a day of frolicking in the sea and you'll be back in time for one more delectable pizza.
Images courtesy of Alex Broadstock for United and the author