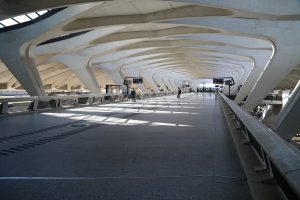 Going on a long flight means you need to find out how to make time pass while staying as comfortable as possible. Some people can tough it out by entertaining themselves or by resting with the amenities provided by the airline, but having a supply of goods can make your flying experience much better. These are seven items you want in your carry-on for a long flight.
Pillow
The pillows provided by airlines tend to be pretty lackluster, especially if you want to have deep sleep. Pack a non-toxic memory foam pillow designed for travel to ensure maximum comfort on a long flight without worrying about irritating fellow passengers. Make sure it's durable and that you'll be able to get comfort out of it while in an upright position. To be a true travel hero, bring at least one extra pillow for any companions or fellow row-mates.
Eyeshades
It can be hard to fall asleep in the light even when you're exhausted. Eyeshades act as personal blinds as you can get as much darkness as possible. Purchase one that can fit around your head without fear of falling off. Should the lights be dimmed in the cabin, you can find yourself being even further relaxed and able to fall asleep.
Tablet or Laptop
You can have entertainment on-demand while you fly, thanks to tablets and laptops. Even if you don't want to pay for the in-flight internet service, you can still make use of your devices by preloading them with things like movies and episodes of your favorite television series. Binge-watching can be one of the most fun parts of your trip.
Earbuds or Headphones
There's no better time to just listen to your favorite music and not think about anything else than when you're flying. Since you don't want to disturb your fellow passengers, you should have a good pair of earbuds or headphones. To keep them from disturbing you, consider noise-cancelling headphones for your journey. You'll then be able to listen to your favorite songs, podcasts, or anything else with total privacy while also giving yourself a form of refuge if needed.
Toothbrush and Toothpaste
During a long flight across thousands of miles, you might find yourself a bit concerned about your oral hygiene. Should you want to freshen up a bit, some toothpaste and a toothbrush will greatly help. Security regulations forbid full-size toothpaste, so make sure any tube you take has been approved for travel usage. When you have a moment, head to the bathroom and brush up. Be mindful of not taking too long, as you don't want to inconvenience anyone else on the plane.
Book
A long flight is a perfect opportunity to lose yourself in the pages of a book. You might bring a riveting travel memoir or a classic novel that you've been meaning to read for years. You'll hopefully find that the time flies by as you read the book from cover-to-cover.
Food
You're likely to hungry during your flight, and there's no guarantee that a meal will be served. At best, you might get a small bag of peanuts. Bring something substantial that will tide you over until you land. It should be easy to in your seat and not cause any disturbance to your fellow passengers. Avoid bringing anything that has a distinct odor, such as fish or garlic-heavy dishes.
After getting to the airport, going through security, waiting at the gate, and boarding, you should be doing all you can to make your flight peaceful. Having these items in your carry-on will give you easy access to essentials. By making them part of your trip, you can travel in utter comfort.