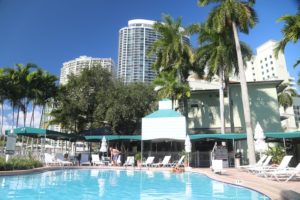 Miami is one of the most culturally vibrant places in the United States. The city's diversity is reflected in its cultural offerings—everything from art deco architecture to Cuban food to world-class ballet.
If you're looking for an artsy vacation, Miami is a great place to start. And if your trip is last minute, you can now get a fast track ESTA which makes it a lot easier to travel to the States without a visa.
I've put together some of my top picks for arts and culture in this incredible city, so all you have to do is pack and get ready for a big culture hit.
Art Gallery Aplenty
Miami is absolutely overflowing with art galleries. There are many different types, from those that focus on contemporary art to those that display historical pieces. These galleries offer visitors the chance to see some of the best artwork in the world and even meet some of the artists who created it.
The best way to discover an art gallery in Miami is to walk around the city and keep your eyes open—you never know when you're going to stumble across one. A must-visit is the Miami Design District, where you'll find tons of galleries, including The Institute of Contemporary Art. Another great area to check out is Wynwood, which hosts Miami's Art Walk.
Take a Trip to Little Havana
Little Havana is one of Miami's most iconic neighborhoods. It has been home to Cuban exiles since the 1950s and boasts a rich culture that draws people from all over the world. The neighborhood is known for its diversity, as well as its friendly atmosphere and strong sense of community.
Today, Little Havana is home to many historic buildings, including several churches and synagogues where residents can find cultural events like fiestas de la calle Ocho (street parties), art shows, music festivals and more throughout the year.
Discover Little Haiti
Little Haiti Miami began to form in the early to mid 20th century, when Haitians began immigrating to Florida. Many Haitians moved to this part of Miami because they could afford housing there, which was much cheaper than other parts of the city. Little Haiti is also close to the Port of Miami, where many Haitians worked as dockworkers.
Little Haiti is one of the most exciting neighborhoods in Miami. It's a place where you can find authentic Haitian cuisine and culture, as well as get a taste of the city's unique mix of people, cultures, and music.
Eat Your Way Around Downtown and Upper East Side
The Miami food scene is huge. There are entire neighborhoods that are known for their unique culinary offerings, and downtown and the Upper East Side are no exception. The Upper East Side offers residents and visitors alike plenty of options for grabbing a quick bite or enjoying a full meal.
Downtown Miami is home to the Wynwood Arts District, which has become a hub for some of the most exciting restaurants in the city. The area's food scene is diverse and rich, with new restaurants opening on a monthly basis.
Wander Through Vizcaya Museum and Gardens
Vizcaya Museum and Gardens is a beautiful place to visit in Miami. The museum is a mansion that was built in 1916 by James Deering, a wealthy industrialist from Chicago who made his fortune from steel production. Deering was fascinated by European architecture, which inspired his design for this estate.
The architecture of the building is stunning, and it gives you a sense of what it would have been like to live in the early 1900s. The gardens are beautiful and there are many areas where you can sit down and enjoy the scenery.
Check out the Phillip and Patricia Frost Museum of Science
The Phillip and Patricia Frost Museum of Science is a museum that focuses on science, technology, engineering, and math (STEM). The museum has exhibits and programs designed to inspire children to be interested in STEM fields, and it also offers educational opportunities for adults.
The museum also has an art gallery full of pieces made by local artists with themes related to science. There are often live performances happening while you're there too—everything from lectures by experts in their fields (like astronauts!) to dance performances by dancers who use movement as part of their art form.