Bennett Valley (named after a resident in the area James Bennett – who lived here in the 1860's) is a mostly residential part of Santa Rosa spread out southeast of downtown with prominent roads in this neighborhood being Bennett Valley Road, Bethards Drive, Tachevah Drive and Yulupa. Located only about a 10 minute drive from downtown Santa Rosa. If there was a 'heart' to this neighborhood it would be where two shopping centers are located across from each other; Bennett Valley Center (with a Safeway) and Annadel Shopping Center across the street with Bennett Valley Gardens and a CVS store. Both centers strongly cater to residents in this part of town. Mostly modest neighborhoods.
Bennett Valley is also home to the Bennett Valley Golf Course and the ever popular Legends Sports Grill – a great place to hang out with a back terrace overlooking the greens. Galvin park is located across the parking lot from the golf course. Features very wide open space with lots of green grass including a soccer field and a baseball field (total park size is nearly 24 acres). Also one of several places in Santa Rosa that offers public tennis courts. Like with many other local parks, it's namesake comes from an individual. In this case Galvin Park was named after Dan Galvin; he was a member of the Santa Rosa Recreation and Parks Commission.
Only mere minutes from Bennett Valley (and very well worth making the short drive) is the Bennett Valley American Viticulture Appellation (AVA) – easily accessible via Bennett Valley Road. Vineyards were first planted in this region in the early 1860's by a Santa Rosa vintner (Isaac DeTurk – see DeTurk Ave in South Park or the DeTurk Round Barn in the West End neighborhood for more details on his contributions to Santa Rosa). DeTurk called his winery Belle Mount.
Modern day vineyards and wine making in the region began in 1977 when the region's most prominent and easily accessible winery (for visitors), Matanzas Creek was founded. The winery was named after Matanzas Creek which flows through Bennett Valley on its way towards downtown Santa Rosa. Today it is owned by Jackson Family Estates. The AVA was awarded it's status in 2003 through the work of Matanzas Creek; there are some now 650 acres planted to vines. Prominent Napa vintners who are or have been associated with Bennett Valley included Luc Morlet, Tor Kenward and Philippe Melka.
Matanzas Creek is is known for their Chardonnay and Merlot and for their gorgeous grounds including a beautiful lavender garden and a lavender barn.
Burbank Gardens takes its name from the horticulturist Luther Burbank whose Burbank Gardens anchor the western side of this neighborhood along Santa Rosa Avenue. A very historic neighborhood with a diversity of wooden homes lining the quiet residential streets. Vistoris to the neighborhood will notice several extremely bright painted homes – mostly colors of blue and green. One large home on Santa Rosa Avenue is included in the National Register of Historic Places.
This neighborhood is also home to Santa Rosa's tallest building, the Bethlehem Tower which remarkably was completed in 1972. It is a residential high rise (14 stories) with one and studio room apartments available for low income seniors (often you will see seniors walking or waiting along nearby Brookwood Avenue). To put the height of this building in perspective, the tallest building in the world, the Burj Burj Khalifa at 2,717 feet in Dubai is slightly more then 16x the height of this building.
Other landmarks in Burbank Gardens include Matanzas Creek – a small riparian zone and the micro Rae Park with some lawn area along with a small kids play section.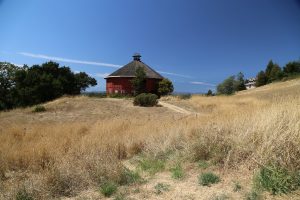 Fountain Grove is a prestigious community of well-attended and luxurious homes built in the hills above northern Santa Rosa (East of the 101 freeway). Much of this part of town was developed in the 1980's and early 199's.
The entrance to Fountain Grove is at Fountain Grove Parkway and contains several nice hotels, a picturesque 18-golf course, a winery, a retirement community, an office park and plenty of premium hillside residential housing. Several high tech companies have sizable offices in Fountain Grove including Keysight Technologies. This part of Santa Rosa produced some beautiful petrified rock found during a number of the construction projects in the area over the years.
Fountain Grove was also home to a colony of individuals founded by Thomas Lake Harris in 1875 (a road bears his namesake and passes by the original colony – which now features much dilapidated buildings). The prominent red Round Barn that you used to see when you entered Fountain Grove Parkway from Mendocino Ave was part of the former Fountain Grove Winery (originally founded in 1882). Tragically this iconic landmark for Santa Rosa burned down in 2017.
This region of Santa Rosa was several burned with widespread destruction during the 2017 Tubbs fire.

Junior College Neighborhood – includes a number of neighborhoods that surround Santa Rosa Junior College. To the east of Mendocino a neighborhood is centered along Humboldt Street (a bicycle route). Highlights along this street include Sam's Market, the tiny Humboldt Park and the picturesque First Congregational Church (otherwise known as the Church on the Corner).
A neighborhood agricultural highlight is the Santa Rosa Campus Farm Stand with seasonal hours, only open in September and October. Located on the corner of Mendocino Ave and Carr Ave this urban farm stand sells products sourced from the SRJC Shone Farm near Forestville. Products from this farm are also used in the SRJC Burdo Culinary Arts Center located on Mendocino Ave.
This neighborhood was home of Robert Ripley's boyhood home on Orchard Street (the original house is no longer there).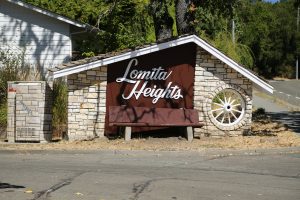 Lomita Heights is an older fairly affluent neighborhood located in the hills north west of downtown (east of the 101 freeway). This residential neighborhood was originally established in the early 1960's when developer Hugh Codding began to build out this subdivision. Lomita Heights in Spanish means "little hill" – one of the main streets, Buena Vista indicates the good views from this particular part of the neighborhood.
Hugh Codding was a prominent developer in Santa Rosa for many years – and built Coddingtown and other residential parts of town. For a number of years he operated a small museum off of Summerfield Road (near Howarth Park) for his numerous animals he had hunted and killed while on hunting safari trips in Africa. Hugh and Nell (his first wife) built a beautiful home in Lomita Heights at the top of Lomo Drive (from here there are excellent views looking east onto Terra Linda drive and other parts of the neighborhood.
At one point Hugh built a shed to keep a live elephant and also kept a live jaguar in his laundry room. A special room in the house contained a number of guns.
This neighborhood also backs up next to what used to be Community Hospital – pedestrians or bicyclists from Lomita Heights could easily access the hospital grounds via several small dirt paths. While there are no roads directly connecting the neighboring Fountaingrove District – one can certainly bike or walk from several roads in Lomita Heights to roads in Fountaingrove.
The western end of Buena Vista climbs to an overlook – what used to be Moving Mountain (sliding soils/cliffs where several homes were often in imminent danger in the past of sliding down). Today the lower part of Moving Mountain is now the Home Depot Shopping Center. An old dirt trail used to lead down to what is now this shopping center – and historically was home to a number of homeless camps.
For a few weeks every mid to late summer remarkably a still existing pear orchard on Nielson Road opens a small pear fruit stand at their home. Visitors can stop by and purchase single pears or by small or larger boxes.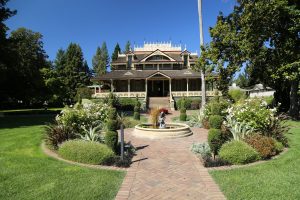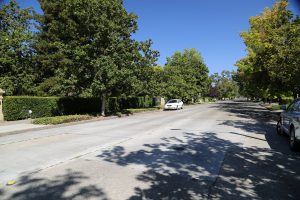 MacDonald Ave located mostly north of the downtown is a [highly picturesque historical neighborhood featuring numerous stately homes. Arguably the visual linchpin is the MacDonald mansion; it is the most impressive of the homes in this area. In recent years it has been restored by private owners. The MacDonald Ave is a beautiful area to walk with wide streets, old trees and charming homes. Visiting this neighborhood feels like walking back in time. Some of the homes (still standing) on MacDonald Ave have also played roles in several Hollywood films including Hitchcock's Shadow of Doubt (1943) and more recently, Craven's Scream (1996).

Railroad Square is a historical district in Santa Rosa, located just west of the 101 freeway and downtown. This district contains era turn of the century buildings often containing stores offering antiques, gifts, clothing, dining, and lodging options. Only a handful of buildings survived the devastating earthquake of 1906, including the stone train depot building. This area used to be known as "Little Italy" due to all the Italians who lived and worked in the area. Historic Railroad Square features a number of restaurants; there is a very healthy culinary scene here – although there is certainly also some turnover in restaurants.
Hangout places include several coffee shops – especially A'Roma Roasters Coffee & Tea (with a side shaded outdoor seating area) and spots to 'hang' out near the tracks. Also the nearby Flying Goat Coffee is always popular – weather permitting, there is outside seating and is an ideal locale to enjoy people watching as well as the arriving and departing trains from the nearby depot.
In addition the Santa Rosa Convention and Visitor's Bureau/California Welcome Center is located here. Trains originally started running to this part of Santa Rosa in the 1870's. Once again trains are running! Commercial train service on the SMART Rail started in late 2017 with the train depot and boarding platform located directly across from the Visitor's Center. There are several train depots in Santa Rosa, but this is the primary stop.
The seasonal West End Farmer's Market is held here Sunday mornings from early Spring to late Fall. And if you are in the mood for live theatre, check out the 6th Street Playhouse just west of the train tracks.
Ridgeway District – is a very tiny neighborhood bounded by the 101 freeway, college ave, Ridgeway Ave and Mendocino Ave. For visitors driving through, this neighborhood offers a variety of historic and visually interesting homes. One of the most prominent homes in the neighborhood is the sizable Comstock House built in 1905 (since remodeled).
Not surprising that Santa Rosa's first son of comics, Robert Ripley has a street named after him in this neighborhood. Across Ridgeway Ave is Ridgeway High School a continuation school that was founded in 1968. And a bit further west is the regional headquarters building for Cal Fire.
Rincon Valley is a sizable region in northeast Santa Rosa – a mix of many residential tracts, a number of schools including Maria Carrillo High School and open natural space especially found in the northern part of this valley. Like other neighborhoods in town, arguably the "center" of Rincon Valley is built around shopping experiences, in this case at Oliver's Market (and nearby shops) near the intersection of Middle Rincon Road and Montecito Blvd.
A number of Rincon related streets are found in the area including Rinconada, Middle Rincon and Rincon Creek Way. A surprising number of small creeks and seasonal ditches run through the region. The sizable green space, Rincon Valley Community Park is located next to the Rincon Valley Library.
The Oak Park Swim and Racquet Club was a popular spot for swimmers and tennis players over the decades. Unfortunately it closed down in 2015 and remains closed (as of our last visit).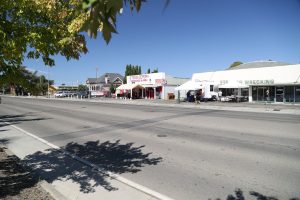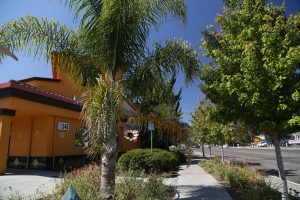 Roseland is the closest thing to a suburb of Santa Rosa. Santa Rosa is not necessarily a center for cultural diversity but Roseland would come the closest to qualifying within the city. This is a predominately Hispanic community; you can enjoy excellent Mexican food (and also food from other Hispanic nationalities) from some of the vendors that setup shop along this area.
Roseland is primarily located along Sebastopol Road from around Dutton Ave to around the intersection with Stony Point to the west.

South A Street Art District or SOFA for short, is a tiny arts community sandwiched between the 101 freeway and Santa Rosa Avenue for about two blocks along S. A Street. Neighbors include Juilliard Park and the Luther Burbank Elementary School.
This tiny section of town features numerous small galleries and studios (at last count somewhere between 30 and 40 artists' studios) and remarkably a long running neighborhood photo shop (Jeremiah's Photo Corner) – appropriately named for its corner location at Sebastopol Ave and South A Street. Also a neighborhood barber shop near the galleries. Lastly look for the sign indicating "Art Alley". Park your car on South A Street next to Juilliard Park and walk the short distance to the galleries. Spinster Sisters has become the go to and only restaurant in SOFA. Also locally known is Atlas Coffee and the Criminal Baking Company.
St. Rose Neighborhood is primarily a historical residential community east of and bordering the 101 freeway (just north of downtown). College Ave serves as its northern most boundary. Numerous homes in this neighborhood were built between the 1870's and 1940's. Allows for very easy access to downtown either walking or biking.
The neighborhood is centered around the prominent St. Rose Church – a Gothic Revival building originally constructed in 1900 (its bell tower will most likely end up in the street at some point after the next big earthquake). It is interesting to note that a number of the homes here were actually moved from their original locations in downtown (as the downtown commercial district expanded). Also noteworthy are the both the Art and History Museums of Sonoma County are located within it's borders. The Sunflower Community garden offers a nice rural respite from the residential and nearby commercial surroundings.
A prominent sign indicating this neighborhood is painted onto the outside of the overpass on West 9th Street. A mural was painted over in more recent years with the current floral images – someday perhaps 50 years from now (say in 2070), someone will have the bright idea to remove the current mural, thus 'discovering' the mural underneath and there will be a community gathering, an article in the newspaper and much nostalgia spread by local long time residents.
South Park is a predominately Hispanic neighborhood roughly bordered by Highway 12, Petaluma Hill Road, Aston Ave and the Sonoma County Fairgrounds. Driving through the neighborhood one can spot a variety of edibles including some bananas and prickly pear cactus. One highlight for visitors to the neighborhood includes Martin Luther King Park which features a soccer field and a playground for the children (this park is often quite busy on the weekends with families and children playing), BBQ's are also available on site. Because the speed limit is extremely low in front of the park on the Petaluma Hill Road side, motorcycle cops from SRPD often hide in the shadows of the park monitoring passing traffic.
An alley for pedestrians or bicyclists runs from behind Martin Luther King Park between a number of streets ultimately reaching Petaluma Hill Road.
Another highlight is one of Santa Rosa's finest community gardens, the South Park Kids Garden founded in 2002. 1/2 acre is home to a thriving diversity of vegetables and flowers (best showcased and seen from late Spring through late summer). This garden is owned by the Community Baptist Church across the street where "the son is always shining". This churches' origins date from the early 1950's in Santa Rosa – albeit in a different location.
Another church worth checking out in this neighborhood is the Iglesia Cristiana Casa de Oracion – always busy on Sunday mornings.
A couple of street names have significance in the neighborhood including Grand Avenue which is where noted Native American author Greg Sarris was raised. He is best known for his collection of short stories about contemporary Native American life called Grand Avenue. This collection was also turned into an HBO mini series of the same name. And a few blocks over is DeTurk Avenue – named for a prominent Sonoma County Vintner Isaac DeTurk (also associated with the DeTurk Round Building in Santa Rosa's West End neighborhood).
Often push bicycle vendors will be rolling through the streets of South Park neighborhood, honking their horns to try and encourage residents to come out of their homes and purchase a variety of snacks – often chips and seasonally, sometimes ice cream.
West End Neighborhood is a small district located west of and along the 101 freeway (just north of the Historic Railroad Square). Noted for the DeTurk Round Building – first built in 1891 as a horse stable by local vintner, Isaac DeTurk. The building was completely remodeled in 2011; it is gorgeous inside with its high ceiling and hardwood floors. It is often used for private events including wedding related gatherings. The building is open to the public with limited hours (often on Tuesdays and Thursdays).
The neighborhood is also home to part of the SMART rail line (the tracks pass through its eastern edges) and a number of older warehouse style buildings. Three other notable possessions within the neighborhood are Starks Steak & Seafood Restaurant, Western Farm and Feed (as you pass by you might hear chickens crowing) and the Franco American Bakery (family owned since 1900).
A prominent sign indicating this neighborhood is painted onto the outside of the overpass on West 9th Street. Speaking of this street, the 9th Street Deli is somewhat of a neighborhood icon here. And murals remain hidden under more contemporary painted murals on both sides of this underpass – someone, someday will discover the murals underneath the current ones and great praise will be given, the newest layer of paint will be removed and the ones underneath will be shown again, initially to some big neighborhood gathering for the unveiling.