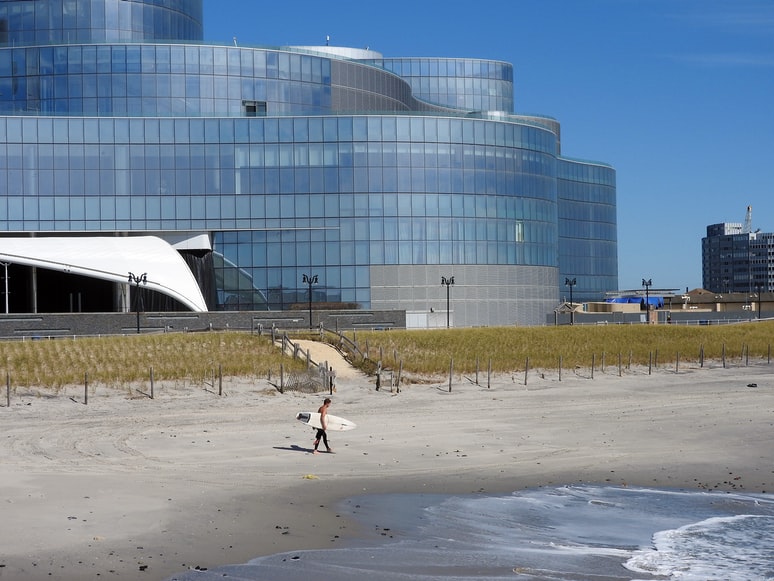 Can catch the surf at Atlantic City
If you're looking for a fun-filled weekend away in a city that pulses with life, lights, and action, then Atlantic City is the destination for you. Located in the state of New Jersey, right by the Atlantic Ocean, the city itself is just over two hours drive from New York, one of the world's greatest cities. This makes it immensely popular with visitors from NYC, especially in the summer time, when the beaches become packed with people relishing the sunshine and sea.
Atlantic City has a reputation for being an east coast Las Vegas. Whilst it's not as big as Vegas, and it has slightly less to offer by comparison, it's still a fantastic, buzzing place that is majestic to visit all year round. There's many great hotels in which to stay, fun activities to do, plus a whole slew of fine dining restaurants to experience. It really is a fantastic, bite-size, city of sin.
Where to Stay
There are many hotels in Atlantic City that cater to those who want to spend big, so if you've got a large budget, you'll have no problem finding a luxurious place to sleep. One of the first hotels on your list should be the Borgata, which is located just over three miles from the famous boardwalk. No worries if you don't have a car with you on your trip though, as there are taxis around all day and night, to zip you to and from your destination.
The stunning hotel was first opened in 2003, and it features a mammoth 2,767 rooms for visitors, making it not just the largest hotel in Atlantic City, but in the whole state of New Jersey. It's not just a place to lay your weary head after a day of excitement though, as the hotel is a pure entertainment hub for those lucky enough to stay there. The Borgata prides itself on its stand-up comedy club that runs twice a night every week. The show has hosted such comedy legends as Jerry Seinfeld, Chris Rock, and many more.
It's also home to the largest casino in the city, which boasts a massive 161,000 square feet of gambling excellence. Located within that are around 4,000 slot machines, just under 200 table games, such as roulette and blackjack, and fifty poker tables. It really has everything that a gambling connoisseur needs.
If that sounds like you, but you don't want to have to wait until you get to Atlantic City, then Vegas Slots Online can bring the adventure straight to your computer. They have all the best online casinos in the United States, located in one easy to use website. Unsure of what the gambling laws are in your state though? Don't worry, as all their listed online casinos are fully regulated, and come complete with an overview of state specific gambling laws, so you know you're in good hands.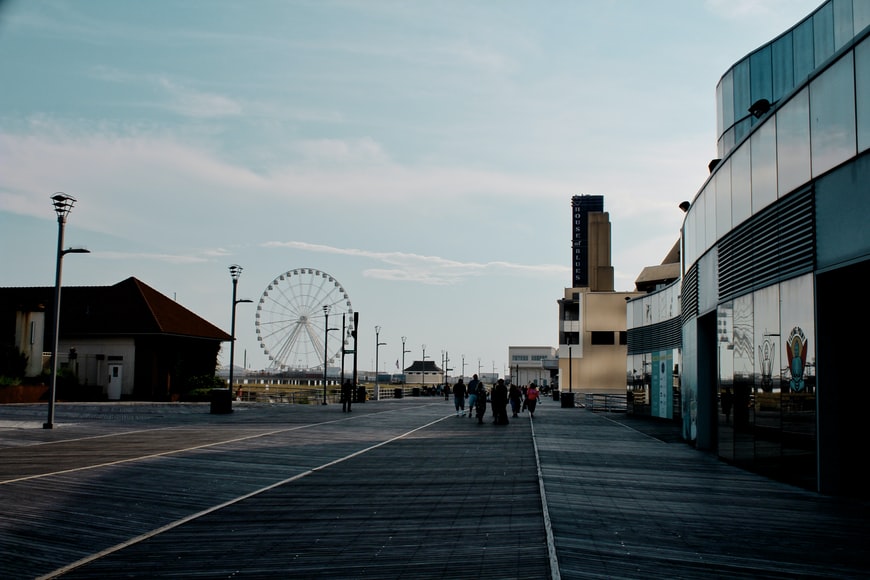 Early morning at the boardwalk
Things to Do
Ok, you've arrived in Atlantic City, you've booked into your hotel, and you've got a few hours to kill before the entertainment starts at night, so what is there to do? Why not head to the world-famous boardwalk. The best way to experience this buzzing landmark, and to save your energy, is to hop on one of the trams that run along the entire length of it.
The trams start at the Hard Rock Hotel and wind their way along the scenic route, before ending up at Tropicana. Along the way you will be able to take in all the captivating architecture on offer, including the Boardwalk Hall, which was built in 1929. It still looks breathtaking nearly a hundred years on.
How about grabbing some tantalising bargains? The city is home to the Tanger Outlets, The Walk, which features 109 shops and spans for three city blocks. It's a great place to take a wander and pick up some real offers at low prices that would be unimaginable in bigger cities. For sports fans, there's stores from Adidas and Nike, whilst those with more upmarket taste can find designer brands such as Lacoste, and Calvin Klein.
Eating and Drinking
Atlantic City is thriving with quality places to have a meal that you'll be able to remember forever. That is, of course, as long as you don't pair it with too many of the tantalizing drinks that are also available. Seeing as you're next to the sea, why not head to Dock's Oyster House since 1897, for some scrumptious seafood.
The restaurant has been in business since 1897, and is still owned by the same family, and going strong today. Once you arrive there, it's easy to know why. It delivers amazing variations of fresh fish and shellfish (including gigantic lobsters that can weigh up to six pounds) all served up in a bustling, but relaxed, environment.
For more of a liquid lunch, you need to get yourself down to Wet Willie's, which is located in the Tropicana. They have twenty daiquiri machines, that offer a wide variety of flavours and colours, for you to slurp down. For those who are the designated driver, there are also non-alcoholic options available so you won't feel too left out.