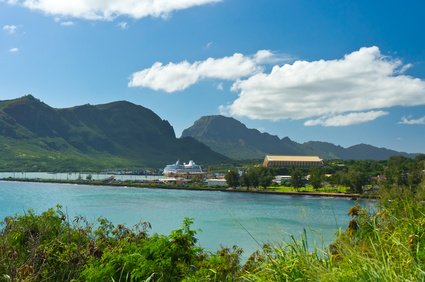 Kauai is an idyllic and fascinating Hawaiian island which looks remarkably untouched, despite being a favourite with US tourists and also home to over 62,000 people. Part of the island's natural looking charm can be attributed to the rule that no buildings can be erected on Kauai that are taller than a coconut tree, so the luxury hotels, shops, homes and other buildings are never tall enough to spoil the view, with tourist accommodation taking the form of villas and bungalows rather than conventional hotels.
If you are planning a trip to Kauai, here is some of the information you will need to know to make your vacation go smoothly and help you get the most out of your time on this amazing island:
Getting To Kauai
Kauai has one main airport, Lihue Airport, which is located to the Southeast of the island's capital, Lihue. Flights to and from this airport serve other Hawaiian destinations like Honolulu and Maui, several US mainland cities, and Vancouver in Canada. This means that you can fly there fairly directly if you are coming from North America, or you can get there via another Hawaiian island if that turns out to be a more convenient route from your city.
Getting Around
Kauai does have a bus service, but if you want to explore a lot of the towns and out of the way locations on the island it can be best to hire a car. For a one off trip however, for example to check out a restaurant or go to a different beach, you may find it cheaper just to use a taxi – your hotel or resort will be able to help you arrange a cab or a hire car. Many people who go to Kauai on vacation are actually happy just to stay in the vicinity of their resort, however, so you may find that you don't need to worry about transport at all as all the amenities you need plus beautiful places to relax or hike will be close enough to walk to! This is particularly true if you choose an all inclusive resort or somewhere very luxurious like the Koloa Landing Resort at Poipu Beach – Poipu is considered to be one of the most beautiful beaches in the USA, so if a beach vacation is your goal then there is really no need to stray too far from your accommodation to have a great time!
Language and Currency
As Hawaii is part of the USA, you will have an easy time if you are coming from mainland America – the currency is US dollars and major credit cards are widely accepted. The official language is English, though the Hawaiian language is also widely spoken, so while communicating will not be a problem, it can be worth learning a bit about Hawaiian speech before you go so you can pronounce the names of places and foods you might want to order properly, to avoid confusion or just sounding too much like a tourist!
Kauai is a great destination because it is safe and convenient for travellers from elsewhere in the USA, while still having that wonderful, tropical paradise feel.