If you're a keen photographer you will undoubtedly have heaps of photographic images that capture life events, memorable and special occasions, holiday adventures and other things. You may have them stored in digital format, or stashed away in a pile of albums or a collection of storage boxes. Although you may have your favourite photos proudly on display, it's easy to forget about the captured memories that are out of sight.
Displaying the photographs in a traditional photo album or a stylishly modern photo book allows you to enjoy the reliving of happy memories whenever you want. Photo books are designed to creatively immortalise your life experiences in a manner that keeps each memory alive, and presents photographs in a variety of attractive formats. Traditional photo albums offer a more practical way in which to store and display themed and random photos of your choice.
What Is A Traditional Photo Album?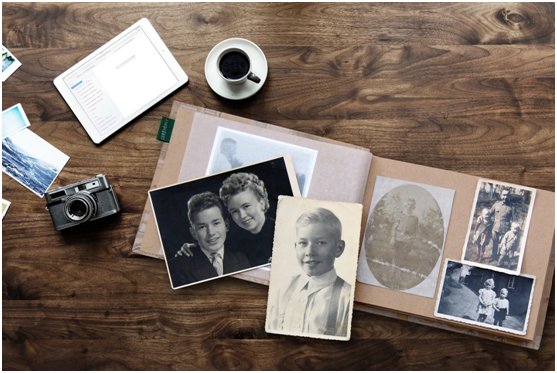 The traditional photo album is the number one family keepsake that most people would rescue first in the event of a house fire. This precious tome typically has a hardback cover and numerous pages that can be filled with your favourite photos that are arranged chronologically or in a random fashion.
The traditional photo album is often seen as being a heavy book with an understated cover, and a selection of pages where you place and arrange the photos yourself.
If you want to proudly show off your photographs in a traditional photo album, it's a great idea to go upscale and bespoke. A professionally handcrafted traditional photo album is made from the finest quality materials and boasts a premium fabric hardcover and a personalised title, with chic foil stamping along the spine. This style of luxury photo album is best described as a contemporary variation of the understated traditional photo album that is usually left on the shelf.
Photo books are available with a hard or soft cover and are designed for display in the style of a luxurious coffee table book. A premium quality photo book that is personalised features an optimised layout of the pages, and text that is made up of anecdotes, comments and captions that help to bring each photograph to life.
Photo books provide a modern way in which to store, display and showcase your photographs of milestone family occasions, like landmark birthdays, anniversaries and weddings, as well as births and family holidays.
When you're caught up in enjoying life and taking photos to prolong the happy memories, the last thing on your mind is how you will display the photographs. Whilst you can easily view the images on your digital device at the touch of a button, there is something rather special about turning the pages of a traditional photo album or photo book to relive the happy experiences.
Photo books present unlimited possibilities for displaying and sharing your favourite photographs with family and friends. You can have your photographs professionally arranged in a hardcover or softcover photo book that flaunts luxury coffee table good looks, and shows off a creative display of colourful images. Or you can opt to create a timeless display of black and white photographs that are elegantly themed.
The most popular photo book is undoubtedly the wedding photo album. Your priceless wedding day memories are preserved between the finest quality paper pages of a personalised photo book. You can add captions and comments from your wedding guests to create a one-of-a-kind keepsake.
A personalised photo book also makes a beautiful gift for commemorating a special birthday, an engagement or marriage, the birth of a new baby, and a new home.
For many people, one of the greatest pleasures in life is travel. Having the freedom to explore far-flung and exotic destinations, as well as beautiful locations closer to home, should be celebrated and shared with loved ones. Travel photo albums transform your holiday snaps into a gorgeous travelogue of glossy magazine style. This modern photo album isn't designed to be left on the shelf gathering dust. It deserves to be displayed on the coffee table for everyone to see, pick up, and view.
Travel photo albums are a great way in which to catalogue your holiday adventures, whether they include taking the family in tow, or are solo. A bespoke travel photo album allows you to feature photographs from a variety of sources, as well as images courtesy of Google. You can embellish the stunning photographs of your favourite travel excursions and expeditions with informative text about the destination, and captions and comments. Personalising the travel photo albums allows you to create a unique photo album that can become a new family tradition.
If you're looking for a special gift for a friend or family member with wanderlust, travel photo albums are a great choice. The stylish photo book will undoubtedly inspire the traveller to step out of their cosy comfort zone and to explore the great, big world.
So Which Is Better?
If you're comfortable taking loads of photos and keeping them out of general view, a traditional style photo album is probably the best solution for you.
If, on the other hand, you want to show off your eye for a good photo opportunity, a photo book provides the perfect resource for any collection of photographs.