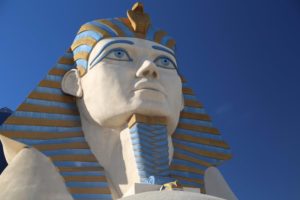 One look at the dazzling lights and the hive of activity that is modern day Las Vegas and you'd scarcely believe that just 200 years ago not a single non-native American had settled on the land. A group of traders led by Antonio Armijo were the first to visit the area in 1829 and named it Las Vegas which means "The Meadows" in Spanish.
It wasn't until 1905 that Las Vegas would be officially founded as a railroad town, and its size would grow slowly until 1931 and the construction of the Hoover Dam. A huge influx of workers into the area led to a boom in the local economy and the city's population began to skyrocket.
In the 1940s and 1950s, Las Vegas would finally begin to establish the reputation it currently holds as a popular tourist destination. Many of the hotels and casinos that we know today, such as the Flamingo and the Golden Nugget, were built during this time. This era also became synonymous with the rise of famous entertainers such as Frank Sinatra, Dean Martin, and Sammy Davis Jr.
Today, Las Vegas is one of the most popular tourist destinations in the world, with over 42 million visitors per year. The city continues to evolve and change, with new resorts and attractions opening regularly.
With over 100 to choose from, many visitors are keen to experience the best casinos the gaming capital of the world has to offer. But if you can't visit the world famous Las Vegas Strip, or if you're simply too eager for the date of your trip to arrive, you can experience the same excitement and chances of winning big playing world class online gaming slots at Virgin Games. This trusted operator provides a library of fantastic slot machines for all tastes and styles as well as live casino, poker, Slingo and other classic casino games.
The Bellagio
Featured as the iconic backdrop to many scenes in Steven Soderbergh's 2001 remake of Ocean's Eleven, The Bellagio is known for its elegant decor, stunning water fountain shows and world-class poker room. The synchronised to music water show takes place every half hour throughout most of the day and is situated in a 3,500 square metre man-made lake in front of the resort.
ARIA
A newer casino on this list, the ARIA has quickly become a favourite among gamers and holiday-makers alike. The casino floor features a high-limit slot room, a sportsbook with multiple screens and a fully featured poker room. With 20 eateries to choose from, the ARIA is also known for its high-end restaurants and nightclubs.
Wynn Las Vegas
The Wynn Las Vegas is an upscale resort on the strip with a casino floor holding over 1,900 slot machines and 26 poker tables. The complex also boasts a golf course, multiple pools, high-end restaurants and a Forbes five star luxury hotel.
The Venetian
One of the many themed resorts in Las Vegas, the Venetian is known for its replica of the canals of Venice which you can traverse in your own private gondola. With over 2,400 slot machines and 120 table games, multiple fine-dining restaurants, a spa and a shopping mall, you'll struggle to experience it all in one trip alone.
Caesars Palace
Caesars Palace is one of the most iconic and enduring casinos in Las Vegas with a rich history dating back to the 1960s. The casino floor has everything a gaming enthusiast could wish for but it's the shoppers among you that can rejoice – over 160 specialty stores can be found at the Forum Shops.
The Cosmopolitan
The Cosmopolitan is a newer addition that has quickly become a popular destination among younger holiday makers for its boutique and artsy charm, despite its 3,000 room magnitude. Sip handcrafted cocktails in the renowned Chandelier Bar, a stunning three story feature built within a crystal chandelier.
There are many other exciting things to do in the city besides gaming. Las Vegas makes a great base to explore some of the fantastic natural and cultural attractions of the surrounding area.
The Grand Canyon is one of the world's most breathtaking natural wonders in the world and is located just a few hours from Las Vegas making it the perfect day trip. There are many ways to explore the Grand Canyon, from hiking to helicopter tours.
A little closer to the city you can find the 726 foot high Hoover Dam to the east, a marvel of modern engineering offering tours to learn of its construction. Just a short drive to the west lies Red Rock Canyon National Conservation Area where nature lovers can enjoy beautiful desert landscapes and great hiking trails – and even some world famous rock climbing routes.
Las Vegas is a city full of surprises and these are just a few of the many attractions you can enjoy there. Regardless of taste and budget, there's something for everyone in Las Vegas.