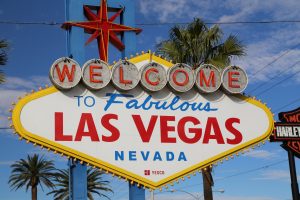 My first trip to Vegas was a road trip with two friends. This trip did not start out very smoothly – after pulling out of my driveway I stopped for gas and one of my friends noticed one of the tires was nearly flat. In a hurry to get on the road in anticipation of 12 hours of driving, we quickly pumped it up and continued on our way. However it lost air pressure fairly quickly and every two hours or so we had to stop to pump up the tire.
Arriving in Vegas we were a bit awestruck by all the lights and action of the strip – and the traffic which was really bad in the late evening when we arrived. We only visited a few casinos but that first trip really stood out because it was all new to us – I have since returned to Vegas numerous times and have visited many of the major casinos in the city.
I've been to other casino destinations around the world including Atlantic City, (speaking of New Jersey, one can play casino online New Jersey) and Macau – but nothing on the planet quite compares to the size and diversity of casinos in Las Vegas.
As a result, choosing a favorite Vegas casino can be very difficult, it is like asking me to name my favorite winery. But in choosing my favorite Vegas casino I considered at a few qualities although not necessarily in this order; size, location, price point of the rooms, ease of parking, quality and uniqueness of attractions, ability to appeal to a wide age group, diversity of shows, diversity of bars, restaurants, lounges and nightclubs and overall reputation.
A tough call, the Bellagio, Caeser's Palace, Luxor, Mandalay Bay, MGM Grand and Wynn are all in the running but my best casino resort in Las Vegas is the Venetian. Arguably the highlight of a visit here is "Venice", with its never ending twilight, St. Mark's Square and canals. One could say it was pure madness to build a series of canals in the desert – or pure genius. I think based on all the numbers of visitors inside the Venetian every time I have visited, I would lean towards genius.
Visitors can take gondola rides on the indoor canal without ever having to worry about inclement weather. Or choose a canal outdoors next to the Vegas strip. Either way, rest in an authentic Venice gondola while the gondolier steers down the canals past shops, under bridges and romantic cafes and if lucky past a live opera singer standing on a pedestal. And those interested in becoming a gondolier can do so through the casinos Gondola University!
Like other super casinos in Vegas, the Venetian is like a small city. I've ducked into a few of the club lounge spaces over the years but haven't had a chance to party at any of these yet. The casino boasts a world-class spa – the Canyon Ranch Spa is one of world's largest day spas with 90+ treatment rooms and 134,000 square feet of space. Top that! And one of the places to see and be seen in town is at the Tao Beach with its 30 foot long bar. But there are 9 other pools on the property in case you need a chance of pace from the Tao.
Museums? Yes, why not? This Madame Tussauds appropriately features the Hangover Bar, a play on the trio of films with the same name. And not to miss is the Minus5° (wasn't yet here at the time of my last visit), a chill bar kept below freezing temperatures with its 90 tons of sculpted ice.
And the list keeps on going with numerous restaurants (7 different cuisines represented) and six celebrity chefs.
So now that you know my favorite casino in Las Vegas – do you also have a favorite? Or perhaps a favorite experience at one of the Vegas casinos?