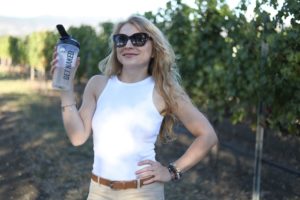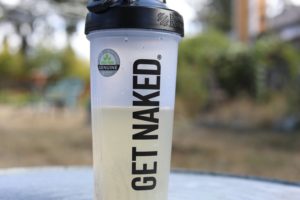 Recently I was approached by Naked Nutrition to try another one of their products, the NAKED WHEY. This product is available in several flavors; I chose Lemonade (it is also available in flavors of fruit punch and grape). It comes in a 1.3 pound plastic container and contains 100% whey isolate powder. This product is lactose free, GMO free, gluten free and also soy free. There is no sugar added, however it tastes sweet from fermented cane sugar (Reb-M) the same molecular form that produces the sweet like sensation in the plant Stevia (also known as Sugarleaf).
Whey is a product formed from the production of cheese (initially the water part of milk which separates from the curds) and commercially, is primarily available in a powder form.
There are a lot of uses for the NAKED WHEY. Initially I mixed it vigorously in water. The NAKED WHEY has absolutely no artificial sweeteners, flavors or added colors. I had to experiment several times to get the right portion of powder to water to create a pleasing balance of flavor and sweetness.
When I'm not traveling (which usually involves plenty of walking), one of my favorite forms of exercise is on a mountain bike, both for off road and riding around town. And accompanying the NAKED WHEY, is a lightweight blender bottle which conveniently fits in most bike holders. Or put it in a small backpack to enjoy while on a hike or backpacking.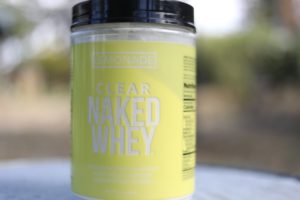 One can get creative with the addition of this powder to other foods. Its great in applesauce and also refreshing on a hot day, mixed with fresh fruit to make a smoothie. We recommend a very unique smoothie; a mix of fresh figs, strawberries and prickly pear cactus fruits. Whip up all the fruit first into a puree, pour into the blender bottle, then add cold water + the NAKED WHEY powder and shake vigorously up to one minute. Then wait a few minutes for the foam to settle inside.
And then pop an ice cube in or two and ideally, enjoy paired with a hot afternoon summer day 🙂
Naked Nutrition was founded in 2014 by former track star Stephen Zieminski with five supplements including what has become a best seller product, the NAKED WHEY. NAKED also offers a plant based protein, the NAKED SHAKE. Zieminski's inspiration for starting the company was noticing nutritional supplements at the time contained little nutritional value. And in only 8 years, Naked Nutrition has grown from its limited product offerings to now offering over 50 products. And most of their products have three or less ingredients.
Customers can take the NAKED Quiz to determine which proteins and supplements best fit with their diet and or fitness goals. And for those who complete the quiz, Naked offers 20% off of any first purchases made through their website, good for up to 48 hours.