Organic Aromas
I was first introduced to essential oils (Lavandin and Lavender) several years ago while touring lavender fields and visiting related factories in Provence, southern France. When Organic Aromas reached out to me, I was intrigued by their wide diversity of essential oils.
They focus on two products, diffusers and the actual essential oils. Besides their most popular diffusers, Organic Aromas also produces hand-carved and laser-engraved diffusers. And the ultimate essential oil kit is, The Discovery Collection which includes 40 vials of essential oils. Smaller kits can also be purchased along with individual vials. Mix and match as it were.
What are Essential Oils?
Essential oils are created through distillation or cold pressing – extracting the aromas from the source plant material (typically fruits, herbs or wood material) and then are combined with a type of oil.
And essential oils do have a shelf life – generally ranging from 1 to 6 years depending on the oil (the fruit extracted essential oils generally have a shorter life span then the wood extracted essential oils)
Ease of setup and use: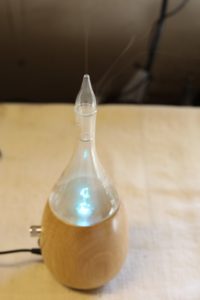 Setting up the diffuser doesn't get much easier then this. Basically plug and play. fit the glass cylinder into the diffuser – slowly pour some oil directly from an essential oils bottle into the diffuser – then place the glass cap on top of the cylinder. Plug in the power supply into the wall and into the diffuser and then turn the metal knob (turning the knob more will increase the diffusion rate – and a lower setting is recommended for use in smaller rooms).
There is no heat or water/steam involved here – the nebulizer works by creating pressurized air to diffuse the essential oils (resulting in a very fine micro particle vapor, but with powerful aromatics). It doesn't take long for the aromas to work their way around a room.
The unit diffuses for 2 minutes and then rests for 1 minute in a cycle. When you don't smell the aromas anymore, the diffuser has run out of essential oils. It will keep running but will not be harmed – the pump will actually shut off after 2 hours (even though the LED light stays on).
Cleaning
Keeping the diffuser clean is especially important and with a few careful steps, one can keep the unit in working order for a long time. For those using the diffuser daily, it is recommended a cleaning every 7 days. And partial and deep cleans can also be done depending on level of use. Organic Aromas has prepared an easy to follow video about various cleaning steps: