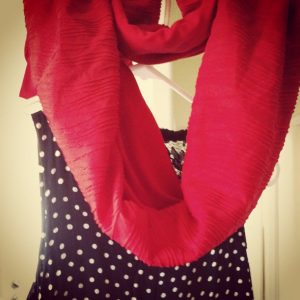 What is in a name? If the name is "Sholdit", it is both fashion and peace of mind. At first glance, this elegant lightweight wrap for women is remarkably stylish – something to quickly put on for any of a number of activities – traveling, shopping or smart evenings out on the town.
Ultimately, this is an ideal piece of clothing for those on the go. It can be worn as a infinity neck wrap, shoulder wrap, head wrap and even folds into a clutch.
However, regardless of how you choose to wear it, upon further glance one notices a zipper pocket.
Scarves are probably not the first place a thief is going to go to when going for valuables. There are certainly additional ways to hide valuables on oneself – a money-belt. However, the Sholdit also creatively doubles as as a place for concealing items of value.
The one pocket is decent sized and can easily hold a cell phone, passport or any number of cosmetics.
The Sholdit comes in a variety of colors from bold red to a more subtle grey.
For more information and to purchase, visit: www.sholdit.com