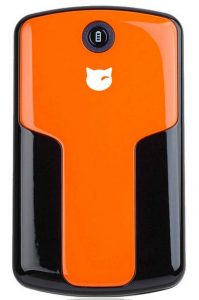 Power Bar 4200 (Reviewed: Sep 2012) is the latest product by by FatCatGear – this tiny battery pack uses the latest in ultra-thin lithium polymer technology. It is small but it packs a punch as far as battery life – advertised as typically more than twice the charge of a normal smart phone battery. This we had to test out – the battery life on our iPhone is less than desirable.
We drained our iPhone to below the 10% warning – charged and still showed 3 out of 4 bars on the battery pack. Again we drained the iPhone down and recharged about 75% before the back was fully drained.
The pack comes with a USB connector as well as a number of other connector tips. It is already pre-charged when you purchase and to recharge it, just plug it into the USB connector on your computer and watch for the four lights to shine when it is fully charged (usually takes between 4-7 hours). This pack weighs only 4 oz – ideal size and weight to slip into a backpack when on the road or a back pocket for heavy day users.