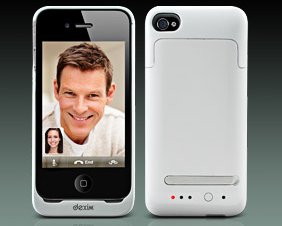 Short battery life is certainly a problem with smart phones including the Iphone 4. When your on the road its no fun to run out of "juice" and have no way to charge it when trying to listen to music, play games or surf the net. Make life easier and your phone last longer with the Super Juice Case from Dexim. This "Applesque" looking i…tem serves not only as a durable case but also extends the charge life of the phone with its powerful Lithium Polymer Battery.
The Super Juice Case has a handy kickstand on the back to keep the phone upright on your desk when you are charging from your computer via the included USB cable. We've tested the battery life out with our Iphone 4 and while we are not always on the phone, this battery case has extended the battery life of our phone by several days (Dexim advertises a battery life extension of talk time up to 6 hours, a video/game time of up to 10 hours or a audio playing time of up to 40 hours).
Or if you don't keep the phone in the case, keep the case fully charged and use the case to charge the phone on the fly.
A red light on the back of the case indicates if its charging or not. With the press of a button you can see how much battery life you have left in the case.