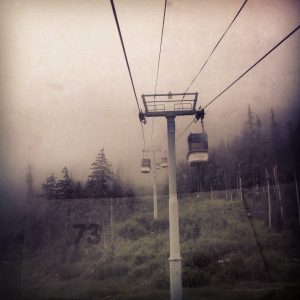 With two days in Vancouver before jumping on the Rocky Mountaineer train on the way to Banff, we decided to visit the mountain town of Whistler. Greyhound offers a relatively affordable option by combining a round trip bus journey with unlimited tram/gondola rides on Whistler/Blackcomb Mountains. This makes it quite doable to see Whistler in a day with an early start from Vancouver.
As soon as we arrived in Whistler Village (partly home to the 2010 Winter Olympics) we boarded the Gondola and were almost immediately met with the "whistler mists" – thick fog and drizzle that covered both Whistler and Blackcomb Mountains. Hard to believe, coming from California but people were still skiing and snow boarding at the 7th Heaven Express chairlift.
The distances on these mountains are great – and it can easily take an hour just to get high up on the mountain from Whistler Village. Each ride is typically 15+ minutes either by gondola, tram car or open air chairlift. Whistler has some of the highest vertical distances for ski slopes in all of North America
The Peak to Peak experience did not exist the last time I was here. Each tram car can seat 22 passengers and literally ferries people in about 15 minutes between Whistler and Blackcomb mountains. This is a distance of nearly 3 miles and at one point you are suspended high above an impressive valley and river.
Besides all the winter activities, Whistler boasts some intense downhill bike riding tracks – the rating system for these tracks unbelievably starts at "intermediate" and tops out at the "pro line" – described as "extremely difficult rating – mandatory jumps, gaps and elevated features with no ride arounds". These bikers are serious – we saw them, full helmets, pads and other protective gear. Course then we saw the tracks they were riding on – huge drop offs, rocky ridge cliff like tracks, massive jumps which allow for no mistakes and other scary obstacles!