Skiing – No you cannot ski in Los Angeles proper but there are a number of places to get to the snow during reasonable snowfall years within about 60 to 120 minutes drive of downtown Los Angeles.
Big Bear Mountain is the most popular southland skiing area and boasts three ski areas: Bear Peak, Silver Mountain, and Goldmine Mountain. This is a bit further from Los Angeles than Mt. Baldy – with no traffic a drive will take about 2 hours from downtown. Big Bear is located north east of San Bernardino in the Inland Empire in the San Bernardino Mountains. During many years artificial snow machines are highly used on these mountain resorts – during drought years (seemingly more common in California these days) these mountains do not see huge snow falls -the winter of 2016/2017, which some of you may remember was an exception to this.
Known for it educational component (teaching many Los Angeles area residents how to ski) and for having Southern California's only half pipes. Bear Peak at 8,805 ft is the highest mountain in Southern California accessible via a chair lift. For several years these resorts were owned by Mammoth Mountain (since sold). For more information, visit: www.bigbearmountainresort.com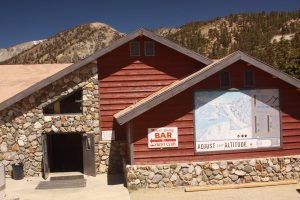 Mt. Baldy (Mt. San Antonio) is Southern California's highest ski resort and is located north and east of the 57 Freeway (within Los Angeles County). This resort is family owned – an anomaly in today's world of slick corporate owned massive ski resorts. This is really not that far from the north eastern LA basin region. Take Mountain Ave Exit from the 210 Freeway (just east of the 57 freeway) and drive merely 13 miles to the end of the road at 6500 feet where the ticket windows and the chairlift are located. This is a windy road but has an amazing amount of pullouts (be nice if every 2 lane windy road had this many pullouts). Due to its elevation this area receives snow every year (the highest runs are at 8600 feet).
During big snowfall years this mountain has some of the deepest snow within an hour or so drive from Los Angeles. The resort maintains a large water supply at about 8000 feet which will help ensure enough water for making snow during low snowfall years. The resort is open all year; when the ski resort closes, the chairlift at the end of the road operates only on weekends and holidays. During the summer lots of hiking and mountain biking trails open up and you can hike to the top of Mt. Baldy from the end of the first chairlift (about 3.2 miles).
The entire ride up the mountain from the parking lot via chairlift takes between 15-20 minutes. Within about a 15 minute hike or during winter, a short chairlift ride you can look east into the high desert scenery. The Mt. Baldy Bar & Yacht Club (yes you read that right) is located at the end of the main chairlift at an elevation of about 7800 feet. They have an extensive year round menu but all dishes are fairly basic.
During higher precipitation years in Spring on warm days the river that drains the snowmelt is flowing and it is very refreshing to take a dip in the cold water on a hot afternoon. In addition as you can clearly see from the photos on this page, the flowers next to the road are simply stunning! Visit: www.mtbaldyresort.com
Mt. Pinos – how's this for some skiing? During a recent trip to Frazier Park and up the slopes of Mt. Pinos (north of Los Angeles off of the 5) we were sweating in mid February while cross country skiing with merely shorts and a t shirt (didn't even have gloves on). This was at an elevation of above 6000 feet on an absolutely stunningly bright blue warm day. The temperature in the sun at this high elevation was hotter then probably 90% of the United States at this particular time. Ha, that is so the south land!
You can drive to the top of Mt. Pinos which is about 18 miles from the 5 freeway. The summit is actually in Ventura County but a drive here from downtown Los Angeles will take just over an hour with clear traffic. There are no ski resorts on the mountain but when there is enough snow, there are plenty of opportunities for cross country skiing, snow boarding or sledding. On good weather weekends (after snow storms) in the winter this is a very popular place especially for families with small children. Be sure to have a parking pass for entry into the park – day passes are available and you can purchase these at markets in Frazier Park.