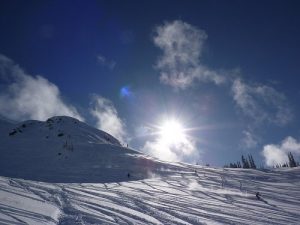 Editor's note: It has been a number of years since we've been back to Whistler. Nice photos – really tempting to return now!
In any other walk of life a bowl is…..well, just something curved that you eat cereal from. Yeah, it is pretty useful, but it's definitely not exciting or sexy. But if you're skiing in Canada a bowl is something completely different. If you mention a bowl around a resort, suddenly people perk up, they listen to every word uttered. Absorbing each morsel of information.
Okay, so as you may have guessed by now, we're not talking about the same bowls. I'm talking about the type of bowl that you find at the top of a mountain. And no, not some curve piece of ceramic that a crazy local left. I'm talking about the deep, curved terrain that gets skiers all worked. The type of Bowl that Whistler Blackcomb is famous for.
If bowls were currency, then Whistler would be a Sheikh, such is the embarrassment of riches it has. Its legendary four glory bowls have made it a Mecca for skiers and boarders alike. They flock there in droves, as if it was a pilgrimage. Seeking enlightenment from the mountain Gods. The Four Glory Bowls are the throne in which Whistler sits above all other ski resorts.
Wait A Second….There's more than just four bowls. Really? Now they're just being selfish.
The reality is that Whistler Blackcomb has more than four bowls. In fact it is closer to ten. The choice can become somewhat overwhelming for skiers. As they reach the end of their ascent, they become like a dog in a chew toy factory. Their head's darting about enthusiastically, trying to pick which bowl they want to ride. Looking for a run that offers enough fresh powder to keep a Hollywood starlet happy.
Choosing a bowl is the most difficult decision they'll make all week. The burden of choice is something skiers aren't used to; usually it is a hand full of unchallenging runs to choose from. With lift queues, that only British people would relish-picking the right Bowl can make or break a visit.
Most people on their first visit choose one of the following two: Whistler Bowl and West Bowl
Whistler Bowl is the least challenging of all the bowls. Although, that's like saying the loser in the one hundred metre in the Olympics; is slow. It's a nice introduction to the bowls, with its wide open terrain built for speed. The terrain get less docile the further down the bowl you go, with enough lumps and bumps to get the veins coursing with adrenaline. It is also the bowl with the richest powder, so for those looking for vanity lines at the end of their, then this should be their choice.
West Bowl is an entirely different proposition. It's a thrill seeking powder hounds playground. The type of terrain that requires a psychologist to get over. It's rowdier than a fraternity on spring break, with every turn requiring one hundred percent concentration. Deep drops, chutes, gulleys and bracken. The list of challenges it offers, seems insurmountable. The adrenaline that it fills the body with will make the weediest of skiers feel like they could lift a car. All intermediate and experts need to be on their guard because up above the cloud in this bowl the slightest of mistakes will be punished.
The bowls at Whistler are as good as it gets for skiers. They're so good that even the slightest mention of the word will bring a sudden bout of the blues on. It will get to the stage where eating cereal from a cup, is a viable option. Whistler, for as long as it has its bowls, will always be a skier's paradise.
For more information about Whistler Blackcomb visit: www.whistlerblackcomb.com