I grew up in Toronto, Canada. While Toronto is a tremendous city – boasting eclectic neighbourhoods, lush city parks and a vibrant cultural scene – it's also a place people get really practiced at leaving. Every Friday night in summer, the 400-series highways leading out of town are jammed with cars crawling towards the promise of fresher air and a lakeside cottage up north.
I've left Hogtown for good and for the past six years have called beautiful Vancouver, British Colombia home. My favourite thing about Vancouver is how the city and its natural surroundings are inseparable; the ocean, the mountains, and the forests are always in sight, always accessible, and always calling. There's never a need to "escape" on the weekends, because the gorgeous West Coast wilderness is already waiting at our doorsteps.
In honour of my adopted hometown, I've written a list of places I think every visitor should explore. They vary from North Shore hikes to East Vancouver farmer's markets to Westside beaches and viewpoints. All experiences are free, and all are accessible by public transit. Have fun spending a weekend (or more!) Vancouver-style.
Top 10 Free Vancouver Experiences: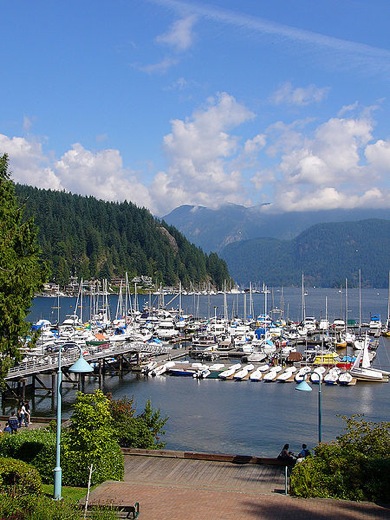 The Harbor at Deep Cove
1. Deep Cove is barely a 30 minute drive from downtown, but offers a completely serene, secluded experience. Take in the view of fir trees and water from Panorama Park, then hike a portion of the Baden Powell Trail to reach a fantastic look-out (about a 2-hour hike, round trip). There's a small, quality (free) art gallery in town, but the highlight of any trip to Deep Cove has got to be the stop at Honey's for their incredible homemade doughnuts.
The view from Lookout Rock at Deep Cove
2. Every visitor to Vancouver hears about the Capilano Suspension Bridge. While it's an amazing structure, I don't understand why tourists pay $30/person to walk across it, when there's a similarly stunning bridge with zero admission cost in nearby Lynn Canyon. Fingers crossed you get hot and sunny weather, because after the shaky crossing, a short hike beside the Lynn River takes you to the beautiful still green waters of the 30 Foot Pool, a popular local swimming hole surrounded by temperate rain forest.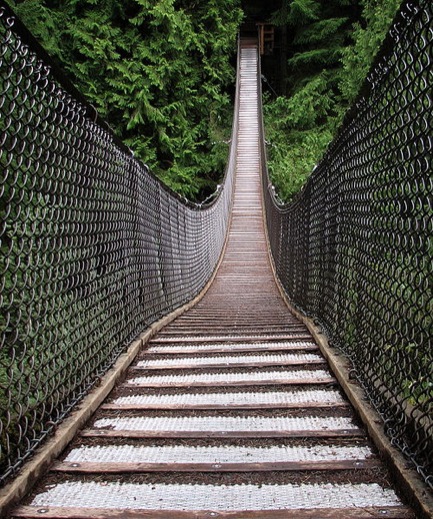 Hold on tight! The suspension bridge at Lynn Canyon.
3. Although the Suspension Bridge doesn't make our list, Capilano River Regional Park does. Just a tiny bit further up the road from the Bridge, you can enter this North Shore park and see the spectacular views of Capilano Lake and Vancouver's iconic "Lions" from atop Cleveland Dam. If you're interested in fish, there's a hatchery just downhill from the dam, with some educational displays and – well – lots of fish swimming around.
4. Lighthouse Park sits on Atkinson Point, the most westerly part of the North Shore, where Burrard Inlet meets Howe Sound. There are some small stands of old growth forest here and you can walk among the giant cedars and fir trees on your way to the park's historic lighthouse.
5. A great way to mingle with Vancouver-ites in their native habitat is to visit one of the city's weekend Farmer's Markets. Local! Organic! Heirloom! Watch the locals drool over eco-friendly produce and gluten-free baking. My personal favourite is the market at Trout Lake; a visit here can be combined with a walk in the park and a stroll down nearby Commercial Drive. Other farmer's markets pop up in Kitsilano (10th and Larch) and the West End (1100 block of Comox).
6. Explore the artisans' workshops on Granville Island and search for the free foodie samples in the main Market. The Aquabuses stop at the Granville Island peer. They're not free, but for a few dollars you can ride across False Creek in one of these tiny colourful boats that ferry up and down the creek. It's a good way to get a view of the former Athlete's Village, a part of our city's 2010 Winter Olympic legacy.
7. This is kind of a no-brainer, but one of the most pleasant ways to enjoy a nice day in the city is to join the locals and ride a bike/walk/jog/rollerblade around the city's Seawall. You can choose to do the loop around Stanley Park, or the more urban path that circles False Creek – or both.
8. Grab a frisbee and take a stroll on one of the city's gorgeous beaches; you'll quickly realise (if you haven't already) why Vancouverites choose to make this part of the world their home. You'll find classic views of downtown, the water and the North Shore Mountains. Kits Beach, English Bay, First Beach and Jericho are all deservedly popular. When the tide is so low it looks like the tankers must be resting on the sea floor, you can walk way out into the inlet from Spanish Banks. For some serious (i.e. nude) people watching, head to isolated Wreck Beach, near UBC.
9. Walk around some of Vancouver's most liveable neighbourhoods and their main shopping streets: Main St area (walk south on Main from Broadway up to around 30th Ave; Commercial Drive (especially between 1st and Venables Ave.) and Kitsilano (W. 4th is a great shopping street between Burrard and Balsam). Each of these neighbourhoods provides its own unique insight into the city's dining, shopping and urban scenes.
10. Hop on the 135 bus heading East and take it all the way along Hastings to the top of nearby Burnaby Mountain. (This route includes a short but sweet tour of the DTES, Vancouver's decidedly "grittier" underbelly). At Burnaby Mountain you can hike a short portion of the Trans Canada Trail to get to Burnaby Mountain Park for superb views of downtown Vancouver, the Burrard Inlet, the North Shore Mountains and Indian Arm.
To perform a quick search on how to get from A to B by bus, Seabus or Skytrain, you can use Translink's easy trip-planning tool.