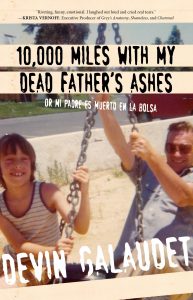 As real as it gets – author Devin Galaudet (also known for attempting to marry his wife 100x in 100 different countries) has written a fast read and engrossing memoir about the realities of growing up in Los Angeles in the 1970s and 1980s centered around his chain smoking father. Full of family stories, sometimes family secrets and growing pains this story is woven around Devin's at times on and off again relationship with his father.
Receiving a call that that his father died (the call came from his father's 7th wife) and then discovering his father's wish for his ashes to be scattered in Cadiz, Spain eventually Devin formulates a plan to visit Spain. He approaches and then convinces the Tourism Office of Spain to send him on a trip to the country – with good timing they needed a writer to cover several operas that were being held in Sevilla (only about a 90 minute drive north of Cadiz).
Crossing the country with his father in tow, eventually he enlists the help of the Cadiz tourism board in planning a simple tribute to his father including hiring an opera singer to perform a rendition of Ave Maria during the tribute. But then prior to the ceremony Devin discovers his rental car is missing containing the ashes of his father. What would you do!?
To purchase this book, visit: www.devingalaudet.com