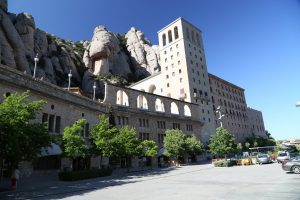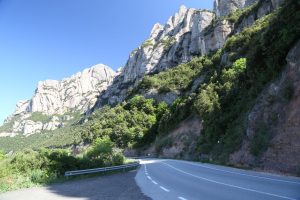 When I find a place such as Montserrat in Spain that combines an inspirational human element with certainly a natural one, I pause for reflection. I try to absorb as much of this beauty as I can through all my senses. When visiting places like this it helps to be alone (not always possible at places of such grandeur). But fortunately I arrived late in the day mid week and the buses and most of the tourists had already left.
The drive on the north face of these sculpted rocky mountains is inspirational before you even reach the town of Montserrat. Such a drive calls for some music to match the mood so I soon tuned to 104.2, billed as Catalonia's classical music station.
This place can become very popular if the long parking lot that spirals around the rock cliffs next to the main road is any indication.
When one visits Montserrat one should hike – a lot. The views become even better as you walk through town and choose from a number of trails that lead from the rear of the town. These trails are popular with day trekkers and rock climbers alike and after some significant increase in altitude one is rewarded by excellent views of both Montserrat, sculpted natural rock formations and the valley far below.
Besides walking there are other ways to see this area; tickets for a train, a gondola and a very steep funicular can be purchased on site. While this funicular visually appears to extremely steep (and it is) it is not the steepest one in Europe. That distinction belongs to the Gelmerbahn funicular in Bern, Switzerland.