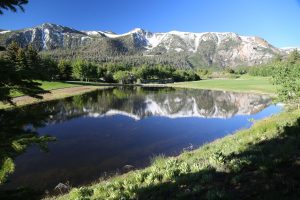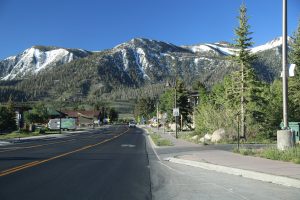 These hotels are listed for the Mammoth vicinity. All prices listed are for 1P/1 room/1 night. Lower rates can usually be found in the fall and spring months. An additional source for Mammoth Lakes lodging information is Mammoth Web: www.mammothweb.com/lodging
Prices subject to change without notice.
Unless otherwise noted all Phone Numbers are in the 760 area code.
General
1849 Condominiums are located at 826 Lakeview Blvd. They have 46 rooms, are rated three stars, and their prices range from $120 to $280. Phone Number 760.934.7525. Visit: www.1849condos.com
Alpenhof Lodge is rated 3 stars and is located at 6080 Minaret Road. They have 58 rooms and their prices range from $140 to $289. These rooms have been newly renovated – also include some cabins.

This lodge has a definite European look to it. Features photography by local photographer Vern Clevenger (Vern used to operate a gallery in Bishop). No air conditioning (not normally needed). Some rooms have views of the nearby mountains and or the even more nearby Village at Mammoth. Phone Number 760.934.6330 Visit: www.alpenhof-lodge.com
Austria Hof Lodge is rated 3 stars and is located at 924 Canyon Road. They have 23 rooms and their prices range from $79 to $265. Phone Number 760.934.2764. Visit: www.austriahof.com
Double Eagle Resort and Spa is an excellent four season resort. Please refer to the June Lake section for more information. Located about 30-35 minutes away from the center of Mammoth Lakes. They can be reached at Phone Number 760.648.7004 or visit:
www.doubleeagle.com
Innsbruck Lodge is rated one star and is located at 913 Forest Trail. Their prices range from $50 to $145. Phone Number (760) 934.3035. Visit: www.innsbrucklodge.com
Lundy Lake Resort is located at 7,800 feet on the shores of Lundy Lake near the site of the old town of Lundy (about 45 minutes from the center of Mammoth Lakes). This resorts boasts of outstanding fishing including German Brown and Rainbow. They have boat rentals and sell fishing licenses. Other amenities and features include, a general store, a trailer park, camp huts, and camper and tent sites.

Bob and Susie Owens are the owners of this resort. The cabins rent for between $70 and $92 per day. The resort is open during the fishing season which is approximately the end of April through November 1. For more information call Phone Number (760) 309.0415.
Mammoth Creek Inn is located only a few blocks in on Old Mammoth Road. Plenty of restuarnts within walking distances of the inn.

Originally founded in 1972 – has seen several owners over its 45+ year history. Offers 25 rooms, an indoor spa including a Jacuzzi, European Dry Sauna, Steam Room. Free shuttle pickup and drop off from the nearby Mammoth Lakes/Yosemite Airport. Great location for skiers or fishermen. For more information visit: www.themammothcreek.com

Mammoth Mountain Inn is rated 3 stars and is a resort located on state route 203 directly next to Mammoth ski resort. In fact they have been here for more then 50 years and are the only hotel at Main Lodge. This is one conveniently located hotel; guests can simply walk across the parking lot to be at one of the gondolas to whisk you up the ski slopes.

They have 213 rooms and their prices range from $249 to $900. A bar and grill are on site as is a pool and a hot tub. Very family friendly. Phone Number 760.934.2581. Visit: www.themammothmountaininn.com
Quality Inn is a 61 unit hotel with an oversized indoor spa perfect for after a day of skiing or fishing and is located on the shuttle route to Mammoth Mountain (Main Street). It has a AAA three star rating and all reservations include a complimentary continental breakfast. Rates range from $89 to $209.

For more information call 1-800-626-1900 or visit www.qualityinnmammothlakes.com
Rock Creek Lakes Resort had been highly recommended to me by several people. To get to this resort drive 15 miles south of the Mammoth Lakes Junction and turn right onto Rock Creek Road at Tom's Place. Continue through the canyon for 11 miles to a parking lot at Mosquito Flat. This area is located at about 10,300 feet in elevation. You might have to stop and catch your breath when you get out of the car! For reservations or a brochure about this unique high altitude resort please call Phone Number 760.935.4311. This is one resort I will not miss next summer/fall. Website: www.rockcreeklake.com/resort
Rodeaway Inn, Wildwood is located at 3626 Main St. Offers one of the cheaper lodging options in the area.

Provides basic fish cleaning and freezing options for fisherman. Each room contains a coffee maker and a hair dryer and some rooms have refrigerators and microwaves. Visit: www.choicehotels.com/california/mammoth-lakes/rodeway-inn-hotels/ca328
Shilo Inn is rated 3 stars and is located at 2963 Main Street. They have 70 rooms in 4 stories and their prices range from $109 to $179. Phone Number 760.934.4500. Visit: www.shiloinns.com/search_results.asp?PI=ymlca
Sierra Lodge is located at 3540 Main Street and they are rated three stars. They have 35 rooms in 3 stories and their prices range from $59 to $199. Phone Number 760.934.8881. Visit: www.sierralodge.com or email: info@sierralodge.com
Sierra Nevada Resort & Spa is located at 164 Old Mammoth Rd. For more information visit: www.thesierranevadaresort.com
Summit Condominiums are rated 3 stars and are a condominium motel. They are located at 3253 Meridian. They have 117 rooms and their prices range from $120 to $300
Website: www.summitcondominiums.com
Travelodge is rated 2 stars and is located at 54 Sierra Blvd. They have 40 rooms and their prices range from $59 to $149. Phone Number (760) 934-8892. Visit: www.wyndhamhotels.com/travelodge/mammoth-lakes-california/mammoth-lakes-travelodge/overview
White Horse Inn is located at 2180 Old Mammoth Road. Visit: www.whitehorse-inn.net