Rhode Island may be America's smallest state, but there's nothing diminutive about its food scene. This coastal paradise is chockfull of both culinary traditions and forward-thinking epicurean initiatives.
Visitors to the Ocean State will taste iconic "only in Rhode Island" treats, like stuffies (minced quahog clams mixed with bread crumbs), New York system wieners (hot dogs topped with meat sauce) and energy-boosting coffee milk (cold milk sweetened with concentrated coffee syrup).
Accolades from near and far confirm that state capital Providence has taken the food world by storm, but every nook and cranny of this state will please the culinary tourist. While homogenized food franchises can be found, the scene is not dominated by the generic. Mom-and-Pop eateries thrive and a devoted food subculture keeps hyper-local ingredients in the forefront.
The Lobster Pot, Bristol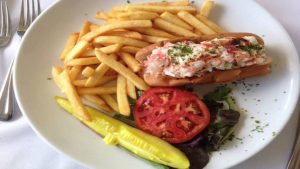 Bristol is a quaint New England seaside town with a dynamic dining scene. If you're looking for a flavor profile heavy on nostalgia, the venerable Lobster Pot has been serving regional seafood specialties since 1929 and is still going strong. Boasting spectacular views of Narragansett Bay, it's a non-pretentious place that concentrates on its traditional menu and impeccable service. The raw bar is a briny bounty of oysters and clams. The chowder is dense with shellfish, the rich lobster bisque creamy perfection. Lobster, scrod and scallops are best when prepared simply, letting the true flavors of the fish shine. Diners from tots to grannies are warmly welcomed, making it a top choice for families.
Coast by Jennifer Backman, Ocean House, Watch Hill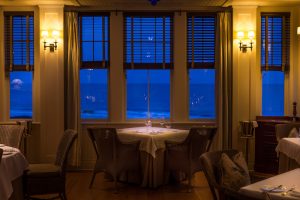 In a state with sky-high culinary credentials, the tasting menu at Coast by Jennifer Backmanstands head and shoulders above them all.
It is located in the Ocean House, one of the most luxurious and elegant resorts in North America. If you've fantasized about living like a Gilded Age millionaire, a stay at Ocean House should satisfy your whims. Views from the hotel and restaurant are pure coastal eye candy.
Dinner is a four-course event with the option for two additional courses, a cheese course and a caviar course, to extend the experience. The seasonal menu changes nightly according to what local farmers, fishermen and foragers present. Seafood is a star but Backman is equally deft at preparing meat, vegetables and pasta. Her repertoire doesn't hit a wrong note. Diners may choose from a vegetarian menu in addition to the savory menu but there's flexibility to skip between both menus. Service is stellar, the wine pairings superb.
Spend the night at Ocean House and continue your culinary journey at their onsite Center for Wine and Culinary Arts. It offers cooking classes, wine tastings and the opportunity to forage with their staff forager.
Ellie's Bakery, Providence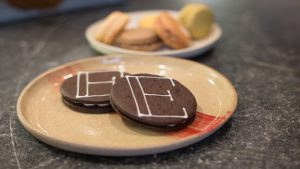 Ellie's is Providence's premier place to indulge in cakes, pastries, cookies and breads, freshly baked with wholesome ingredients responsibly sourced from New England. This intimate urban bakery is a sugar-spun wonderland with the air of an authentic Parisian café. Learn the insider secrets of these talented bakers when you book one of their hands-on classes. The experts will guide you through each step as you create sweet treats to take home.
The menu changes seasonally, but you can always nibble on Ellie O's, a handmade version of an Oreo. One bite of this carefree confection and you'll never go back to that store-bought chocolate sandwich cookie of your childhood. Dainty delights, like macarons in whispery flavors such as lemon lavender and pistachio, are as beautiful as they are delish.
Nautical Newport is thought of as more of a swimsuit season destination than a sweater season one, but La Vasca's menu is harmonious with any type of weather. Bright aromas will arouse your appetite, confirming culinary excellence before the first bite.
The flexible menu changes with the wind, but the cauliflower, served on a bed of creamy tahini with an accent of crunchy Marcona almonds and robust caper berries, is a heady tangle of flavors that will awaken your palate anytime of year. Charred Pt. Judith Squid blends with fingerling potatoes and zesty Romesco sauce for a marriage made in heaven. The robust Paella Valenciana overflows with local shellfish just plucked from the sea combined with tender-yet-toothsome Bomba rice.
The welcoming atmosphere and genuine staff will make you wish La Vasca was in your neighborhood.
Gurney's Newport Resort and Marina, Newport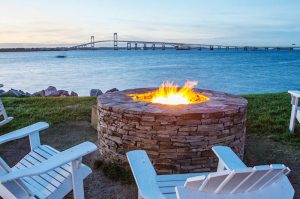 Gurney's Newport Resort sits on Goat Island. It's a secluded spot just a few steps from charming downtown Newport. The hotel features 257 spiffy guestrooms, a large saltwater pool, spa and dynamite nautical views.
The Regent Lounge is a causal dining spot with a welcoming staff. It's a popular place for both locals and guests to indulge in a craft cocktail paired with upscale bar food. In warm weather, relax outside by the firepit and enjoy the view.
One of the most unusual drinks on the menu is the Beet-cha To It. It blends Plymouth gin, Pimms, beets, lemon, ginger and a dash of orgeat for a colorful punch.
Don't leave without tasting the crispy calamari. Calamari is popular all over the state but Gurney's version adds chili sauce that takes it up a spicy notch.
Blount Clam Shack, Warren
Blount Clam Shack low-key place in coastal Warren serving a bounty of bivalves straight off the boat. You'll feast on stuffies, calamari and crab salad prepared to order and served on the outdoor deck. These folks know their way around seafood, perhaps because the Blount family has been involved in the fish business since the 1880s. New England clam chowder is velvety-smooth and chock-full of sea-washed bites with just the right accent of root veggies. If you feel the need for more of a kick, order the tangy red clam chowder. The spicy seafood wrap overflows with fresh fish, so grab plenty of napkins. Closed all winter, but if you really can't control the itch for whole belly fried clams, head to nearby Blount Market and Kitchen for takeout, open year-round.
Olneyville N.Y. System, Cranston and Providence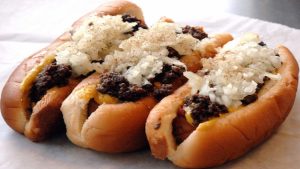 Rhode Island's most popular fast food is a hot dog oddly bearing the name of another state, New York system wiener. Olneyville New York System has been serving these bad boys for 60 years. It's a natural-casing frankfurter served in a steamed, side-split bun. What differentiates it from the pack is a drizzle of aromatic meat sauce, accented with cumin, allspice and paprika, adding savory flair. Other acceptable condiments include yellow mustard, onions and celery salt. Don't even think about ordering it with kraut, because there isn't any. Take the "when in Rome" attitude and order and it "all the way" with coffee milk to wash it down. Both branches draw crowds so a visit here demonstrates just how loyal Rhode Islanders are to these snappy wieners.
Images courtesy of N. Millard Go Providence, Gurney's Newport, Olneyville NY System, Ocean House, Blount Clam Shack, Lobster Pot and La Vasca