Perhaps you've come to Bermuda for it's pink sand beaches, blue sea and quirky knee-length shorts? Steal away from these worthy attractions and you'll reap mouth-watering mealtime rewards. Bermuda's food scene is discretely on fire.
Islands of all sizes hold gustatory riches. Caribbean islands especially excel on the culinary front. They tend to be melting pots of flavor, attributed to the influences of centuries of invaders, pirates and explorers. Combine this eclectic mélange with a treasure chest of indigenous earthly bounties and it's easy to see why Caribbean cuisine is so distinct.
Whether it's spicy curried oxtail in Jamaica, fragrant guava duff in the Bahamas or the flaky turnovers called pastechis in Aruba, the Caribbean is a fiesta of tasty tidbits served in photogenic tropical settings.
Bermuda is not technically in the Caribbean. It's located in the middle of the Atlantic Ocean, far from any other landmass. This isolated position is a jackpot for seafood lovers. The lonely location makes for a bounty of bivalves and smorgasbord of shellfish that are clustered in the clean waters just off shore. Wahoo, tuna, rockfish, red snapper and spiny lobster are a few the briny treats. Whatever sort of seafood strikes your fancy you don't want to miss the fish in Bermuda.
Fish Sandwich
The fish sandwich is a staple found on many restaurant menus. It's delicious in its simplicity. Thinking of it as Bermudian fast food wouldn't be a mistake.
Each eatery customizes the fish sandwich with it's own specific spin but the basic recipe isn't one to tamper with. A deep-fried fish fillet–caught that morning– is served on raisin bread with tartar sauce for extra tang. Lettuce, tomato, Bermuda onion, coleslaw and cheese are acceptable add-ons.
Where to try it? Saying who makes the best fish sandwich in Bermuda is like saying which of your kids you like best but accolades go to unpretentious Woody's.
Fish chowder
The unofficial national dish of Bermuda, this flavorful soup is the stuff of dreams. A variety of just-swimming fish is simmered with tomatoes, celery, carrots and onions. Customary herbs and spices may include bay leaf, thyme and allspice. At the table, a heaping bowl is served with two condiments, black rum and sherry pepper sauce. You may shower as much or as little of them as you like onto the chowder.
The soup's consistency is as light as a feather without the trace of gumminess sometimes found in New England chowders.
Order a bowl at Wahoo's, a casual spot in St. Georges with an outdoor dining deck that is tough to beat. The menu doesn't hit a false note, so it's hard to go wrong with whatever you order
The venerable Lobster Pot has been serving fish chowder for over 40 years. Located in Hamilton, it's very popular.
Spiny lobster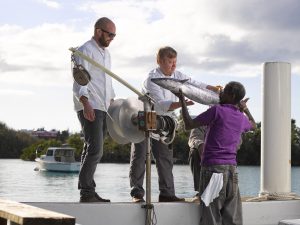 Bermuda's spiny lobsters are related to their Maine cousins yet they are quite distinct. They have hard shells and all the sweet meat is discretely found in the tail. Broiled and served with nothing but butter and squeeze of lemon, spiny lobsters may be cumbersome to consume yet the experience is worth the effort. They are in season from September-March, but it may vary slightly from year to year.
On the global restaurant stage, Marcus Samuelsson is a rock star. He recently opened Marcus' at the elegant Hamilton Princess. This iconic hotel has gorgeous grounds and a fabulous art collection that is very worthy of a pre-dinner viewing.
Samuelsson's kitchen wizardry has earned him with accolades and Marcus' doesn't disappoint. It is difficult to not order one of his signature soul food-inspired dishes such as chicken and waffles or buttermilk-fried chicken served with collard greens and stone ground grits. Do yourself a favor and lean local when spiny lobster is on the menu. Samuelsson's delicate touch with the crustacean is worth every penny.
Traditional Sunday Codfish Breakfast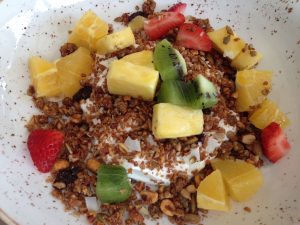 Make sure to rise and shine at a reasonable hour on Sunday because Bermuda's authentic Sunday breakfast is not to be missed. It's a healthy portion of codfish cake served with potatoes and sides including avocado, banana, boiled egg and onions.
Codfish has a long and storied history on the island. Salted dried codfish was brought to Bermuda centuries ago as an inexpensive and nutritious way to feed Bermudian slaves. It remains a beloved ingredient.
This hearty repast is served all around the island. Jimmy Carter and Clint Eastwood enjoyed their powerhouse Sunday breakfast at the Specialty Inn, so consider giving it a try.
For those who place emphasis on the morning meal everyday, the Village Pantry is an eye-opener. They serve locally sourced, healthy treats such as baked granola with fresh fruit, sun-choke hash and banana bread French toast. The friendly staff aims to please. The excellent coffee alone makes it a worthy stop on the culinary map.
Sherry pepper sauce
Sherry pepper sauce is a foundational element of Bermuda's cuisine. The obsession with this condiment started centuries ago, when sailors began fortifying barrels of sherry with hot peppers. It was used as an all-purpose seasoning to mask the rancid ship rations and quickly acquired a cult-like following.
Outerbridge is the local brand of choice. Outerbridge's Original Sherry Peppers is a classic, found in nearly every home and restaurant on the island. It blends 17 herbs and spices with a fairly mild heat level. It is perfect with fish chowder but its uses are pretty limitless.
If you crave fiery heat, try their Devilishly Hot Sherry Peppers Sauce.
It is sold at the airport, so you may purchase a little shaker bottle to bring home.
Cocktail culture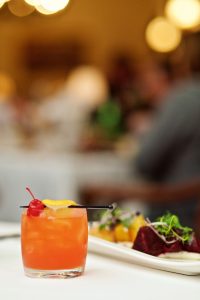 It's always five o'clock in Bermuda. If potent potables are your thing, Bermuda and rum go together like milk and cookies. Kick back with the locals and sip a pre-dinner cocktail.
The Dark and Stormy and the Rum Swizzle are un-official national drinks. For rum lovers, Bermuda is heavenly.
The Dark and Stormy is a simple combo of dark rum, ginger beer and an optional lime wedge.
Order one and watch the sunset at upscale Blu Bar and Grill. They have a fabulous sushi menu and supreme seafood, so consider staying for dinner.
The fruit-forward Rum Swizzle includes rum, triple sec, pineapple and orange juice, simple sugar, angostura bitters and freshly-squeezed lemon juice.
The Rum Swizzle invented at the Swizzle Inn, making it the place to indulge.
For more information, visit www.gotobermuda.com