When I was initially invited to be a guest at the Lodge at Nakoma, I admit I had to look up its whereabouts. I was very familiar with the Tahoe region of Northern California, what with the numerous skiing and camping trips I used to indulge in (and still do occasionally), but hadn't explored past Lake Tahoe. The Nakoma Resort is less than an hour northwest from Truckee/Lake Tahoe and is nestled amidst the pine trees, with the majestic Sierras as the backdrop. Needless to say, the drive from my hometown in San Francisco is gorgeous, filled with stunning scenery and deer!
STAY
The 42-room Lodge at Nakoma has a distinct mountain modern feel. I loved that the hotel uses raw and natural materials in its construction, including antique woods and stone. At first glance, the lodge looks quite simple from the outside. Walking into the lobby, you're greeted by an equally simple reception area. The high ceilings, and exposed concrete floors give way to the floor-to-ceiling windows that take you out into the gorgeous terrace area overlooking the Plumas County forest. The view can take your breath away if you aren't careful! You're also looking out at the eighth green of Nakoma's Dragon golf course.
42 rooms may sound like a lot. But the lodge never feels busy.  It actually feels quite intimate and cozy with the lovely fireplace by the huge windows. The rooms are split into two levels on either side of the lobby. I had the privilege of a ground-floor room with two Queen sized beds and an attached patio that looked out into the pine trees and the mountains. My little piece of heaven for the weekend. The rooms are actually pretty big and come equipped with a flat screen, wall-mounted television, free Wi-Fi internet that worked well, coffee makers (yes I need more than an alarm) and shower stalls or tubs with showers.
DINE
The Lodge at Nakoma – Wigwam Room Restaurant
The lodge itself doesn't have a restaurant inside the facility, but mornings greet you with a casual spread by the informal kitchen. This can include granola bars, fruit, coffee, juice and I believe even cereal.  But forego this for the real deal at the hotel's restaurant located just a few minutes away, and yes it's easily walk-able. The Clubhouse is where you go for the fabulous Sunday brunch at the Wigwam Room restaurant. Now the Wigwam Room is the masterpiece of this lodge. As you walk in, you're struck by the central fireplace rising into the soaring ceiling and the views of the surrounding Sierras are just spectacular.  You are looking at Frank Lloyd Wright's architectural wonder. This is truly a dining experience up in the mountains. Catch the sunset from the expansive terrace which overlooks the impressive mountains and the lush golf course.
Dinner was a lavish experience at the Wigwam room. As the sun set behind the Sierras, I noshed on fried crispy okra, and some delicious Mongolian glazed meatballs that were to die for. The housemade ravioli with tomato sauce was another winner but the Cajun Carbonara with the Andouille sausage, pancetta, bell peppers, okra, and Cajun spices tossed with linguini in an egg-cream sauce was my favorite. The spices did a little jig in my mouth as I marveled at how light, yet filling this dish was. I was too stuffed to try any of the desserts but couldn't resist a spoonful of the bread pudding – do yourself a favor and order one. Don't share.
Sunday brunch at the Wigwam room is an affair to remember. The Pain Perdu is an innovative Cajun-style French toast soaked in sweet lemon custard and spiced whipped cream. It was actually really delicious! The other items included pancakes, omelets, Huevos Rancheros, the Nakoma Benedict and a special dish perhaps that's season. It was an exquisite cheese filled rolled up pancake topped with champagne sauce and orange zest. A few bites and I swear I made it to heaven!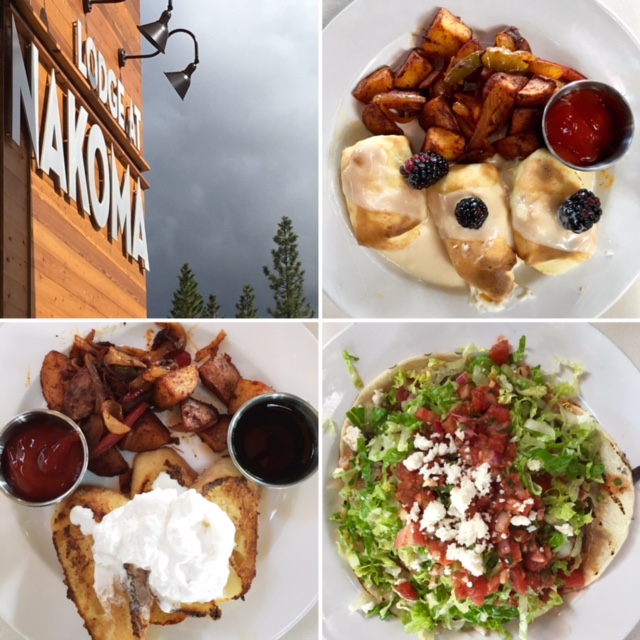 Now if you can peel yourself away from the lodge and its beautiful surroundings and say you felt like driving around to try something different for a night out, you do have options.
Cuccia's – Pasta, Pizza Wine Bar
This family-owned restaurant uses recipes that have been passed down for years.  Their meatballs, pizzas, pesto pastas are all worth trying along with some delectable wine pairings.  The dining room has a lovely vibe, warm and welcoming. Make reservations and get ready for a relaxed evening with family and friends.
Cuccia's is located at 545 Mohawk Highway, Box 1160, Graeagle CA 96103.
Visit http://www.ilovecuccias.com/ for menu details.
Greagle Meadows Clubhouse
Open for breakfast and lunch, the outdoor patio is the real treat. With views over the golf course and the mountains, it's a great way to spend the afternoon snacking on simple sandwiches, burgers, salads, tacos and I think I even spotted quesadillas on their menu. Stop by the golf store downstairs and try your hand at golfing if you're up for it.  Or do what we did, grab your sandwiches to go and make a little picnic out of your afternoon at The Brewing Lair micro-brewery.
The Clubhouse is located at 6934 HWY 89 in lovely Graeagle, CA 96103 530.836.2348
Visit http://www.playgraeagle.com/golf/restaurant.html for details.
The Brewing Lair
Truly a hidden gem. Set back from the road near Greagle, CA, this brewing facility is real! They have some intense hops infused ales from IPAs to Porters as well as some golden and amber brews. The Brewing Lair is simple and offers only beer and no food in a woodsy, outdoor setting, with just the pine trees and fresh air for company. Looking for some activity? Check out the cornhole games, the slack line or the disk golf course.
The Brewing Lair is at 67007 CA-70, Blairsden, CA 96103.
http://www.thebrewinglair.com/
DO
Golf
The golf course at the Lodge at Nakoma is surrounded by the Sierra mountain range and offers unbelievable views from every tee. The course has undergone recent changes and is much more player-friendly. If you enjoy golfing, you can easily allocate a morning on this lovely mountain course.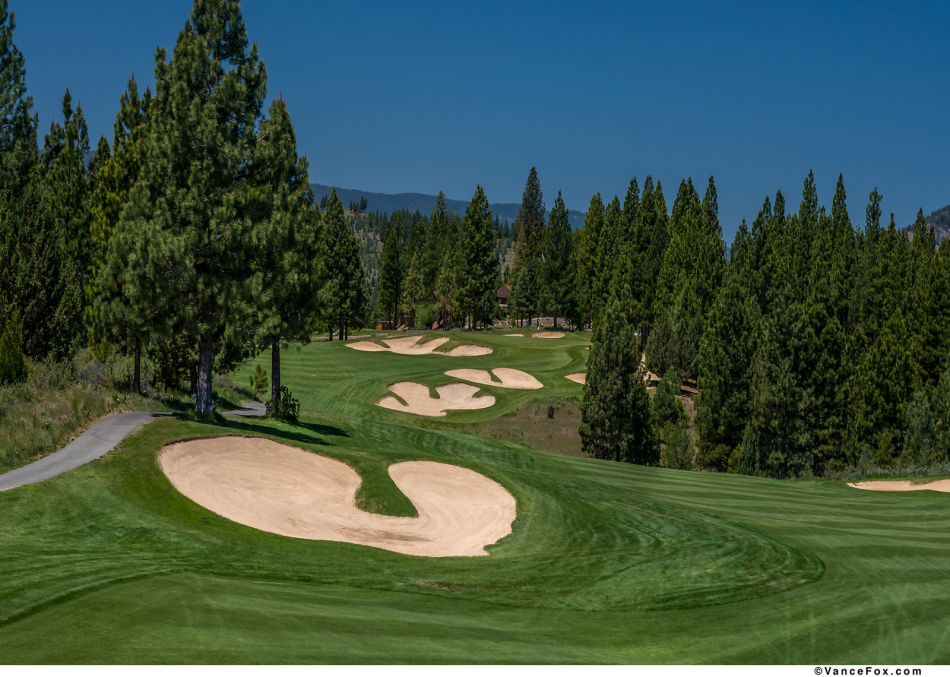 The Spa at Nakoma
If you get tired of sitting in your private balcony and day dreaming, you can always try the spa at the Lodge at Nakoma. Equipped with a pool, hot tub, steam and sauna room, the spa is divine. From your basic massage options to body scrubs to facials, you will not be disappointed. There's even a small fitness area if you have an immense desire to work out. Call ahead for spa reservations.
Contact the spa at http://nakomaresort.com/the-spa/
Hiking
Plumas National Forest has close to 20 hiking trails to choose from. We decided to explore Frazier Falls for an afternoon and set out on a paved path that was easy and short but beautiful.   We saw some glacier scrapes along the way and even crossed over a small picturesque bridge. The trail has plenty of benches if you want to soak in the views and finally the view of the waterfalls is stunning. Frazier Falls is best visited in spring or early summer when the snow is melting.  If hikes like these are mere child's play for you, then remember the book/movie, Wild? Well the Pacific Coast Trail is easily accessible from the resort and you can hike a section of the trail if you wish.
More information on this trail can be found here http://alltrails.com/trail/us/california/frazier-falls-trail
For information on other trails please visit http://nakomaresort.com/hiking/
Mountain Biking
The area might be referred to as the "Lost Sierra" but Mountain biking is definitely gaining traction within the biking community.  While many of the trails are geared toward the experienced mountain bikers, if you're a novice, the Lodge will set you up on a terrain that is beginner friendly as well. Trails vary from 8.2 mi to 24.8 mi and ascent/descent times vary by trail.
For more information on trails visit http://nakomaresort.com/summer-mountain-biking/
Kayaking
Now while this is not exactly Lake Tahoe, this area is surrounded by hundreds of lakes and is perfect for kayaking, rafting or just swimming in any of the 20-plus alpine lakes in the Gold Lakes Basin.
For more information, visit http://nakomaresort.com/adventure-concierge/
Nightlife
Blackbird Inn
Yes you can have a nightlife up in the mountains! My favorite spot is the Blackbird Inn. It's a small neighborhood bar with much character.  If you come before nightfall, take a moment to enjoy the quaint front porch where your dog is also welcome. The owners are actually cooking and pouring as well. Coming in on a cold night? Let the warmth from the wood stove take over. The place is definitely not lacking in mountain town charm. Looking for a place to stay? Take a stroll upstairs and choose from rooms that might remind you of attic style living with the slanted ceilings. Alana and Fletcher, the couple that run this place, remodeled what used to be a General Store, into a 5-room bed and breakfast inn with home-made pizzas, salads, meatballs etc.
For more information visit http://www.blackbirdinnclio.com/
Coming to Nakoma with your family or a group of friends? On my last day I walked around the property and visited some of the villas on-site. These luxurious villas offer studio, one and two bedroom options that feature private patios with hot tubs and a central stone fireplace in the living room. Beautiful floor-to-ceiling windows in some of the living rooms offer lovely views of the golf course and the lush mountains.  The villas almost reminded me of a glamping environment. It's secluded and set back from the lodge and has a very camping feel about it, yet the interiors are comfortable. Who wouldn't want to use a hot tub up in the mountains after a day of activity? And that's a wrap for a spectacular weekend in the "Lost Sierra." Go before the crowds discover this hidden gem.
For more information about the resort and surrounding activities visit: http://nakomaresort.com/the-lodge/
All opinions are my own.