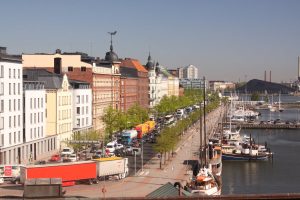 With approximately 600,000 inhabitants Helsinki and the surroundings comprises about a fifth of the countries' entire population. It is an International destination yet not large enough of a city to feel overwhelming; it retains a feel of a much smaller community and is fairly easy to get around with a well developed system of tram cars. During a recent visit a mix of using the tram cars and exploring on foot was the perfect recipe for getting to know the city.
A visit here is for unique and interesting architecture and design (Helsinki had the title of "World Design Capital" in 2012), culture, food, the saunas, and a variety of museums. Based on its geographical location the city is surrounded by and certainly influenced by the Baltic Sea/Gulf of Finland. A number of ferries connect select cities in neighboring countries including Sweden, Russia, and Estonia. The city is also known for its festivals – year round.
Helsinki is one of the world's most northern capital cities. The winters are dark and cold – the summers are fairly short but full of light – despite nearly 19 hours of sunshine during the longest days of the year – the late night hours never become completely dark for around 6 weeks of the year (June through mid July).
Stay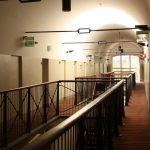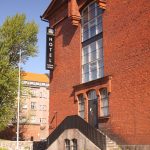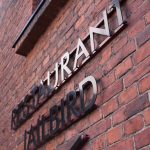 The historic Hotel Katajanokka is the oldest hotel building in Finland with parts of the hotel dating back over 170 years old. When you stay here, you are staying in a renovated county prison. This adds an additional level of intrigue – sitting in your comfortable "jail cell" your mind can't help but drift off conjuring up stories these walls could tell if they could talk.
The prison closed fairly recently – in 2002. At one point it had 164 rooms and over 200 prisoners housing nearly 40% of Finland's entire prison population. In the early 1940's it was damaged several times by bombs during World War II. A number of political prisoners were also housed here over the years.
Despite being a modern hotel you can still catch plenty of glimpses into its former life. Doors to rooms are very tiny, windows are located high up in the bathrooms, some rooms still have the steel caged doors in front of them and in a nod to its past, employees wear prison stripes.
It is easy to reach the hotel by public transportation. From the central train station and nearby Stockman's Department Store – catch tram #4 (same side as the store) to the Vyokatu stop. The hotel is conveniently located directly across from this tram stop. To arrange a stay and for more information visit: www.hotelkatajanokka.fi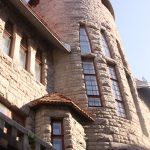 Glo Hotel Art is conveniently located just north of the main Stockman Mall in Central Helsinki (not to be confused with its sister Glo Hotel property located almost next to Stockman Shopping Center). This hotel is an intriguing combination of both modern hotel and a 1903 built Art Nouveau castle. From the outside you see the stone walls of the castle and tower, the inside lobby feels more Moroccan in feel and the rooms (renovated in 2012) are stylish and comfortable. Visit: www.glohotels.fi
Do
The Design District is home to approximately 200 design attractions ranging from galleries, restaurants and office buildings. There is even a design museum to help provide historical insights and perspectives into Finland's design culture – visit: www.designmuseum.fi/en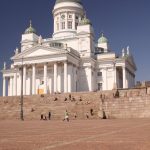 Several prominent churches worth visiting including Tuomiokirkko, a brilliantly white colored church that casts an imposing presence over Senate Square and often the many people sitting on its steps. The Uspenski Cathedral is a nearby impressive Russian Orthodox cathedral.
Temppeliaukion Church or "church of the rock" is a very unique Lutheran church that opened in 1969. The inside was carved out of solid rock – the inside is small and entirely surrounded by natural rock. Because of its good acoustics the church is often used for concerts. Natural light keeps things well lit during the day – when the sun is out in the morning the light creates a neat interplay of shadows across the front of the inside of the church.
The roof is also interesting – over 40 miles of copper wire lines the ceiling. Be sure to visit the second floor for the best overall views.
For those looking to experience a bit of Finland's local rock history visit Club Tavakashi in central Helsinki. It was founded in 1970 and is one of the most important music venue's in Finland. This club has several rooms for relaxing, a well stocked bar and an intimate stage. Tavakashi has hosted plenty of up an coming acts over the years including a number of well known names including Tom Waits and John Lee Hooker. Visit: www.tavastiaklubi.fi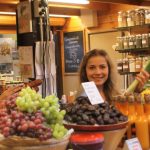 Hietalahden Kauppahalli is an indoor market located in a building that dates from the early 1900's and is located near the Western Harbour. A visit here is an excellent introduction to some of Finland's local products as well as imported items. Small sized vendors are located shoulder to shoulder here offering tasting delicacies ranging from Reindeer Carpaccio, to local berries (when in season) and local seafood. Stop by to browse the diversity of products, pick up some picnic snacks or eat at one of the restaurants or cafes on site. In the summer, an outdoor flea markets pops up everyday. Visit: www.hietalahdenkauppahalli.fi/en
Kotiharjun Sauna is located in the Kallio residential neighborhood of Helsinki and is a short walk from the Sörnäinen metro station. This is a "last of an era" sauna – it remains one of the only wood-fired public bathing sauna's in Helsinki. It dates from 1928 – and is located on the bottom floor of a multi story residential building. Men's and women's saunas. Website in Finnish only: www.kotiharjunsauna.fi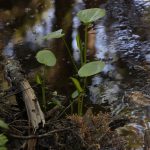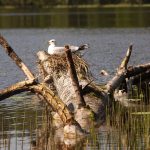 Nuuskio National Park is easily accessible from Helsinki – about a 30 minute non stop bus ride or slightly longer with bus combined with train (stop in Espoo). The new Haltia "green" Visitor's center is the self proclaimed "gateway to Finland's National treasures) and is located about 2km outside of the park. A stop here is worthwhile for the interactive exhibits that explore Finland's natural heritage, a cafe serving surprisingly good buffet style cuisine as well as rotating exhibits. Through tour company partnerships, guided tours can also be arranged from within the center.
There are nearly 188,00 lakes in the entire country – fortunately some of these are in Nuuksio. A worthwhile fairly easy hike is the 2.4 km Punarinnankierros Trail which passes by three such lakes (about 4km from the Haltia Visitor's Center). Despite this park being so close to Helsinki it is fairly easy to escape from people. Plenty of natural forest dominates. The Siberian Flying Squirrel is the logo of the park but these nocturnal "gliders" live high in the trees and can be fairly difficult to spot in the wild. Visit: www.haltia.com for more information.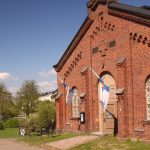 Suomenlinna is a UNESCO World Heritage site located only a short 15-20 minute ferry ride from the South Harbour in Helsinki; this is a well maintained island sea fortress built in 1748. There are six museums on the island including the worth visiting Military Museum which documents historical to modern day military equipment. Each museum sells tickets seperately. A small upstairs restaurant, simply titled "cafe" (the Cafe Vanille) is located upstairs in an old wooden house in the Russian merchants' quarter along the main route near the arrival/departure port. A number of art galleries are also located on the island.
Suomenlinna is small enough that it can easily be seen on your own – however guided tours are also available. The ferry runs all year round between 1 to 4 times an hour depending on the time of year. Visit: www.suomenlinna.fi/en
Recommended Restaurant
Juuri Restaurant specializes in fresh, locally sourced foods and well presented sapas (Finish appetizers). The restaurant has been well received over the years – winning one of Finland's top restaurant awards in 2010. They celebrate their 10th anniversary in 2014.
During a recent visit, several standout sapas included the Beetroot mousse with roasted chevre and dill, Lamb sausage Tunisienne, and delicious local asparagus drizzled in a Hollandaise sauce. One can order entirely from the sapas menu, however they also offer seasonal main entrees.
More Information
www.visitfinland.com – official Finland visitor's guide
www.visithelsinki.fi/en – official Helsinki visitor's guide
www.tallink.com – the go to ferries for transportation to and from Helsinki