Recently we stumbled upon adventurer Erden Eruç through the great social connector, Twitter. His story appeals to all on a number of levels. He first came up with the idea to circumnavigate the globe under human power in 1997. It was an idea but he never pursued it at the time.
Then in 2002, tragically he lost his friend and global adventurer Göran Kropp while rock climbing together and Erden was inspired to do something in his honor while carrying out his initial dream.
This has in turn become truly an inspirational story in its own right. Eruç has become the first person to circumnavigate the entire planet entirely under his own power – by rowing a specially built vessel across the world's oceans, by sea kayak along the shores, by foot and by bicycle overland (no sails, no engine power).
A trip like this would make people half his age pale just thinking about it! Thanks for all those who helped raise initial funds through Kickstarter to help Erden share his story with a wider audience through a documentary.
for more information and to help make his dream a shared reality.
Q. Please introduce yourself and tell us about your passions in life.
My name is Erden Eruç. I am a former mechanical engineer with two graduate degrees in engineering and an MBA. I worked in the information technology field until the year 2000 when the "dot.bomb" hit Seattle, followed by 9/11 which led to hiring freezes, totally derailing my career as an engineer. I had been trapped all along in an office unhappy with my life. I treated this downturn as an opportunity — I committed to a different path after the rock climbing accident which cost the life of Göran Kropp on my belay in Sept 2002. Today, I lead an educational nonprofit, I am a leading ocean rower in the world and I take on physical and charitable projects that make my heart beat.
Q. How did you choose Bodega Bay as your starting and ending point? (I grew up about 40 minutes away from there!)
I actually wanted to leave from San Francisco Bay at the end of May of 2007. I had planned my departure hoping that I would arrive at Australia safely. It is hard to avoid the storm seasons on such a large ocean as the Pacific, one encounters either the cyclone season or the hurricane season at either end. May/June is when the inland valleys begin to heat up in the Bay Area and the cold California Current generates a steady onshore wind. This coupled with the strong tidal currents at the Golden Gate made it impossible for me to depart safely by rowboat. So after two tries I decided to move my launch point to Bodega Bay. There would be no tidal currents at that site, therefore I reduced the number of variables by one, to simplify the problem. I then waited for a break in the winds; it was not until July 10th that I could safely launch on the Pacific.

Q. What do you tell someone who is "stuck" doing something who has not been able to yet pursue what makes them happy – ie their passion?
Life is short. We are the total sum of all the choices that we made throughout our lives. The dreams that we have are hints of the true self wanting out while life happens. It is only when we pay attention and acknowledge those dreams that we empower ourselves to take action. Often we tell ourselves that we cannot and act on that negative. If we give ourselves the permission to dream and have the audacity to say that we can, then the mind works in magical ways to find the path to change for the positive; we begin making different choices. Some may think that I am lucky to have pursued my dream, but we all heard that luck is where preparation meets opportunity. "Sharpen the saw and prepare for the jail break" is probably the shortest way to put it!

Q. How did you overcome the hardest moments (emotionally) while at sea alone? In contrast, what were your best days like?

The most difficult moments were when I did not have control over my destiny and the seas were overpowering my efforts. That is when I learned to surrender without giving up. I remained in problem solving mode, looked for opportunities to affect my course and fought to keep my rowboat on the route I had designed prior based on my research. My best days were when other creatures visited my boat, or when I achieved inner peace and I found myself as one with the sea. Having worked hard overtime finally culminating in arrival at the other shore is always a special day to celebrate.

Q. What stands out in your mind from crossing Africa on a bicycle – you must have an interesting story from that part of your journey you can share with our readers.
There are many memories from that bicycle ride across Africa, some good, others not so. In the Mikumi National Park in Tanzania, two giraffes came out of the bush, began galloping along on our right and kept pace with us then bolted across the road right in front of my teammate Norman Watts. They were majestic lanky creatures which we felt we could have touched. There was no chance to record that chance occurrence either as a video or as a photograph. That is the kind of experience I had to commit to memory after all of our hooting and hollering in joy was over.

Q. Tell us about the actual craft you used to row across the oceans – how do you go about building something like this or even choosing this for a journey of that length and magnitude?
I have a summary page about the boat here: http://www.around-n-over.org/boat.htm
The boat is 24' long by 6' beam. Self-righting and self-bailing purpose built marine plywood boat. I purchased mine in 2004 as a third-hand boat. She had already crossed the Atlantic Ocean twice from the Canary Islands to Barbados. These specific boats are classified as ARR Class vessels as they were specifically designed for the annual Atlantic Rowing Race event which began in 1997. Its plywood design is a time tested one, though the later generation molded composite boats are much stronger and lighter since 2003.

Q. All great journeys come to an end – what was it like adjusting to a life without "motion" when you returned to Seattle after 5+ years?
Reintegration proved to be difficult for me. For the longest time the journey had provided a huge carrot and an oversized rudder for the choices I made in my life. It was the elephant in the room weighing just as heavy; I had created a monster and had to keep feeding it. That sense of unwavering purpose and responsibility lifted once I finished the journey and I was frustrated when I found it missing. The "multitasking" in the city which is actually a state of constant distraction, no longer felt like a skill but a great annoyance. I was better focused and read more while on the journey. I doubt that I have adjusted fully. I always knew that I would change; that was the only thing that was certain when I embarked on my journey. I miss my journey, I miss the oceans and my solitude, and at the same time while gone, I always missed my wife and my mates for life. I felt alive on my journey and I have the need to feel that I belong when back at home. It is an interesting challenge to internalize those two competing feelings, and perhaps that strong draw of home and the love that it provides, were the incentives for me to survive through it all.

Q. Tell us about around-n-over.org, the non-profit organization you started in 2003. What are some of its goals and what is your current role with the organization?
Around-n-Over is a nonprofit that we set up to educate and to inspire especially children with lessons learned from human powered journeys. When I decided that I was going to take on the circumnavigation project after Göran's accident, I knew that this was not to be a chest beating exercise for fame. I felt that I could leverage the journey for the betterment of the society and share my experiences. I am currently the President of Around-n-Over.
I made it my mission to visit in person as many schools as I could on my journey and also to share my story in my regular dispatches both in English and in Turkish. I held teleconferences with boarding school students in primary education in rural Turkey by satellite phone from my rowboat. We raised close to 100,000 USD to benefit these students and to build classrooms at a middle school in Arusha, on the foothills of Kilimanjaro in Tanzania. We would like to do more of and we intend to continue our efforts to inspire the youth wherever we can reach them.

Q. Describe the focus and what your goals are from the release of this documentary film that you are currently raising funds for through Kickstarter.
The documentary which we named "Castaway with Purpose" will tell the story of my human powered circumnavigation. Our viewers will see a message of hope, they will see what they thought was impossible become reality, will want to believe that anything is possible. They will see the world often through my eyes and gain an appreciation for the challenge that it was to deliver on my promises.
I have hundreds of hours of footage that needs sifting into an attractive narrative. We can achieve that basic product with our baseline goal of 50,000 USD in the KickStarter campaign. With additional funds though, we would like to be able to include interviews of key individuals around the world who kept the journey moving along, sometimes by offering a place to sleep, by providing help in logistics, or simply by encouraging. Their perspectives may be just as important as the narrative that I may provide in the documentary. Therefore, in the best scenario, we would be 150-200% funded in our campaign to do justice by the sheer magnitude of the story.

Q. Since you call Seattle "home", what are some of your favorite activities that you would recommend to a first time visitor to this young and vibrant city?
Where does one begin? Grunge music or jazz? Indoors or outdoors? Assuming that one can do all the indoor stuff elsewhere also, let's focus on the outdoors a bit… If one is going to be sightseeing, visiting the Pike Place Market will be a fun activity in the city. Walking the trail along the Puget Sound from the Sculpture Park to Centennial Park will be refreshing. That trail, or visiting the Golden Gardens Park, or hiking in the Discovery Park walking all the way to the West Point Lighthouse, each provides a taste of the Puget Sound. Alki Beach in West Seattle has a row of restaurants and cafes when you get tired of watching beach volleyball and inline skaters.
Driving up to Highland Drive off Queen Anne Ave is a great scenic spot to get a photograph of the Space Needle, downtown and Mt Rainier all in one frame. Up and down that drive one can get a full view of the Olympic Mountains to the west. Seattle Center and the Space Needle are an attraction, especially so during the Bumbershoot festival at the beginning of September. There is always the counterculture of Fremont to experience with its Lenin statue and the "Troll under the bridge." You cannot go wrong with visiting the REI Flagship Store on Yale Ave just to see the variety of outdoor products that they carry.
If you are up for it, you can rent a kayak on Westlake Ave and paddle your way along the houseboats on Lake Union into Portage Bay through the Montlake Cut to Lake Washington. One can get the glimpses of the same houseboats walking along Fairview Ave N in Eastlake neighborhood. One can continue the walk on Portage Bay Pl E or Fuhrman Ave to see more of the houseboats and marinas.
If you don't dare the Chittenden Locks in your kayak, you can always drive there then see the salmon migrate upstream when in season. Of course boats go through the locks regularly. There is the Arboretum Trail from Montlake Cut due east which will be a short jaunt, especially nice if one can be there at the cold of dawn when the rowing crews pass by in their sleek shells with geese skimming in the fog over calm water. Don't miss the Wooden Boat Center at South Lake Union for some historic vessels. On the opposite end of the lake is the Gas Works Park – there climb the grass mound and make sure to figure out the time of the day from the sundial. You will need to read the instructions!
If you get to do the Seattle Underground Tour, which you should, you probably then can make up for the lack of sunshine by hopping on one of the ferries that ply the waters of Puget Sound, ride it out then back. It is not difficult to plan a day in this manner where one can go to an island, then bicycle some, have lunch then come back by ferry. Nancy and I have done overnight visits to the San Juan Island from Anacortes with just a bicycle each. We stayed at a B&B bicycled all day the next day and returned again by ferry. Victoria Clipper is a good way to dash up to Vancouver Island, visit the quaint town of Victoria with its museums and stunning Butchart Gardens, then to dash back for the night's stay in Seattle.
Driving to Rainier or to Mt Baker will be a wonderful experience for day hikes. There are so many trails and scenic drives, that I would definitely recommend obtaining a guide book for Seattle and its surroundings. If you connect with friends in Seattle, they would know the favorite restaurants too. You will enjoy Seattle July through October; some claim to like it even when it rains the rest of the time 😉
Biography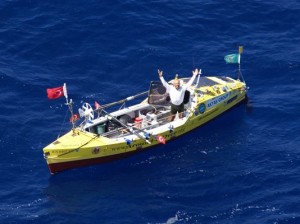 Erden is the first person in history to have completed a self-propelled circumnavigation and with a total of 876 career days spent on the world's oceans, he is the most experienced ocean rower alive.
His first climb was with his father at the age of 11 on the 3,896 meters high east summit of Mt. Erciyes, an extinct volcano in south central Turkey. Since then, he has climbed technical rock, alpine routes, big walls, water ice and enjoyed many other challenges in the outdoors. Starting in his university years, he has participated in outdoor clubs serving in trainer and in leadership roles.
Erden has made Seattle home since 1999. He enjoys outdoor activities in the Pacific Northwest with his wife, Nancy Board. They were married in Homer, Alaska in June 2003 following Erden's successful Denali ascent with his partners.
For more information about Erden and his projects, please visit: http://www.around-n-over.org
And for a parting shot – here is a 9 min clip of Erden rowing in the middle of the ocean. It gives one a quick gut sense of what it was like rowing this craft – and this was on what looks to be a relatively calm day at sea.