Blogs of Travel
The creativity & desire to share experiences among those who have been blessed with the passion, opportunity & ability to wander & explore is a beautiful thing. This is the *ULTIMATE* updated travel blog list on the web with over 8,500 travel blogs listed! We spend *significant* time searching for travel blogs not yet in this list. Focus is on domain name sites in English in the format: www.###.xxx. More info about this list here
My name is Nissreen and I'm born to a Filipina Mother and a Palestinian Father. Travelling is one of the few hobbies that I passionately enjoy.
4 views
Submitted Dec 30, 2016
My work has been featured in the Telegraph, Londonist and rated as Highly Commended in the Bradt/Independent Travel Writing Competition 2014. I write for online magazines LO:PA and Alturus, and welcome other collaborations.
17 views
Submitted Apr 30, 2015
Ben and Alonna met in the summer of 2001 and have shared a passion for outdoor adventure ever since. Ben introduced Alonna to mountain biking and snowboarding, and Alonna introduced Ben to international traveling. After working and saving money for almost 10 years, they decided to take a break from cubicles and 1-week vacations to see the world. And so Ben and Alonna embarked on a year-long travel adventure
32 views
Submitted Sep 17, 2011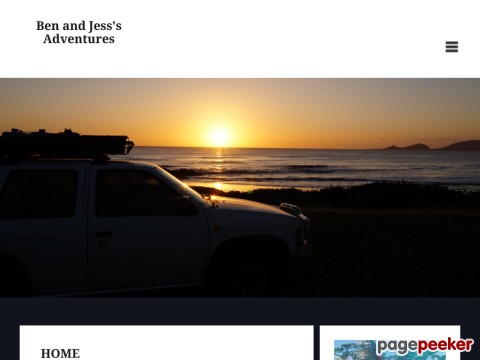 We're Ben and Jess if you hadn't already guessed! We ditched our plans of going to uni and replaced it with dreams of travelling the world.
6 views
Submitted Dec 17, 2016
Ben Deleu is a travel blogger and photographer from Belgium. He created bengoesplaces in spring 2016, and has since become one of the fastest growing travel bloggers on Twitter!
3 views
Submitted Jul 9, 2017
Ben's blogging wisdom
46 views
Submitted Jul 21, 2012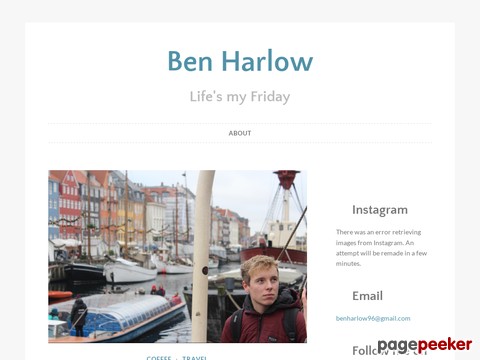 I'm a student travel and lifestyle blogger based in the UK. I blog about bars, cafes, restaurants, and clubs around the world, as well as current affairs, popular culture and personal life events. I write to appeal to fellow students who are looking for the best deals places to go and places to eat.
4 views
Submitted Jan 31, 2017
I'm Ben and I love exploring, hiking, the outdoors, backpacking, travel, family time, bonfires, swimming, just anything outdoors really!
15 views
Submitted May 2, 2016
Here's how one of my biggest fears encouraged me to create a blog dedicated to the United States of 'Murica.
8 views
Submitted Dec 17, 2016
I am a business consultant that was bitten by the travel bug. Once in a while, the itch is so bad that I need to take a break and plan for an extensive trip. I have fallen in love traveling alone. It takes a lot of courage, a lot of planning and a lot of research to travel alone.
16 views
Submitted Mar 30, 2016

Two people, two backpacks . . . one global adventure
31 views
Submitted Sep 17, 2011
Look, technically were two grown adults who quite frankly refuse to grow up! Our nicknames have always been Peter Pan & Tinks and very fittingly so. We have this incredible urge to travel the world for a living someday when all our kids are grown up and out the house, but have started our great adventures when and wherever we can. This is where well share them with you, give you handy travel tips and advice and help you to start ticking off your bucket lists too!!
22 views
Submitted May 27, 2015
Im Susan and I want to help you discover the unmissable bits that lie right outside your very door! An American living in London, travel writer and blogger, I have visited almost 50 countries and still counting.
36 views
Submitted Oct 25, 2014
Im Anam, a writer and a wanderlust-er currently based in Sweden and originally from Pakistan. On 2nd March 2013 I got married to the love of my life and we have been traveling like crazy ever since. Through this blog you can follow me around as I travel the world, to learn about my unique experiences and to get travel inspiration for yourself.
28 views
Submitted Aug 4, 2015
We are the Best's! Jo and Mo. We have been immensely blessed with many opportunities to see various parts of the world. We live an average, working life in Raleigh, NC but through our many opportunities have developed a passion to see the world.
4 views
Submitted Dec 28, 2016
Adventurer, presenter, author and digital journalist are just a few of the titles Ive collected in recent years. Ultimately though, Im a guy who has an intense passion for global travel, adventure and gruelling outdoor challenges.
26 views
Submitted Aug 5, 2015
We are Paula and Gordon and Best Little Coffee Shops is our companion site to Contented Traveller, which we work on a lot at coffee shops all over the world .. and socialise just a bit as well.
25 views
Submitted Dec 12, 2014
My name is Pedro Sagues Richter. Since I was a kid Ive travelled with my camera all over the world to more than 70 countries and taken pictures of amazing places
47 views
Submitted Feb 9, 2013
two eclectic women driven to explore the world
26 views
Submitted Sep 15, 2015
We are passionate about exploring new places, and we've made it a priority since 2010 when our determination to travel became a sweet, wanderlusting addiction. In five, quick years we visited over 20 countries, seeking out thrilling adventures, unique events and unforgettable experiences around the world. 2015 marks the start of a BIG adventure - a time when we decided to follow a dream. To live our passion. Packing everything we can fit in backpacks (leaving the rest behind) we've got a one way ticket to EVERYWHERE, with plans to globe-hop for the foreseeable future.
15 views
Submitted Dec 22, 2015

About Dave's Pick
Category Stats
Subcategories:
2
Listings:
8847 (8862 counting subcategories)
Regular:
8840
Dave's Pick:
7
Last listing added:
Dec 8, 2017