Blogs of Travel
The creativity & desire to share experiences among those who have been blessed with the passion, opportunity & ability to wander & explore is a beautiful thing. This is the *ULTIMATE* updated travel blog list on the web with over 8,500 travel blogs listed! We spend *significant* time searching for travel blogs not yet in this list. Focus is on domain name sites in English in the format: www.###.xxx. More info about this list here
Im Anam, a writer and a wanderlust-er currently based in Sweden and originally from Pakistan. On 2nd March 2013 I got married to the love of my life and we have been traveling like crazy ever since. Through this blog you can follow me around as I travel the world, to learn about my unique experiences and to get travel inspiration for yourself.
26 views
Submitted Aug 4, 2015
We are the Best's! Jo and Mo. We have been immensely blessed with many opportunities to see various parts of the world. We live an average, working life in Raleigh, NC but through our many opportunities have developed a passion to see the world.
4 views
Submitted Dec 28, 2016
Adventurer, presenter, author and digital journalist are just a few of the titles Ive collected in recent years. Ultimately though, Im a guy who has an intense passion for global travel, adventure and gruelling outdoor challenges.
26 views
Submitted Aug 5, 2015
We are Paula and Gordon and Best Little Coffee Shops is our companion site to Contented Traveller, which we work on a lot at coffee shops all over the world .. and socialise just a bit as well.
24 views
Submitted Dec 12, 2014
My name is Pedro Sagues Richter. Since I was a kid Ive travelled with my camera all over the world to more than 70 countries and taken pictures of amazing places
46 views
Submitted Feb 9, 2013
two eclectic women driven to explore the world
25 views
Submitted Sep 15, 2015
We are passionate about exploring new places, and we've made it a priority since 2010 when our determination to travel became a sweet, wanderlusting addiction. In five, quick years we visited over 20 countries, seeking out thrilling adventures, unique events and unforgettable experiences around the world. 2015 marks the start of a BIG adventure - a time when we decided to follow a dream. To live our passion. Packing everything we can fit in backpacks (leaving the rest behind) we've got a one way ticket to EVERYWHERE, with plans to globe-hop for the foreseeable future.
15 views
Submitted Dec 22, 2015

My name is Beth and I'm a 23 year old whom originally comes from a state that's as flat as a pancake–Illinois. Apart from the sparse family vacations growing up, I never truly experienced "travel" until last year when I stepped off my home continent for the first time. Bags packed, I set out for a year-long adventure studying abroad in Japan.
29 views
Submitted Jan 25, 2013
I like to think I have fitted a lot into my 25 years so far on this earth and so this blog is about me, my travels and adventures and how you can pretty much do anything if you put your mind to it.
21 views
Submitted Dec 24, 2015
The Travel and Lifestyle Blog of a Young Professional in Scotland
24 views
Submitted Jun 6, 2015
Here on my website, you will find me sharing about my travels, social media updates and experiences, iPhone photography and just anything I come across as I travel. Just like anyone who is growing their business, as a teen, I am also evolving and my blog will continue to evolve.
53 views
Submitted Oct 22, 2014
At age 22, I ditched my future as a nurse and decided to be a full time web designer to travel the world
31 views
Submitted Mar 10, 2013
I'm Kylie and this is my Travel & Lifestyle blog! I'm a British girl, with an American husband, this is our journey to closing the 4000 mile gap between us and my experiences of relocating to the United States, as well as documenting all my travels in-between!
19 views
Submitted Apr 5, 2016
Unfortunately I have not been to the places in my blog yet, however I plan to travel to as many places I can hopefully all of the 195 countries if I'm lucky. I was hesitant about starting this blog in the first place because I haven't been to the places but then I realized that there are some countries and places in the world some people never knew existed.
6 views
Submitted Jan 28, 2017
Our home for the foreseeable future is our 2010 Subaru Forrester. She is a 4WD that takes us off road and serves as our bed from time to time (if Pierre sleeps diagonally and I sleep curled up in the corner). She is going to take us all across Canada and then down to US (after which we will probably adopt another means of transportation).
5 views
Submitted Feb 25, 2017
Bexpeditions™ is your source for travel inspiration and personal stories specializing in unique but attainable bucket-list experiences and photography by Rebecca Brianne Nelson. After online journaling for several years, Bexpeditions was formed to focus solely on my travels. Currently, I split my time between Boston, Massachusetts, and Hamburg, Germany.
1 views
Submitted Jul 10, 2017
more in depth travel explorations
13 views
Submitted Jul 24, 2016
I started this blog after a trip to Costa Rica last year. I've worked as a professional editor and reporter in the science industry for six years and always dreamed of moving across to the travel sector.
27 views
Submitted Jul 20, 2012
My aim is to see the greater world outside my comfort zone. Help me to prove that anyone can travel while nurturing our gifts and following our passion.
4 views
Submitted Dec 23, 2016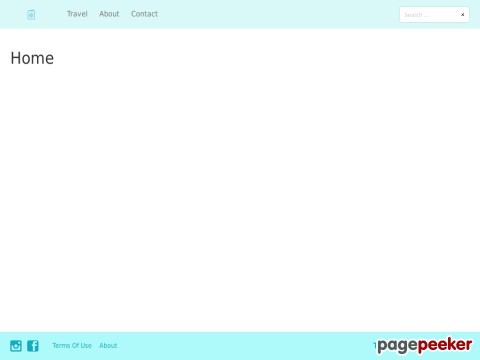 Born in Ireland, raised in Canada, with a passion for travel, science, nature, crafts, and food. I am a Science teacher using my skills to get me around the world. I currently live in Thailand, and want to share my travelling experiences, and other new with you.
4 views
Submitted Jan 1, 2017

About Dave's Pick
Category Stats
Subcategories:
2
Listings:
8764 (8779 counting subcategories)
Regular:
8757
Dave's Pick:
7
Last listing added:
Oct 8, 2017