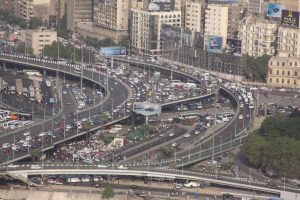 At the moment I'm sitting in sleeper train on our long transiberian journey – not much to do here so we are chugging the vodka. Actually this is the overnighter from Cairo to Luxor. This is doing it in real style – a private suite for 2 people, AC controls per suite and the calming rocking motion that you can only get on a train will quickly put us to sleep – oh and the 32 hours it took to get here from Cali will certainly help.
With not much else to do we are writing aimless notes on Egyptian postcards addressed to no one. In addition we are seriously studying our Hieroglyphics book that we picked up in Cairo.
There are two main reasons to come to Cairo for tourists – the great Pyramids and the Egyptian Museum. The pyramids were worth every dollar we spent to get here. From the top of the Cairo tower they tower over the desert in the hazy distance. From this distance and perspective they look like small mountains. Stone was moved down the Nile from hundreds of kilometers away by boat and then trucked up from the Nile to the Giza plateau. The tallest pyramid towers 450 feet. The pyramids stood as the tallest human construction on the planet for about 4000 years. Incredible! The nightshow on the pyramids and the sphinx attracts hundreds of tourists. I highly recommend spending just a little more for the VIP tickets which puts you right in the front row.
The Egyptian Museum with its 150,000 items houses the greatest collection of Egyptian antiquities in the world. A visit here requires all day. The Tutankamen exhibit is decidedly the highlight of a visit here. His innermost sarcophagus weighs in 111 kilos of gold at 22 carot! Cairo which is Africa's largest city has the continents' only metro and its a well used one.
There is one unique feature to this metro which sets it apart from all other metros. There are 2 woman only cars per train and we noticed there was always alot more space in these then the regular cars. Syy comfortably rode these while I was squished like cow in a cattle pen.
We are staying at the Sara Inn & Hostel just down from the Nile river and 8 minutes walking to the either the Egyptian museum or the Sadat Metro stop. This hotel is clean and the staff very helpful and hospitable. The AC works well. Oh and yea they picked us up at 3am from the airport!