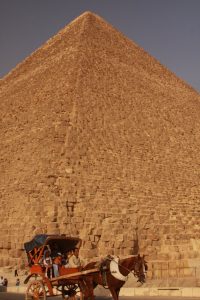 The Egyptian Pyramids! One of the Seven Ancient Wonders of the World! I had read about them in school. I had seen them on countless TV programs, and I had always wondered what it would be like to see them in person. And now, now, I was going to do just that – see the pyramids in person!
The Lufthansa flight from Frankfurt, Germany to Cairo was, thankfully, not even half full. There was lots of elbow room for everybody, and since I'd been up for the past 24 hours straight, I considered myself very fortunate to have been able to snag a whole row to myself where I was able to stretch out and get in a nice nap for our four-hour flight to Egypt.
I was slightly apprehensive when I stepped off the plane, not so much because of the attacks that have targeted tourists from Western countries in the past, but more so because I hadn't had time to get a visa before leaving the U.S. Consequently, I was keeping my fingers crossed that there wouldn't be any snags in getting a visa upon arrival in Cairo. If I couldn't have gotten a visa, then I would have had to hop on the next plane back to the states, and aside from having come all that way for nothing, I would have missed out on my long-awaited opportunity to see a world-renowned monument.
At first, I found I had good reason to be apprehensive. As soon as I stepped off the plane, I started looking for some kind of government-looking office that would be an appropriate place to issue a visa. After a lengthy walk down the hallway, I still hadn't seen any such office and, thinking I had perhaps turned down the wrong corridor, I was about to retrace my steps until I reached an area that was just a few steps away from the Immigration and Customs checkpoint.
A man standing in front of a money exchange booth was calling out, "Visa! Visa!" to all of us new arrivals. Several of us tourists looked at each other with puzzled expressions. It was obvious we were all thinking the same thing: What's a guy at a money exchange booth doing advertising the issuance of visas? Yet, despite our reticence, it was also obvious that the money exchange vendor/visa salesman was the best bet thus far for a visa into Egypt. So, one by one, we ambled up to the money exchange booth with our carry-on luggage in tow and reached for our wallets.
"Visa?" I asked the gentleman.
"Yes," he replied. "Fiften U.S. dollars."
I hesitated again. Was this guy for real? Was he the real deal? Well, worst case scenario, I thought, was that I'd be forking over fifteen bucks to this guy and have to find myself walking away empty-handed. The $15 was within my budget, and it was a risk worth taking, so I pulled out a ten and a five from my wallet and handed it to him. I somewhat expected him to ask for my passport so he could stamp the visa in it, but instead of asking me for my passport, he simply handed me two stamps the size of postage stamps. I looked down at the stamps, then up at him, and asked him, "What do I do with these?"
"Stick them in your passport," he replied almost curtly.
I looked around at the other tourists who had also just purchased their entry visas. We caught each other's eye, furrowed our brows, smiled a smile that said, "What the hell . . .," then opened our passports to a blank page, licked the back of the stamps, and stuck them onto the page while wearing a grin that might as well have sighed, "Oh, well. Here goes nothing."
As it turned out, there was nothing fishy about that visa process at all. That was just how they issued visas in Egypt. So with our visas now securely pasted onto the insides of our passports, all of us travelers walked up to the men behind the Immigration glass booths. We watched as they opened up our passports to where we had just stuck our two stamps, glanced at them, then hand our passports right back to us before waving us through. It couldn't have been simpler.
A small crowd had gathered outside the baggage claim exit. Several men were standing along a rail holding up signs with the names of the passengers whom they were there to pick up. I scanned the signs for my name and was relieved when I saw an older gentleman holding up a sign that read, "Seymour." I was afraid that the hostel I was staying at might not have sent a driver as promised, but again, I was worrying needlessly. As I approached the gentleman, he smiled, shook my hand, and led me out to the parking lot.
We walked by several cars that I hoped would be our ride, but we kept walking until we reached the edge of the parking lot where we stopped next to a taxi that could only be described as an old jalopy at best. It doesn't matter, I thought. As long as it got us to the hostel, I was a happy camper. With that in mind, I placed my bags on top of the cardboard-covered seats, climbed in, and positioned my feet so it wouldn't fall through the aluminum flooring.
Once the other taxi drivers gave our taxi a push-start, we were on our way. The ride into town was kind of nice. The traffic wasn't that bad, and we were able to cruise down the highway at about 50 m.p.h., but all that all changed as soon as we hit the gridlock traffic of downtown.
The traffic of Cairo is just as bad as that of Bangkok (I couldn't help but make that comparison since I have been to Thailand a number of times over the years). The only difference between this city in Africa and that city in Asia is that Cairo is congested with cars, whereas Bangkok has both cars and motor scooters but that was where their difference ended and their similarities began. Just like Bangkok, the drivers in Cairo aren't shy at all about using their horns. They honked that horn as often as they inhaled and exhaled oxygen. Yet, unlike Bangkok (and many other cities around the world), the Egyptian drivers have a habit of blaring their horns without blowing their cool. As the cars were jamming themselves alongside each other, clogging up the intersections and causing gridlocks within gridlocks, everybody always stayed calm, cool, and collective – so much so that I couldn't detect even a hint of road rage from any of the drivers. On the contrary, whenever the drivers had brought their cars within inches of a collision, they didn't launch any epithets at each other through their open windows. Nope. They just waved each other through and, with a nod of their heads, offered a nonchalant invitation that was somewhat akin to, "No, no. After you, my friend."
That calm demeanor between the drivers must have rubbed off on me because I remained calmer than I usually would have once I found out what was waiting for me at the hostel where I had booked a room, sight unseen, over the internet. When I entered the lobby of the building that my hostel was in, I thought the cab driver had driven me to the wrong address. Actually, I thought he had taken me to a building that had been condemned. I stopped in my tracks as soon as we stepped through the front door. The barren walls were devoid of any paint. The floor was beyond dirty. The entire place looked like it had been neglected for years. I was about to turn around and walk out until I saw a sign on the wall that had the name of my hostel on it, along with the names of a few other businesses that were housed in that building. Since the sign on the wall said my hostel was on the 15th floor, I went ahead and stepped into what appeared to be an elevator, pressed the number 15, and found myself being rocked back and forth as the elevator car clackety-clack-clacked its way up fifteen floors.
If I were a religious person, I would have been saying a prayer on my way up in that elevator. I would have been praying that the cable didn't snap and that I wouldn't be plunging to the depths of a building on my first day in Cairo. As it was though, I'm not a religious person, so I did the only thing I could do. I put my faith in the mechanics of that lurching, groaning elevator, and as it turned out, my faith in that elevator's mechanical capabilities was more than enough to do the job. Within a mere minute or so, I found myself stepping out onto an elevator landing where a bunch of cats were milling about on top of a small heap of trash. The cats scurried away when I stepped out of the elevator, and as I wound my way around that heap of trash, I told myself to look on the bright side of things. Yes, it wasn't a good sign that there were a bunch of stray cats hanging around the entrance to my hostel. But one thing was for sure. With all those cats around, it was a good bet that my hostel didn't have any rat problems.
The receptionist was a young man in his early twenties. He was courteous enough, but his English was practically non-existent. Yes, I know that I shouldn't expect everyone to cater to my linguistic demands and speak English to me, and that since I was in Egypt, it was incumbent upon me to speak their native Arabic language, but on the other hand, it's also common knowledge within the hostelling world that English is the agreed-upon language among the world's travelers so that they wouldn't have to learn a new language every time they stepped into a new country. So in light of that practicality, I was slightly disappointed when the receptionist couldn't even comprehend the basic and slightly urgent question I immediately posed upon him: where is the toilet?
After having asked where is the "bathroom, restroom, toilet" in every euphemistic way I knew how and not getting anything but a blank look from the receptionist, I decided to look for it myself and eventually found it quickly enough (it was down the hall). Relieved that I'd found what I was looking for (pun intended), I then checked into my room. The two twin beds with a nightstand in between were fine, but there was something obviously missing. There was no heater. It was in the middle of the afternoon, and the temperature outside was already hovering around 55 degrees Fahrenheit. It wasn't freezing by any means, but it wasn't exactly warm and comfy either. I stepped back out to where the receptionist was, pointed back to my room, and said, "No heat." To my utter dismay, he shrugged his shoulders and answered, "No room have heat." He then pointed to the jacket he had put on and motioned for me to do the same. Great, I thought! Of all the hostels I could have booked over the net, I booked one that didn't have any heat.
I was ready to have a fit, but since I didn't want to come off as an Ugly American (okay, since I'm Vietnamese, it would have been an Ugly Vietnamese-American), I stayed calm, cool (and I mean that in literal sense), and collective. Besides, I could tell that the guy at the front desk was slightly embarrassed to have to admit that the place he worked for didn't even have any heat for its guests, so I didn't press the issue with him and decided the best thing to do now was to find another hostel that did have heat. From my experiences in traveling, I knew that hostels tend to populate themselves close to one another, and I had a hunch that if this hostel was here, then there was a good chance that quite a few other hostels were within a half-mile radius.
I stepped out that building, and right away, my venture to find another hostel began to pay dividends. In the near distance, across a wide boulevard, was The Hilton Hotel. I hadn't booked myself on any day tours to see the Pyramids, and I surmised that if there was any place around here that could arrange a group tour, it would be The Hilton. I walked to the nearest street corner and waited for the traffic to stop so I could cross the street, and that was when I made a personal Egyptian discovery – the traffic in Egypt doesn't stop for pedestrians. Nope. After having stood at that corner for many minutes watching the locals run across the street as a speeding car veered toward them, it was obvious what the rule of the road was. If you wanted to cross the street in Cairo, you were going to have to make a run for it. So I did.
I waited for a break in the traffic, stepped off the curb, and hurried to the middle of the street where I was forced to stop to let a rush of oncoming cars roar by me. (It was scary as hell!) I immediately thought of Saigon where I had mastered the art of crossing the road with a traffic that was as frenzied as this. The difference though, was that if I got hit now, it wouldn't be motor scooter hitting me. No, it would instead be a full-fledged car doing a good 40 m.p.h.!
Perhaps it was the Saigon experience that allowed me to maintain my composure. Somehow, some way, I was able to make it across that street in one piece. And while I was admittedly annoyed that there wasn't anything close to a green light, red light system that would somewhat enhance a humane way of crossing the street, I was surprised at the pleasant disposition that the drivers were displaying towards me as a tourist. Just in that single crossing, several drivers had yelled out "Welcome!" to me as I tried to safely traverse the street. Of course, it made me feel good to be welcomed with open arms, and every time a driver yelled out a "Welcome!" to me, I made sure to yell back a "Thank you!" to show my appreciation.
Having safely made it across the road without becoming anybody's hood ornament, I stepped into the grand entrance of The Hilton, walked up to the Concierge desk, and quickly found that the people at the Cairo Hilton "aims to please." In fluent English, the lady described all the different tours they had to offer. While I was impressed with the variety, I stuck to the basics and signed up to see the main attraction: The Pyramids. I was also going to sign up for the Egyptian Museum Tour to see the King Tut exhibit, until the same lady, in a lowered voice, asked me, "Why? It"s just down the street. You can go there on your own and pay half of what you would pay here for the same tour." I thanked her for her candor then made a beeline for the exit to resume my search for another hostel (I actually thought about staying at The Hilton but quickly changed my mind when I heard what the price tag was – $180/night compared to $20/night at a hostel).
The first hostel I came upon was a couple of blocks down the street from the first one. There, I met a guy who had a "post-drunken, pre-hangover" look to him. He wasn't inebriated in any way, and he was friendly enough, but his appearance reminded me of someone who'd had a few drinks too many and who was long overdue for a good night's sleep. Anyway, this guy who actually worked there told me his hostel was full. He then led me up the road a ways to another hostel, and after we hiked up eight flights of stairs because the elevator in that building wasn't working, we were told by the proprietor of the hostel that their place was full too (the reason being that a soccer tournament was in town), and while I wasn't able to get a room at that hostel, I did notice something peculiar during our descent down the stairs. I noticed that that building was a lot like many of the other buildings I'd seen in the downtown area. I noticed that although a few of the floors within the high-rises, the floors that actually housed an operating business, were well-kept and properly tended to, the rest of the floors in the building were neglected, strewn with trash, and harbored hoards of stray cats that silently sulked in the dark shadows of the hallways. I'm not sure why, but this arrangement struck me as odd. I guess I'm used to the way things are run in the states. I guess I'm used to the fact that if a building housed a business that was open for business, then the entire building would be well-kept and cared for, not just a few floors here and there while the rest of the building sat neglected and served as nothing but a repository for garbage and stray cats.
At this point, I'd already had two strikes against me in my quest for a new hostel, and I was almost ready to give it up for the night, but my new-found hostel hunter suggested we look at one more place. I agreed and found myself following him back towards my original hostel. I was ready to tell him that if he was thinking of the hostel that I thought he was thinking about, then he should think twice because I already had a room there. As luck would have it though, we stopped short about four doors down from my original hostel. Again, the lobby looked as though the building wasn't even open for business, but I just followed my guide and he took me up the elevator to the sixth floor where we found a place that actually looked pretty nice. The floor of this hostel had a welcoming atmosphere to it. My guide spoke with the receptionist who then showed me a room that actually had a heater! I was all ready to rent that room for the night, but the receptionist told me it was already taken, as were all the other rooms (some damn soccer tournament being the reason again!) I smiled a weary smile, resigned myself to a night in the hostel I'd already booked, then reserved a room in this new hostel for the following night.
When the elevator reached the lobby, I walked out, said thanks to the guy who helped me find my new hostel, and was ready to walk back to my first hostel when my guide asked me if I could do him a favor. I had been thinking that he hadn't struck me as the kind of person to help out a weary traveler out of sheer benevolence, and I had been waiting for him to drop the other shoe, so I went ahead and asked him what I could do for him in return. An air of excitement filled his face as he asked me if I could go to the Duty Free Shop at the Sheraton hotel and use my U.S. Passport to buy him a few cases of Heineken beer. He would take this beer, he continued, and resell them at the local shops for a profit. He added that he would, of course, give me the money to buy the beer with. I thought about what he was asking of me. I wasn't entirely against the idea. I wasn't opposed to returning the favor and helping him out with an entrepreneurial beer run, but as they say, the devil is in the details, and I was wondering what kind of details he had in mind. Upon further querying, he told me his brother would drive the three of us to the Sheraton Hotel where I would buy the beer, and once I had bought the beer, the two of them would drive me back to my hostel right away. Hhhmmm, I thought. Here I was, alone in foreign city, and this guy, a total stranger, wanted me to get in a car with him and his "brother," so that they could take me to who knew where and do who knew what to me. Call me paranoid, but all in all, it didn't add up to something a rational person would do, so I told him, "No, thanks."
"Why?" he asked. "I help you find hostel. You help me buy beer! Okay?"
Ah, yes. The guilt trip routine. Sorry, buddy, I thought. I wasn't about to fall for that one. But, fair is fair, though. He did help me find my new hostel, and while I was pretty sure the new hostel with whom I'd just booked a room would give him a finder's fee of some sort, I did feel obligated to personally compensate him for his troubles. With that in mind, I took out a couple of dollars, handed it to him, and said a quick "thanks" and an even quicker "good-bye." I then did an about face and marched back to my first hostel while he remained standing there on the sidewalk calling after me, "Why you don't help me buy beer?"
With all the covers from both of the twin beds in my frigid room on top of me, I fell asleep right away. The next morning, around six o'clock, I woke up to the sound of Arabic chants spewing out across the rooftops through loudspeakers strategically placed around the city. A new day was dawning, and instead of church bells to sound out the start of a new day, it was, here in Cairo, Arabic chants that were telling me to rise and shine.
I started the day with a morning venture to the Egyptian Museum that was less than a five-minute walk down the street from my hostel and then rounded off my afternoon with a tour of The Sphinx and The Pyramids of Giza. Since there's already a plethora of accounts already written about King Tut's Tomb, The Sphinx, and The Pyramids, I won't bother droning on with you at this point about the experiences I had that day. They were typical of any tourist's experiences. But before I go though, I just wanted to say that my walk around the Pyramids with my camcorder in hand yielded yet another pleasant experience. It was a quaint sight to see the local families picnicking at the base of the Pyramids, and it was again a welcomed feeling to have so many of those picnicking families tell me, "Welcome to Egypt!"